| | |
| --- | --- |
| Coaches, Top Players, and Media Converge at Greensboro's Grandover Resort | |
ACC Preseason Selections
North Carolina (15)
Maryland (11)
Duke (14)
Virginia (2)
Florida State
Georgia Tech
Boston College
NC State
Clemson
Virginia Tech
Miami
Wake Forest
Preseason All-ACC Team
Chante Black, DU
Marissa Coleman, MD
Rashanda McCants, UNC
Kristi Toliver*, MD
Monica Wright, UVa
Greensboro -- ACC Women's Basketball Media Day has come and gone. You will be shocked to hear that every coach is upbeat, excited and enthusiastic for the season to come, and is so far very pleased with the first few days of practice. Amidst the sunshine, smoke and other things being blown in various directions, there were actually a few nuggets of interest to report. First, a word on the media's preseason voting. That word is "lazy". The preseason vote of UNC, Maryland, Duke and Virginia reflects the order in which those teams finished a season ago. The voters seemed to have paid little attention to the actual losses that UNC and Maryland have had to endure, as well as the wealth of talent that Duke and Virginia return. Picking Kristi Toliver over Monica Wright for preseason player of the year also ignores what Wright is becoming as a player and glosses over Toliver's shoot-first, ask questions later mentality. The 42 voters (including my representation of DWHoops on the ACC's "Blue Ribbon Panel") at least were not unanimous in their picks; in fact, this was the first time that four teams received multiple first-place votes in the preseason poll and only the second time that three teams received double-digit first-place votes (the first being 1996). That reflects the reality that this is the most wide-open ACC race in many years, with as many as five different teams having a legitimate chance at the league title.
It is important to commend the ACC for holding this event in the first place. In the last couple of years, the league has taken a number of steps to prove their commitment to women's basketball. Media Day was discontinued for a couple of seasons, replaced instead by a DVD containing little more than platitudinous interviews with coaches and precious little real information. The ACC office has made a real effort to seek out and recruit those writers who cover the league on a regular basis and reaffirm their commitment to activities like voting for player of the week. To that end, Media Day has become a much leaner and tighter event, broadcast live over the web with all sorts of TV and internet material recorded during the day as well. ACC commissioner John Swofford has taken time out to address the media each year as well. While the showing from print media was decent, it's unfortunate that the state of the newspaper business makes it more and more difficult for more members of the press to attend.
Sylvia Hatchell, UNC

Many of the coaches who attended had little interest in tipping their hands to the media as to the team's strengths and weaknesses. Sylvia Hatchell is perhaps the most notorious coach in the league in this regard, always putting the sunniest possible face on her program. Actually, one can usually assume that the sunnier she is, the more concerns she actually has. This year, she went on at length at how her program is going to play more "uptempo defense" in addition to uptempo offense, so as to take advantage of both her athletes and style of play. I took this to mean that she wanted no part of a grinding halfcourt game, given that she lost the two best post defenders in the ACC. That was made clear when she revealed that Rashanda McCants would be moving to the 4 and Jessica Breland to the 5. This means that she's not confident in her returning or new posts to step in and play right away inside, and so she's leaving McCants in Breland in positions that are less than ideal for them. For her part, McCants says she's ready to become a team leader. Whether there's any player on UNC's roster who can strike the sort of terror that Erlana Larkins had on her teammates and keep the organized chaos afloat remains to be seen.
Joanne P. McCallie, Duke

Both Brenda Frese and Joanne P. McCallie were similarly evasive in their answers. Both liked their team's efforts in practice but were decidedly vague in discussing much in the way of specifics. McCallie at this point couldn't even begin to discuss who the team's fifth starter might be, for example. Frese never acknowledges any potential deficits her teams may have unless it's dragged out of her. Debbie Ryan doesn't sidestep questions in this manner, but she plays things exceedingly close to the vest. The biggest question surrounding Virginia this year is its point guard play, and while she claimed it might be by committee, to be worked out later, one insider I talked to said that Ryan knew exactly who would play and how much, but didn't want to discuss it openly. Ryan did note that her team needed better leadership, defense and rebounding on the road if Virginia was going to win the league, with physicality being the centerpiece of everything. On the other hand, Monica Wright was poised and seems ready to take over as the team's leader. It hasn't always been the case that Virginia's most talented player was also its leader, but that convergence could mean very good things for the Hoos over the next couple of years.
Sue Semrau, FSU

On the other side of the coin, a number of coaches are not only refreshingly honest about their teams, they come enormously prepared for this event with all sorts of stats, facts and figures. Leading the way is FSU's Sue Semrau, who answered every burning question I had about her team in her opening statement and went on from there. She noted that soph point guard Courtney Ward went to Point Guard College this past summer and is now ready to replace Shante Williams. Semrau said that frosh post Ciera Brevard has sewn up a starting spot next to slender power forward Jacinta Monroe. The former is a tall, strong, powerful player who can score, pass, and block cuts. While Semrau said that she possessed good footwork, she needs to get a feel for the tempo of ACC play.

With Brevard and Ward in place, Semrau was happy to note that Mara Freshour and Tanae Davis-Cain would finally get to settle into their natural roles as guards on the wing. She was frank in assessing the talent of frosh wing Chasity Clayton, calling her a "freak of an athlete" whose basketball skills would have to catch up, and said that it wasn't likely that she'd play much given her experienced starting lineup. After starting 18 different lineups last season, Semrau seems to be looking forward to a degree of stability this year. When asked if she sensed that this year would be a changing of the guard in the ACC, she simply said "I hope so."
MaChelle Joseph, GaTech


Other coaches who were happy to discuss specifics were MaChelle Joseph of Georgia Tech and Cristy McKinney of Clemson. The former talked about feeling like she finally had the post players to help her team become effective in the half court, noting that frosh Sasha Goodlet has the ability to dominate and finish inside, but must get in better shape. McKinney noted that sophs Whitney Hood and Kirstyn Wright had great summers and have been the most aggressive players in practice thus far. She's hoping that Hood will help give them a scoring presence in the post and that bigs Lindsey Mason & Shaniqua Pauldo can help with defense & rebounding if they can raise their intensity level to what is needed in the ACC.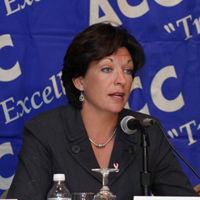 Katie Meier, Miami

It's never easy being picked to finish low in the league, especially when one gets the results of the polls before Media Day begins. Wake's Mike Petersen noted that he thought his team's biggest obstacle was simply staying healthy, though he did acknowledge that his team's lack of size would be a problem. He's going to respond to that by playing a lot of "middle-sized" player, going 4-out and 1-in most of the time. He is happy to have a number of upperclassmen, which means "I have to coach less, which is probably a really good thing". He also amusingly expressed his pride in UNC graduating Erlana Larkins and Maryland sending their student-athlete seniors on out into the world, so that he wouldn't have to deal with the nightmare of handling those players anymore. Miami's Katie Meier is pleased by her guard play and chemistry, especially potential frosh star Shenise "MoMo" Johnson. She admitted that post play could be another big problem this year. Virginia Tech's Beth Dunkenberger wasn't much interested in talking about the absence of Andrea Barbour, instead preferring to emphasize her team's great experience and depth.
Sylvia Crawley, BC

The wild card in the bunch was new Boston College coach Sylvia Crawley. In addition to being new to the league, she also drew interest because of her history in the ACC as a player and coach for UNC. Crawley noted that she was trying to instill mental toughness above all else in her players. She wants to play a faster tempo, saying that she's trying to get her players to move the ball upcourt by passing rather than dribbling so as to create breaks. When star forward Stefanie Murphy was asked what it was like to have a former WNBA player coaching her, she said it was exciting and that she had learned a number of new post moves. She then said that Crawley actually jumps in and scrimmages against her players, which Murphy said was a little intimidating at first because she's so much taller than she is. Crawley told a story about holding a simple 2-line layup drill early in practice. The players at first question the utility of such a basic drill until Crawley jumped in and started blocking their shots as they attempted their layups. That got everyone focused rather quickly as they had to think of ways to get past her one-on-one. Despite BC not being built for speed, I can sense that Crawley will be a good fit for them.
Kay Yow, NCSU

Finally, Kay Yow of NC State made it to Media Day despite having been in the hospital for another round of chemo just a few days earlier. Wearing a long pair of gloves, Yow seemed a bit frail but still possessed that steely-eyed determination. During John Swofford's speech to the media, he unveiled some new events related to Yow. The 4 Kay Golf Classic, held in Texas this year, was an unequivocal smash hit of a success. Coaches from all over the country came for this fundraising effort for the Yow/WBCA cancer fund, a division of the Jimmy V Foundation. The event will be moved next year to Greensboro, which delighted Yow to no end. Another Yow-related initiative spearheaded by the WBCA will be Chow For Yow, a series of fundraising dinners. Yow was obviously greatly touched by this outpouring of support.

Perhaps the most powerful moment of the day came when I asked guard Shayla Fields about the cover of NC State's media guide. The players on State's team were all wearing pink jerseys that had their number but Yow's name on the back. They were spread out on the court to form the shape of the breast cancer awareness ribbon, facing away from the camera, with Yow sitting in a chair inside the ribbon. The player forming the "knot" in the ribbon was Fields, and Yow noted that this was not a coincidence--Fields will have to hold the team together this year. It's a powerful image that makes Fields simply think "We're a team" and behind Yow.

Unfortunately, the Wolfpack have suffered a ridiculous amount of unexpected injury and attrition, coming into practice with only eight healthy players. Yow actually had to hold open tryouts for the last two spots. This will include two starters who were bit players last year, a freshman as the top reserve, and not much behind them. Despite this series of difficulties, Yow said that "I always feel good when I'm at practice", her adrenaline pushing through her fatigue. She dabbed away tears more than once at the power of the gestures being made on her behalf.

Swofford introduced Nora Lynn Finch as the league's new associate commissioner for women's basketball, replacing Bernadette McGlade. McGlade just became commissioner of the Atlantic-10. Finch was a longtime administrator at NC State and is an exceedingly sharp leader. She addressed the oddity of UNC scheduling a regular-season game on March 15th (against South Dakota), noting that Hatchell wanted to spread out the number of regular season games her team played so as not to play three games in a week. Finch said the league will observe how this works out and possibly encourage other teams to do the same, especially since playing a game during the long wait between the ACC & NCAA tournaments often dulls teams gearing up for postseason.
Charlene Curtis
Swofford also introduced former Wake coach and media presence Charlene Curtis as the new supervisor of women's officials, a new post that was folded out of the women's commissioner position. Curtis then went over some rule changes and points of emphasis for this season, and made the unusual move of inviting the press to contact her whenever they had a question about officiating.
No Media Day would be complete without a list of players who mysteriously disappeared off of rosters after being previously announced as members of their teams: Adrianne Bradshaw & Moreemi Davis of Clemson (both of whom had one more year of eligibility), Britany Miller of FSU (not invited back after being suspended for the majority of last season), Jackie Nared of Maryland (a late recruit from Portland), Jazmond Stringer of Miami (a post player that Miami really needed), Christina DeWitt of UNC (suspended for most of last year, came back late in the season, and not coming back this year), Gloria Brown, Chanita Jordan, Michelle Davis & Megan Zullo of NC State (all three left the team, didn't qualify or were suspended), Andrea Barbour of Virginia Tech ("left the team" for good) and Patrice Johnson & Margaret Harvey of Wake (two frosh who did not make it to school this fall).
Photos Copyright 2008 DWHoops.COM / Orin A. Day - All Rights Reserved