For 12 days DWHoops will count down the ACC with three items about each team - including factoids, new players to note, trends or other observations. We continue today with NC State.


---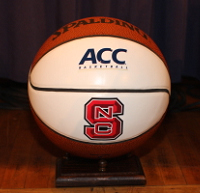 NC State
DWHoops ACC Prediction: #11
They are running. After years of running Kay Yow's patterned offenses, new coach Kellie Harper is getting this group up and down the floor quickly. Considering that this team has some quickness but very little size, it's been a good fit. Even non-scorers like forward Lucy Ellison (a rebounding specialist) has been getting some baskets in transition.


They have a talented frosh lead guard. Stepping in for Shayla Fields is Marissa Kastanek, who is currently leading the team in scoring. She took the bold step of keeping her commitment to the Wolfpack Women even after Harper took the job, and she's flourishing so far.


Defensive rebounding is an issue. Without any real low post presence, teams have been able to get multiple cracks at the basket when playing NC State. I suspect the Pack will try to avoid getting involved in protracted half-court battles as much as possible, since they are essentially just a jump-shooting team.