For 12 days DWHoops will count down the ACC with three items about each team - including factoids, new players to note, trends or other observations. We continue today with Boston College.


---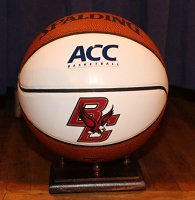 Boston College
DWHoops ACC Prediction: #9
They are struggling. The Eagles have suffered some pretty shocking losses (including Harvard and a blowout loss to Vermont) and have looked bad doing it. While center Carolyn Swords continues to excel, the Eagles aren't getting nearly enough out of guard Mickel Picco or forward Stefanie Murphy. This was a team expected to challenge for the ACC's upper division, and right now they're looking like a candidate for last place.


They are slow. Most of their recruits were built for the halfcourt style of Cathy Inglese and are continuing to struggle with the uptempo philosophy of Sylvia Crawley. It doesn't help that they lost most of their reserve players to attrition; their practices must be brutal without them. Still, with all five starters back, one would think that the players would know what to expect this season.


They can't defend. One would think that having 6-6 Swords and 6-4 Murphy would make it tough to score on the Eagles in the post, but so far they're #11 in scoring differential, #11 in FG% defense and #12 in three point FG% defense. Granted, these numbers can be inflated or deflated at this time of the year, depending on competition, but the Eagles have not played a lot of great teams.