For 12 days DWHoops will count down the ACC with three items about each team - including factoids, new players to note, trends or other observations. We continue today with Wake Forest.


---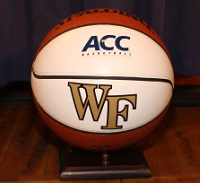 Wake Forest
DWHoops ACC Prediction: #8
They are a great run and jump squad. Led by Brittany Waters, Secily Ray, Camille Collier and Brooke Thomas, the Deacs love to press and push the tempo. Waters is one of the best athletes in the ACC and is ready to become an all-around star. She's averaging 21 ppg and 7 rebounds a game.


Sandra Garcia is a serious post presence. This 6-5 frosh has single-handedly given the Deacs a low-post scoring, rebounding and shot-blocking option. She could spell the difference between another postseason appearance and a losing season, so she'll have to be ready to go up against the ACC teams that do have size.


They don't put up a lot of points. They're last in the league in scoring and can go through long droughts, especially against opponents with similar levels of quickness or superior size. They're still adjusting to missing the presence of the steady Corrine Groves and Alex Tchangoue and need to get a stronger level of consistency from their starters.