For 12 days DWHoops will count down the ACC with three items about each team - including factoids, new players to note, trends or other observations. We continue today by ringing in the New Year with Miami. A happy 2010 to everyone!


---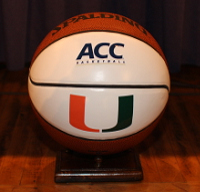 Miami
DWHoops ACC Prediction: #7
They can score now. After years of struggling to scratch out points, Katie Meier's bunch actually possesses some real firepower. The biggest revelation has been guard Riquna Williams (who currently leads the ACC in scoring), but veterans Diane Barnes & Charmaine Clark have also stepped it up as well.


Shenise Johnson can do it all. The super soph leads the team in pretty much every category and is near the top of the ACC in many categories as well. A bit reminiscent of Alana Beard, Johnson is playing point guard, has sharpened her shooting and is a monster on the boards.


Watch out for Yederstrom. Swedish guard Stefanie Yderstrom just became eligible, and she will be another scoring force for the U. This was a player that Duke looked at closely last year, and while it will take her a while to get used to collegiate play, she could be that last piece that helps Miami achieve a winning season.