For 12 days DWHoops will count down the ACC with three items about each team - including factoids, new players to note, trends or other observations. We continue today with Maryland (corrected on January 3rd).


---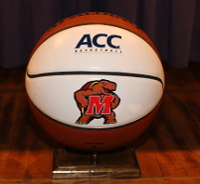 Maryland
DWHoops ACC Prediction: #6
Everyone you knew is gone. Not just from the 2006 national championship team whose memory still haunts Duke fans, but only four players from last year's ACC champs return. While Marissa Coleman and Kristi Toliver were seniors, starter Marah Strickland transferred (as did reserve forward Drey Mingo) and starting forward Dee Liles flunked out of school.


Lynetta Kizer is struggling as the new focal point. The big center played well as a frosh, but has been wildly inconsistent so far this year. She's not yet ready to be a go-to scorer, but this is a role she'll have to grow into if Maryland wants to get back to postseason play. The real measure of Kizer's play this year will be how she plays against the toughest opponents.


No identity. The Terps are a group of talented parts but aren't yet a team. Frosh Dianda Tchatchouang and Tianna Hawkins are both averaging in double figures, but it's never a good sign to have frosh as your best players. These issues bubbled to the surface when the Terps were stunned at Towson, a game in which no one wanted to step up to lead the team through adversity (though also the kind of game that most schools wouldn't have the guts to schedule). There will probably be a few more of these sort of losses along the way, but there is plenty of size, talent and scoring on this roster to present a real threat by the end of the season.