For 12 days DWHoops will count down the ACC with three items about each team - including factoids, new players to note, trends or other observations. We continue today with Georgia Tech.


---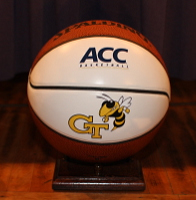 Georgia Tech
DWHoops ACC Prediction: #5
Alex Montgomery isn't 100%. Montgomery just got back to play a couple of weeks ago after tearing up her knee in the ACC tournament. She's the heart and soul of the team, a player who does everything for the Jackets. If she doesn't return to pre-injury form, the Jackets could have a rough year.


No easy baskets. It's a broken record in Atlanta: Georgia Tech doesn't have a true point guard or post who can get easy points. They score off turnovers and just grind it out otherwise. So far, the Jackets are 12th in the ACC in scoring, 10th in FG% and 10th in three point FG%.


No shot-blocking. Despite the presence of 6-5 Sasha Goodlett, the Jackets don't block shots. Part of that is a choice: coach MaChelle Joseph prefers to disrupt passing lanes and pressure the ball-handler rather than go all-out to defend the rim. They'd also rather foul slashers than block shots.