For 12 days DWHoops will count down the ACC with three items about each team - including factoids, new players to note, trends or other observations. We continue today with the University of Virginia (with apologies for lateness of its publication)


---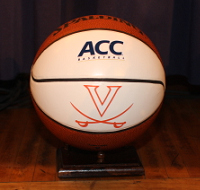 Virginia
DWHoops ACC Prediction: #4
Monica Wright is doing everything. She's stepped up every aspect of her game, from shooting to passing to defense to ballhandling. There's no doubt that she's the best player in the ACC, and she's had to be because she's had to carry a painfully young team.


There are still issues at point and post. Point guard has been a mess for the Hoos since Sharnee Zoll left, and it's not clearing up yet. Arianna Moorer has proven to be better at off guard than point. The same is true of redshirt senior Paulisha Kellum, who is coming off a knee injury in addition to trying to adjust to a new position. Frosh Chyna Crosby was highly touted coming out of high school, but recently tore her ACL and was lost for the season. There are similar problems inside as frosh Erinn Thompson and Simone Egwu are trying to fill in for the departed Aisha Mohammed. Thompson is a bit behind because of preseason injuries, but for now frosh Chelsea Shine is doing most of the inside work at power forward.


They're unpredictable but talented. The Hoos have a bigger possible range of where they can finish in the ACC than any other team. They have the best player in Wright and a lot of potential talent and depth. They also don't have any consistency beyond Wright, as their home loss to James Madison revealed. They could beat or lose to any other team in the ACC, which will make them interesting to watch.