For 12 days DWHoops will count down the ACC with three items about each team - including factoids, new players to note, trends or other observations. We continue today with the University of North Carolina


---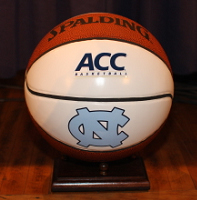 North Carolina
DWHoops ACC Prediction: #3
They are painfully young. Everyone's breathing a sigh of relief that Jessica Breland's cancer course has gone well so far, but she is almost certain to redshirt this season. That will make next year's UNC team a powerhouse if she can play close to her old form, but it's left this team without any significant senior leadership.


There are holes at forward. With Breland out, the Heels have been auditioning a number of players at both forward slots. It will probably come down to soph Laura Broomfield and big-time frosh Tierra Ruffin-Pratt. This will be problematic for a team that's always relied so heavily on its forwards for offensive rebounds.


They're still faster than anyone else. Cetera DeGraffenreid and Italee Lucas are the best guard combo in the league and do a great job in pushing the tempo. This team has been scoring its points so far by forcing turnovers and running opponents out of the gym. They will need to get their freshmen up to speed quickly if they hope to survive the ACC's war in the trenches.