Over the next couple weeks DWHoops will reveal our 2011 preseason ACC predictions in the form of three questions facing each team. We begin today with three questions about our pick for #12, Clemson.


---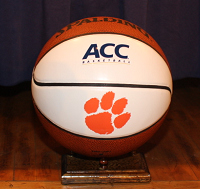 Clemson
DWHoops 2011 ACC Prediction: #12
1. Will hiring Utoro Umoh-Coleman be a continuity-restoring boost, or a low-rent mistake?

Under Jim Davis, Clemson was one of the three toughest programs in the ACC, along with Duke and UNC. They won two ACC titles in four years with a bruising, punishing style. Itoro Umoh was a big part of that success as a whirling dervish of a basketball player, and she's now being asked to revive the program. The problem is that she's never been a head coach at any level. She's already pulled in one top-100 recruit in the high school class of 2011, which is an encouraging sign, but the fact is that Umoh-Coleman will be fighting an uphill battle. Sylvia Hatchell of UNC has been raiding her backyard for prep talent for years, and Dawn Staley of South Carolina is trying to build her own powerhouse.

2. Is there enough talent to compete with anyone?

The key for Clemson this year is not so much to worry about winning as it is to maximize teamwork and the talents of each individual player. Hulking Shaniqua Pauldo is one of the better posts in the ACC, and a summer spent working on conditioning could make her an excellent player. Sthefany Thomas is a decent shot-maker, as is Kirstyn Wright. However, losing promising frosh point guard Keyrra Gillespie is a tough blow to handle, especially with do-it-all wing Lele Hardy graduating. If Umoh-Coleman can simply make the returnees better, that will be a great sign for her future.

3. Any diamonds in the rough in the freshman class?

Chancie Dunn and Kelia Shelton are both frosh point guards with modest resumes, but both will have a chance to start. If they can't take care of the ball, Clemson will be pressed to death by their athletic ACC opponents. Clemson could also use an athletic wing, so perhaps Dunn's AAU teammate Serena Clark could surprise.
Our next installment will be published October 7th