Today we continue our Three Questions series with our pick for tenth place in the ACC, the Virginia Cavaliers.


---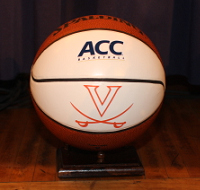 Virginia
DWHoops 2011 ACC Prediction: #10
1. What's this team's ceiling without Monica Wright?

Coach Debbie Ryan brought in two consecutive classes that were fairly highly ranked, and neither has produced a star as of yet. There are a number of players who have become regular starters and provide decent production, but there's no one with star power. The team was really hurt when frosh point guard China Crosby went down for the year with a knee injury. While Crosby had not been having a brilliant season up to that point, she was starting to figure out how to get it done against college competition. When she went down, Wright was forced to act as a playmaker in addition to everything else she had to do. Virginia would be fortunate to finish in the ACC's top six, and would do well to stay out of bottom three.


2. Can Kellum pull the youngsters together?

Kellum had a decent season after returning from her own knee injury, providing some clutch shots down the stretch. If she can rally the team around her and provide leadership for a team that otherwise has no productive seniors, the Hoos could put together a winning season. If she's ineffective, Virginia will flail in a number of games.


3. Will Ariana Moorer become a consistent scorer and playmaker?

Moorer is a good player who has been inconsistent. She's a good rebounding guard, can get to the foul line and a decent passer. She will get all the shots she wants this year with Crosby back at point and with the team needing someone to score. If she can improve upon her 20% shooting from three, she has a chance to make a big move up as a junior.