Today we continue our Three Questions series, a team by team preview of the 2011 ACC, with our pick for ninth place in the ACC, the Eagles of Boston College.


---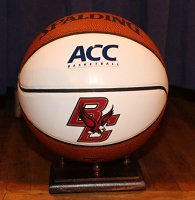 Boston College
DWHoops 2011 ACC Prediction: #9
1. What's going on with all the early departures?

Freshmen Mary Nwachukwu and Kelsey Reynolds departed after a single season. Jasmine Gill left after a sophomore year where she averaged 6.5 ppg. This came after a season where four Eagles left the program, including another freshman. All told, four of coach Sylvia Crawley's first five recruits have left in short order. What does this mean? The question becomes even more intriguing when one considers that the team voted to decline an invitation to the WNIT last season. Did this speak to divisions in the team between upperclassmen and newer players? Crawley is a young coach, and history has shown that young coaches tend to be much tougher on their players than veterans. Was this a case of these players not being ready for a tough coach? Or was it instead a coach and program moving up the recruiting food chain and alerting players that they likely had no future for them in the program? Another possibility is that players in the mid-elite category were dissatisfied with the amount of playing time or shots they received, and they sought greener pastures.


2. Can this team get by with only 9 players?

The good news for BC is that they return the top scoring frontcourt in the ACC in Carolyn Swords & Stefanie Murphy, who combined for 26 ppg and 15.5 rpg last year. They also return veteran point Jaclyn Thoman and promising shooter Kerri Shields...but those are literally all of their returning players. At a minimum, they need two of their freshmen to become solid contributors on day one to stay afloat in the ACC. If their ambitions are for postseason play, they'll need three or four frosh to fill big roles.


3. How good are the freshmen?

Top-15 wing Kristen Doherty is the lynchpin of the class. She can play several positions and will be expected to be a double-digit scorer. Top 100 point guard Tiffany Ruffin could push Thoman, while physical center Katie Zenevitch has to get up to speed immediately to back up Swords & Murphy. If Crawley wants to execute the up-tempo offense she's been talking about, that will mean getting frosh point Shayra Brown on the floor; if nothing else, she can pressure the ball and push the ball. Any versatility frosh Korina Chapman can add to the mix could help with defensive schemes. If the frosh aren't ready to play, BC could be headed near the bottom of the ACC standings.