Today our DWHoops 3 ACC Questions feature enters the middle third of the conference as we continue with our pick for #7 in the league, Wake Forest.


---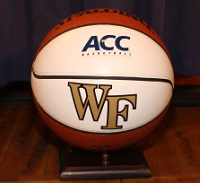 Wake Forest
DWHoops ACC Prediction: #7 (revised)
1. Is it now or never for Mike Petersen?

The Deacs were closer than ever to an NCAA berth, but an overtime loss to UNC and terrible loss at Clemson turned a potential 9-5 regular season finish into a mediocre 7-7 result. After losing to Georgia Tech in a closely-contested ACC tournament game, the Deacs were flat-out embarrassed by MEAC team NC A&T in the WNIT, losing by 24 points. This year's team returns its top six scorers and eight of its top nine. It also adds depth at every position with its freshman class. If there was ever a year to make the NCAA tournament, this would be it.


2. What can Brittany Waters & Sandra Garcia do to go from good to great?

Both players need to cut down on fouls; each fouled out three times last season. Waters is a great athlete who simply needs to shoot better, hitting just 38% of her shots last year. Garcia needs to get stronger and finish shots better at the rim; a center should hit more than 43% of her attempts. Both players have a chance to put up some tremendous numbers this season.


3. Will the offense ever catch up with the defense?

Wake's speed and tenaciousness on defense held opponents to 57 ppg last season, including 37% from the floor and 26% from three. That stacked up with the best teams in the ACC. However, the fact that they could scratch out only 60 ppg and shot almost as poorly handicapped them in every game. Simply put, Wake had a hard time getting easy baskets. Opponents also went to the foul line 60 more times over the course of the season than did the Deacs. Wake can't hope to beat the superpowers of the league if they can't put up points on a consistent basis.

Editor's Note: Wake has been promoted to #7 in our preseason rankings. For more info, please see our Miami 3 Questions.