DWHoops continues to count down the ACC with our preseason picks in the form of Three Questions facing each team. Today we look at Duke's neighbors to the East, #6 NC State. (revised ranking, please see below)


---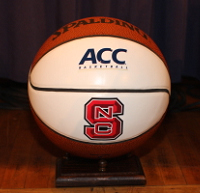 NC State
DWHoops 2011 ACC Prediction: #7
<#7 North Carolina State

1. Can Kastanek & Holston take the next step?

Coach Kellie Harper had a remarkable first season, battling back from losing five out of six ACC games to playing for the ACC title in Greensboro. The inspired play of forward Bonae Holston and ACC Rookie of the Year Marissa Kastanek was a big reason why the Pack were able to overachieve. More will be required of each player if the Pack want to finish higher in the ACC standings. Kastanek needs to cut down on turnovers, while Holston needs to improve her handle and extend the range on her shot.



2. Who's getting the boards?

6-3 wing Tia Bell is where State's size begins and ends. They were able to offset this somewhat with big guard Nikitta Gartrell going to the boards, but they'll need another wing to step up in this area. State can only spread out their defense and double-team the post so much before that tactic stops being effective if they can't rebound missed jump shots.



3. Who's the third scorer?

State had three double digit scorers last year, and will need to replicate that success this season. On deck are seniors Bell, Britany Strachan and Amber White. All three players have their strengths, but their weaknesses could prevent each from stepping firmly into that role. Strachan can shoot but can't do much else; White is not a shooter but can attack the rim; and Bell is best around the basket but isn't very strong. Keep an eye on frosh guard Myisha Goodwin-Coleman as a possible contributor.

Editor's Note: NC State has been promoted to #6 in our preseason rankings. For more info, please see our Miami 3 Questions.