Today our ACC preseason picks break through into the top half of the conference as we look at Three Questions facing the Miami Hurricanes. Our original ranking for Katie Meier's team was #6, but late-breaking news has forced us to drop them to #8.


---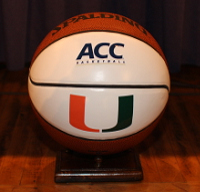 Miami
DWHoops 2011 ACC Prediction: #8 (Revised)
1. Is there enough size to make the leap into the ACC's top rank?

That may be a funny question to ask for a team that finished in a three-way tie for last place, but the Canes lost four ACC games in overtime (including the ACC tourney) and lost four other games by an average of 4 points apiece. Their run to the WNIT title game simply confirmed how close they were to breaking through in the regular season. Coach Katie Meier has to hope that undersized post Sylvia Bullock and frosh Selina Archer can hold on until next season, when big Pitt transfer Pepper Wilson becomes eligible. Until that time, any team with seasoned height will likely feast on the Canes.


2. Are Johnson & Williams ready to become leaders?

Riquna Williams had a breatkout season as a scorer. Shenise Johnson proved to be one of the best all-around players in the ACC. On a team with no seniors, they will have to step up and provide the proper example for their young teamamtes at both ends. For Williams, that will mean improving her effort on the defensive end and aking better shots. For Johnson, it will mean learning to delegate and holding her younger teammates to her own standard of excellence. The Canes will go only as far as those two can take them.


3. Is Suriya McGuire the next great Miami freshman? See Update Below

McGuire is yet another top 20 high school recruit for Meier, following in the footsteps of Johnson and forward Morgan Stroman. McGuire's presence means that Johnson could finally start at her natural wing position instead of being forced to play out of position at point guard. If McGuire can help reduce some of the load on Johnson, she might be a bit fresher down the stretch and in crunch time.

Update: DWHoops just received word that Suriya McGuire is no longer on Miami's roster, which is perhaps an indication that she didn't make it through the NCAA's clearinghouse. This is a major blow to the 'Canes, who will have to do some creative roster shifting. Unless one of the other freshmen is ready to play point guard (and it's possible that 2010 Miss Basketball Florida Krystal Saunders could step in), Johnson will have to shift back to point and Stefanie Yderstrom will need to start. That will greatly handicap Miami's depth, and considering that the Canes now only have ten players, this could wind up being a significant factor. At the moment, I'd drop Miami to 8th place.