For 12 days DWHoops will count down the ACC with three items about each team - including factoids, new players to note, trends or other observations. We continue today with Georgia Tech.


---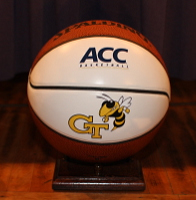 Georgia Tech
DWHoops ACC Prediction: #5
1. How good can Sasha Goodlett get?

There's no question that big center Goodlett has the size, skill and agility to becoming a dominating force in the ACC. The question is, does she have the drive to do so? She has yet to achieve an elite level of fitness, a drawback that often makes her gassed in late-game situations. For a player of her size, she's also remarkably timid at times. If she ever gets motivated enough to want to become a star, the league should watch out. Until then, her inconsistent play may cost Tech a chance at major success.


2. Can anyone help Alex Montgomery carry the load?

With Brigitte Ardossi's miraculous senior run now over, Tech once again has no player other than do-it-all guard Montgomery who averaged in double figures last year. Goodlett and point guard Deja Foster approached double digits in 2010, but neither player would seem to be likely candidates for a significant scoring upgrade. That leaves maddeningly inconsistent wing Mo Bennett and promising guard Sharena Taylor. Taylor is more of a point guard, but Bennett has the quickness and skills to become a big-time scorer--if she's ready. If she isn't, and if none of the frosh contribute immediately, Tech could take a bump down.


3. Has this program plateaued?

MaChelle Joseph has strung together a series of solid seasons. Tech can now be counted on to win 20 games and go to the NCAA tournament every year. They managed to finish fourth last year, but couldn't crack the league's top three in a season where UNC and Maryland endured rebuilding years. Tech lost several key games on the road and were pushed around in crucial home losses to Duke and FSU. It's hard to see the Jackets doing much better this year, unless their younger players make a leap into stardom and the Jackets get a few of those victories against top opponents.