DWHoops continues our 12 day preseason trek through the ACC with our pick for #4 in the league, the resurgent Maryland Terrapins.


---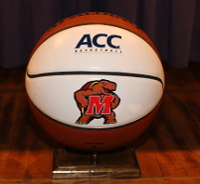 Maryland
DWHoops 2011 ACC Prediction: #4
1. Is Maryland ready to contend again?

Considering the talent in College Park, there's no question that after Maryland's 2006 National Championship that the Terps underachieved in 2007 and 2008, falling short of an ACC title or a return to the Final Four. The Terps did take the ACC crown in 2009, but that underachieving extended to the program's recruiting in a way that finally caught up with the Terps in 2010. A couple of failed recruiting classes and mediocre talent spelled trouble for Maryland. That said, coach Brenda Frese deserves an enormous amount of credit for keeping her painfully young Terps in contention in 2010 and for putting together a truly show-stopping recruiting class for this season. All five frosh are top 100 prospects, and I expect forwards Alyssa Thomas or Whitney Bays to step right into the starting lineup. The lumps the Terps took last season will make them a better team.


2. Who are the leaders on this team?

This will be the issue that could determine how good the Terps will be this season. The Terps flailed last year not because they lacked talent, but because no one seemed to know what to do in crunch time. That included four losses of three points or less, which was the difference between an NCAA tournament bid and their WNIT bid. The fact that there are no seniors on this year's squad could mean a few more tough losses, but guards Anjale Barrett & Kim Rodgers are at least redshirt juniors. They've played on a great team and they've played on a mediocre team, and I expect them to have an important role in sheparding the team's younger players. The lynchpin will be center Lynetta Kizer. She emerged as a consistent scorer & rebounder last season, but will now face rising expectations and younger players who will be looking up to her. How she handles that challenge will have a lot to do with Maryland's ultimate fate.


3. Can these frosh stack up to the great classes of the recent past?

Thomas, Bays and guard Lauren Mincy are all top-25 talents. Center Alicia DeVaughn and guard Natasha Cloud are both top-100 players. This class will be asked to restore Maryland's luster, rather than create a new tradition, like the Langhorne/Harper and Coleman/Toliver classes were. My suspicion is that this class will have an impact on winning, but won't have the same statistical impact as the prior classes because of Maryland's returning talent. I'm guessing that Frese would be just fine with that.