DWHoops continues our preseason countdown for the ACC with our pick for second in the league, the Tar Heels of the University of North Carolina.


---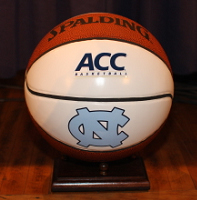 North Carolina
DWHoops 2011 ACC Prediction: #2
1. Can Jessica Breland regain all-ACC form?

Breland showed so much potential and production early in her career that the answer to this question will essentially determine the outcome of UNC's season. All indications are that she's better than ever following chemotherapy for Hodgkin's disease. In fact, she probably could have started to play last March, but she was wisely held back so as to have a full senior season. The Heels had a Breland-sized hole in their roster last year and floundered in their half-court offense and on defense. Breland's ability to block shots and score inside and out could energize the rest of the team.


2. Is there a leader in this bunch?

Breland will be one of three seniors, but guards Italee Lucas and Cetera DeGraffenreid were flops as leaders last year. Lucas was so out of it at times that coach Sylvia Hatchell took her out of the starting lineup and benched her for long periods of time. DeGraffenreid's inability to hit any kind of jump shot toward the end of the year made her much easier to defend. With Breland back, Hatchell hopes that the confidence of the other two seniors will be restored. UNC teams do not do well without strong upperclassman leadership; can Breland keep everyone in line while making the adjustment of returning to basketball?


3. Will everyone be in shape?

For a team that loves to run, UNC has frequently let some of their players get out of shape. This has hurt them late in tight games, when those players cramp up or make defensive mistakes due to fatigue. In particular, Waltiea Rolle is a player who showed tremendous potential as a game-changer in the post at both ends, but who faded late in games. Big-time recruit Tierra Ruffin-Pratt had shoulder problems, but her mobility suffered from a lack of fitness. If this team can get leaner and stronger, they will be able to close out opponents in a way they weren't able to do last year.