| | |
| --- | --- |
| Hokie Alum Steps Down After Seven Seasons | |
DWHoops Photos by Orin Day
Coach Dunkenberger appears perplexed, perhaps by her team's lack of competitiveness
---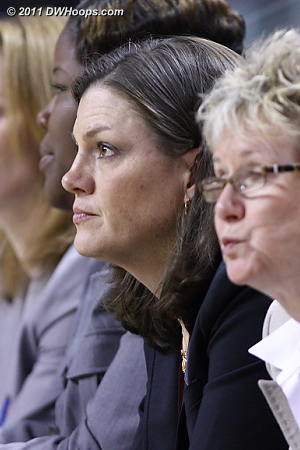 Dunkenberger
---
In a move that had been rumored for a few days, Virginia Tech coach Beth Dunkenberger tendered her resignation from the Virginia Tech job. She was at the end of her contract, and it was no surprise to see her step down after a terrible 11-19 record, 1-13 in the ACC.
Dunkenberger took over a thriving VT program and slowly ran it into the ground. She took previous coach Bonnie Henrickson's players and guided the Hokies to consecutive NCAA tournament bids during her first two seasons, a WNIT bid in 2007 and then no postseason activity from 2008 through this year.
Dunkenberger was a solid bench coach who got the most out of her players, but she simply couldn't draw elite talent to Blacksburg. She got every opportunity to win and this year was supposed to be the win where the Hokies turned it around, given a number of solid returning players as well as a talented frosh class. Instead, the Hokies were very fortunate to win just one ACC game.
Names in the mix for the VT job could be Kenny Brooks of James Madison (a proven winner who can recruit, though he is also a loyal JMU alum) or perhaps the up-and-coming David Six of Hampton.
Dunkenberger's overall record was 110-104 and 27-71 in the ACC; her best league finish was 6-8. This was the first season where it seemed obvious that it was time for her to move on, as her once-sharp team seemed unfocused and unmotivated at times. It seemed to dawn on everyone at once that they weren't good enough to truly compete in the ACC in any meaningful fashion. That sinking realization started to become a self-fulfilling prophecy that weighed down the program, and Dunkenberger herself, as the season lurched to a close. It was obvious that Dunkenberger stepping down was best for all parties involved, even as it was clear how disappointing this was for the Hokie grad who was once so excited about coming home seven seasons ago.