| | |
| --- | --- |
| A Look at the Other Five ACC Teams in the Big Dance | |
Here's a quick rundown on the ACC teams other than Duke in the 2011 NCAA tournament, including seeding, region and overall chances.
---
Florida State


Seeding: #3 Dallas

First Round Matchup: Playing Samford in Auburn (3/20)

Overall Chances: I see FSU's combination of size, speed and scoring as being way too much for Samford, and I don't think Georgia has enough weapons to take on the Noles either. This will be a true neutral court game, so I think FSU will be fine in both instances. However, the fun will stop against Texas A&M, which has too much great guard play, too many good role players and way too much Danielle Adams for FSU to contain. It's not that her bulk will concern the equally powerful FSU center Cierra Bravard, it's that Adams could take her outside all night long. It's simply a brutal matchup for Florida State, but another Sweet Sixteen would mark another solid season.

DWHoops File Photo by Orin Day
FSU's Sue Semrau
---
Georgia Tech


Seeding: #5 Dayton

First Round Matchup: Playing Bowling Green in Columbus (3/19)

Overall Chances: The Jackets are quietly playing excellent basketball at the moment. They beat Maryland in the ACC tournament and gave Duke a battle before losing. Tech played really well in that game; Duke just played better. As a dread 5 seed, they will be playing Curt Miller's tough Bowling Green team, winners of 28 games. Miller makes some unusual and unorthodox coaching moves that are often hard to counter, which makes up for a lack of elite athletes on his team. I'm going to assume that BGSU will concede some of the shots that Duke gave the Jackets in the ACC tournament; if Tech can hit them with regularity, they will win. If the Jackets fall back into uglyball, BGSU will win by 7 to 10 points. It all falls on the shoulders of Alex Montgomery. If she's aggressive and hunts her shot while still playing defense and getting everyone else involved, the Jackets will be in great shape. Any passivity on her part will play right into Bowling Green's hands. I actually think either team could take out Ohio State, though doing it on their home floor could be tricky. The Jackets don't have the firepower to keep up with Tennessee if they get to the Sweet Sixteen.
DWHoops File Photo by Orin Day
Georgia Tech's Alex Montgomery
---
Maryland

Seeding: #4 Philadelphia

First Round Matchup: Hosting St. Francis (PA) in College Park (3/20)

Overall Chances: The Terps have the big advantage of hosting their first two games in the Comcast Center. With the Maryland men sitting home this postseason, I would guess Terp fans will jam the place, especially if they wind up meeting local rival Georgetown in the second round. I don't expect a tough St Francis team to give Maryland much difficulty in the first round and I would guess that they would relish a rematch with the Hoyas, who defeated them earlier this year. This Terp team is far more seasoned and has established itself as a dominant rebounding team. The key to their success is Alyssa Thomas; if she gets in foul trouble, Maryland is susceptible to long offensive droughts. Her mid-range game and ability to penetrate helps to set up the posts for open looks and the guards for kick-outs. Her ability to grab offensive boards also makes her dangerous. Home court should give them the edge over the Hoyas, but the fun should end against UConn in the Sweet Sixteen. That said, Maryland's depth and size are exactly the two things UConn doesn't possess, so they could make things interesting for awhile. Of course, the Terps don't have a player who can guard Maya Moore, which could lead to a long night if she's really clicking. A Sweet Sixteen for a group with no seniors would be a fine prize indeed.
DWHoops File Photo by Orin Day
Other teams in the College Park pod may have no answer to Maryland's Lynetta Kizer
---
Miami

Seeding: #3 Dayton

First Round Matchup: Playing Gardner-Webb in Charlottesville (3/20)

Overall Chances: This is a very dangerous pod for the Canes, a team with extensive WNIT experience but no NCAA games. Miami's short bench and dependence on jump shots makes them a prime candidate for an upset. Gardner-Webb dethroned a tough Liberty team in the Big South tournament and will be playing relatively close to home. Don't be surprised to see a busload or two of fans come out to this game. I expect Miami's pressure and athleticism to carry them through their first round game, but their second round opponent will be far tougher. JMU has one of the country's leading scorers in Dawn Evans, while Oklahoma has ultra-athletic forward Danielle Robinson. JMU is very close to Charlottesville, where the game will be played, and so if they upset Oklahoma it will be a road game for Miami. Oklahoma tends to travel well, so the Canes could be facing a hostile crowd there as well. If they get by those teams, I think they would actually fare pretty well against Notre Dame, which has a relatively short bench. Beating #1 seed Tennessee would be a tall order for a team like Miami right now, however. They have a good shot at a Sweet Sixteen but I wouldn't be shocked to see them lose in the second round.
DWHoops File Photo by Orin Day
ACC Player of the Year Shenise Johnson will face other superstars if Miami advances.
---
North Carolina
Seeding: #5 Spokane

First Round Matchup: Playing Fresno State in Albuquerque (3/19)

Overall Chances: Once again, the Heels get shipped west, this time at altitude in Albuquerque. Is it an omen that ABQ is nicknamed "The Duke City"? If that altitude doesn't affect Jessica Breland too adversely, then I expect her to carry the Heels into the Sweet Sixteen. She's a weapon that Fresno State won't be able to counter and will help set up the games of Italee Lucas, Chay Shegog, Cetera DeGraffenreid, etc. Kentucky and Victoria Dunlap will be a bigger challenge but not an insurmountable one, especially considering that it will be a true neutral court. The fun will likely end with UCLA, which is too quick and too well-coached to lose to the Heels. However, if every Heel has her head screwed on straight (an event that has occurred rarely this season), UNC could go as far as the Elite Eight and a meeting with Stanford. There, their frontcourt edge would suddenly disappear against the Ogwumikes and Kayla Pedersen. I do expect the uptick they experienced in the ACC tournament to give them some real momentum in the NCAA tournament, especially as Breland continues to heal from her knee injury and the damage her lungs took from chemotherapy.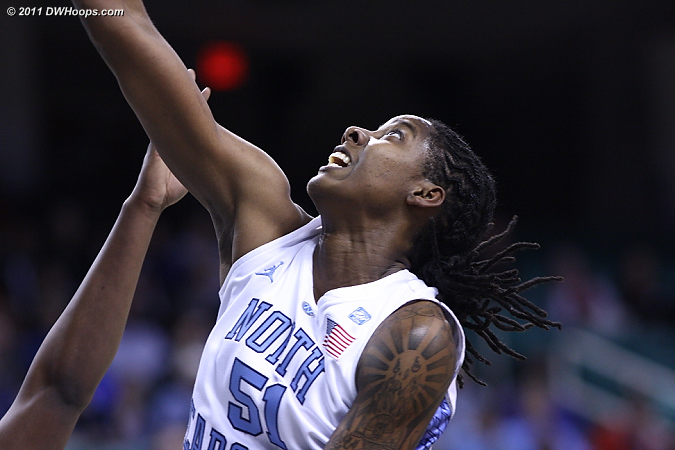 The endurance of ACC Comeback Player of the Year Jessica
Breland may determine Carolina's postseason success.
---
A preview of Duke's NCAA matchup with Tennessee-Martin and a look at the Durham pod will be published soon.