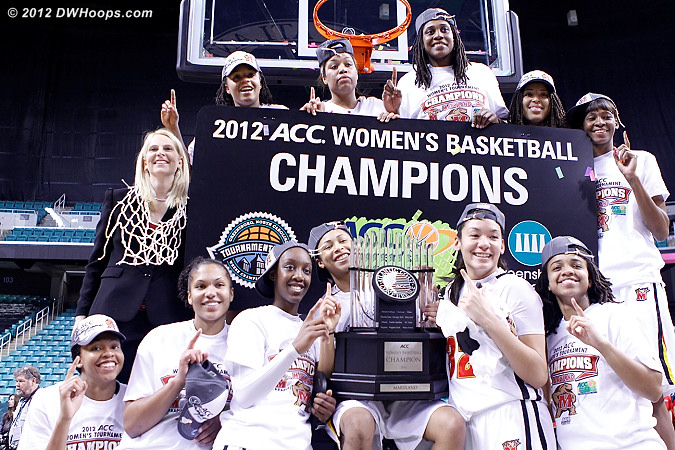 The Maryland Terps won a record 10th ACC tournament title by knocking off Georgia Tech in a tense, physical contest. Maryland won because they did a few things that were uncharacteristic of their team this season. First, they kept their turnovers to just 12, which is 4 under their season average. They had turned the ball over 20+ times in the first two games of the tourney, but they kept their composure against a team that plays pressure defense. Second, they turned Georgia Tech's turnovers into 21 points, giving them a +6 edge for the game. Third, their bench dominated Georgia Tech's to the tune of 21-10. On a day when normally reliable starters Laurin Mincy, Tianna Hawkins and Alicia DeVaughn combined for just 10 points, those contributions were huge, none bigger than Kim Rodgers back-to-back three pointers and perfect 4-4 from the stripe. Fourth, Maryland allowed Georgia Tech to dictate the game's tempo but still managed to win playing at a slower and lower-scoring pace.

DWHoops thanks Ron Stubbs for his generous support of DWHoops ACC Tournament coverage

Maryland showed tremendous maturity in never getting down when Tech made big runs, instead regrouping and finding a different way to score. Even when Georgia Tech came from 7 down to take a 63-61 lead with two minutes left, the Terps never panicked. Instead, they went to their seniors: Lynetta Kizer hit a jumper in the lane and Anjale Barrett followed that up with a drive aftera turnover. Unsurprisingly, Alyssa Thomas finished GT off with 2 big foul shots. Her 29 points were the most in a final since Monique Currie scored 30 in 2002. Maryland overcame a potentially disastrous turnover and a missed foul shot at the end to stoutly defend a potential game-tying three at the buzzer, and their players and coaches were able to celebrate amidst the confetti and balloons. Even Maryland band members got cuts of the net in one of the most lengthy celebrations in memory.

What's Next For Georgia Tech: The all-time winningest class in Georgia Tech history can hold their heads high after such a tough loss. There's no doubt that they are the top #4 seed in the s-curve, and there is a strong chance that they could move up to a #3 seed, given that Penn State and George town both lost in their conference tournaments.

What's Next For Maryland: The Terps have a firm claim on the top #2 seed in the NCAA tournament s-curve. There is a tiny chance that they could be a #1 seed if both Stanford and UConn flop in their tournaments.

Top Performers:
Alyssa Thomas, MD: 29 points, 4 rebounds, 2 assists. The tournament MVP was dominant off the dribble, draining shot after shot from fifteen feet. She wore down after constant double-teaming, but gained her second wind in the second half and scored three straight times to help spark a Terp run.


Kim Rodgers, MD: 10 points, 2 rebounds, 3 assists. After being buried deep on the Maryland bench for much of the season, the senior guard came in when the team was struggling midway through the second half. She promptly sank 4 straight foul shots and then drained back-to-back treys to push Maryland's lead out to 7 points. It was a gutsy showing for a veteran who came in cold but finished hot.


Ty Marshall, GT: 25 points, 3 rebounds, 3 assists, 3 steals. Marshall started slow as the jumpers that were landing in earlier games started clanging off the rim. But she scored 18 of her 25 points in the second half to lead her team to the brink of victory.


Sasha Goodlett, GT: 20 points, 8 rebounds, 2 assists, 2 blocks, 3 steals. Goodlett came close to fouling out the entire Maryland front line with her powerful post moves. She got to the foul line 12 times and was a force on the boards. Tech going away from her in the game's final moments contributed to their defeat.
The official All-Tournament first team consisted of Thomas, Marshall, Goodlett, Kizer and Marissa Kastanek. The second team selections were Tianna Hawkins of Maryland, Metra Walthour of Georgia Tech, Pepper Wilson of Miami, Chelsea Douglas of Wake Forest, and Chelsea Gray of Duke. My ballot had Thomas, Goodlett, Kizer, and Marshall on the first team along with Kim Rodgers (she had that much of an impact in my eyes) on the first team. My second team had Gray, Kastanek, Ariana Moorer of Virginia, Secily Ray of Wake Forest and Bonae Holston of NC State.
---
A Note from the Publisher: We'll be editing, tagging, and captioning these photos a bit later in the week, as well as adding a gallery of celebration photos Monday. Usually only DWHoops members receive raw feeds, but we're making them available to all for the ACC Tournament. We'll be offering special memberships for 2012-13 for women's basketball fans who are fans of ACC teams other than Duke, so please check DWHoops.com in the fall for details!
---
| | | |
| --- | --- | --- |
| | ACC Tournament Coverage Sponsor | |