| | |
| --- | --- |
| Devils Return to Caribbean Challenge | |
---
Western Kentucky - Thursday 11/26 @ 7 PM - Cancun, Mexico
Last Year: 16-13
Currently: 3-0

Significant Losses: The Lady Toppers return every player of note.
Who's Coming Back: WKU not only welcomes back every player for a team that played a tough schedule, they even get wing Dominique Duck (10 ppg, 6 rpg) back for a fifth year. The Lady Toppers return three double digit scorers, led by 6-2 post Arnika Brown (14 ppg, 12 rpg) and mad bomber Kenzie Rich (14 ppg, 211 threes at 31%, 4 rpg). Amy McNair is the team's lead guard and averaged 12 ppg & 5 apg. Hope Brown got a number of starts and put up 9.5 ppg and shot 33% from three. Forwards Jessica Magley & LaTeira Owens both averaged around 4 ppg and 3 rpg apiece.
The Skinny: The Lady Toppers have won two true road games already, with the highlight being an impressive win over a tough South Dakota State team. McNear scored a career-high 28 points before fouling out, as the Toppers massaged severe foul trouble by going deep into their bench. The reserves responded with a combined 18 points and 12 rebounds. Brown had 17 & 11 but WKU was outrebounded as a team. WKU has been boosted by 5-11 frosh wing Courtney Clifton, who has scored 13 ppg and is shooting 50% from three. Frosh guard Lashay Davis is getting double digit minutes and averaging 3 ppg.
Duke went to Bowling Green a season ago and was lucky to escape with a win. Jasmine Thomas got hurt prior to that game and Duke coughed up the ball 20 times, but Duke's size helped them hang on. This is a tiny but feisty team that doesn't mind getting physical and playing sticky defense. This will be one of the most experienced teams Duke plays all year, and they will be ready for Duke's size and quickness.
Duke will have Jasmine Thomas around this time to handle WKU's pressure, but she will have to be very careful handling the ball. She can't be casual against pressure, especially with McNear averaging a couple of steals a game. In my recap of last year's game, I wrote "The Devils are going to have to get much more creative in how they break down zones and do a better job in exploiting the tendencies of their opponents", and this imperative still applies now. The Lady Toppers will pack the lane and double-team Duke's posts. They have the depth to match Duke's and won't simply be worn out. They might get into foul trouble, but can find ways to work around it.
In order to win, Duke will need to dominate the offensive boards and get extra attempts. They will need to force turnovers but can't press too often. WKU is a small team that doesn't have a lot of consistent shooting (other than Clifton); all Duke will need to do is play their basic man-to-man (with some pressure on the ball). WKU won't be able to score against Duke's shot-blockers in a standard defense. If Duke goes to the matchup zone (which they might if WKU has any success attacking the basket), the Devils will have to be careful to rotate quickly over to McNear and Clifton, because the Toppers will try to create opportunities for them. Offensively, Duke will try to get easy shots off steals (as always), but if they want to get out of their offensive funk, they will need more movement on offense and crisper passing. Jasmine and Karima Christmas need to be prepared to take pull-up jumpers.


Clifton getting open shots
Brown getting extra shots
---
Marquette - Friday 11/27 @ 7:30 PM - Cancun, Mexico
Last Year: 17-16 (WNIT 2nd round)
Currently: 3-1

Significant Losses: The Eagles' only significant loss was guard Krystal Ellis who averaged 12 ppg, 3 rpg and 2 apg. She was one of Marquette's main outside threats, though she only shot 28% from three.
Who's Coming Back: The team is lead by dynamic junior point guard Angel Robinson, who averaged 14 ppg, 5 rpg and 4 apg last season. A 30% three point shooter, she's at her best when she's in the lane. 6-2 post Jessica Pachko put up 9 ppg and 6 rpg, while wing Paige Fiedorowicz averaged 6 ppg and 4 rpg. Tatiyiana McMorris averaged 5 ppg and shot 40% from three. 6-2 post Georgie Jones scored 3 ppg and grabbed 5 rpg. Post Jocelyn Mellen put up 4 ppg and 4 rpg, while wing Janelle Harris chipped in 3 ppg and 2 rpg.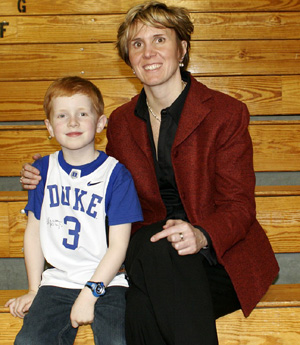 Marquette Head Coach Terri Mitchell poses
with a young Duke fan during the Golden
Eagles' 2008 WNIT Championshp season.
(DWHoops Photo by Orin Day)

The Skinny: This is an interesting game for all sorts of reasons. It's a peek into an alternate reality where Marquette coach Terri Mitchell got the Duke job (she was a finalist). It will be a battle of deliberately-paced teams who play fearsome defense. Thus far, the Eagles have struggled a bit, getting blown out by a mediocre Michigan squad on the road. Robinson isn't shooting all that well and is currently averaging 11 ppg, 7 rpg and 4 apg--but is shooting 25% from long range. Pachko and Thomas-Johnson are both averaging around 12 ppg; Pachko is leading the team in rebounding at 7.5 rpg while Thomas-Johnson is shooting 28% from three.

Marquette does not score a lot of points and they turn the ball over nearly 18 times a game. They play bigger than their size (their tallest player is 6-2), netting nearly +7 on the boards. They get it done with depth (8 players score at least 5 ppg) and that sticky matchup zone. The teams actually are quite similar: dynamic scoring point guard, an emphasis on rebounding & toughness, bad long-range shooting and lots of depth. Duke has a significant edge in size, and this must be exploited to win. If Duke can negate Marquette's rebounding ability and get a lot of second shots, then they should have no trouble winning. This is another game where Duke can't afford to get cute running the press too much, because Robinson will shred it. Instead, Duke should use half-court traps in an effort to force bad passes out of double teams, while Krystal Thomas or Allison Vernerey protect the basket.

Offensively, this is another instance where Duke needs to hit pull-up jumpers from mid-range in order to loosen up the defense. If Duke can draw the defense up, that will open up the lane for drives and scores by the post players. The last thing Duke wants to do is try to shoot over the zone, dribble straight through it, or try to jam the ball into the posts straight-on. Duke hasn't played the angles as well as they could have this year; in the halfcourt, Duke will have more success if both players and the ball are in motion. Duke is easy to defend if players try to drive to the basket and then pass it back out if nothing's available. It'll be interesting to see how the setting in Cancun affects the games; in the past it's been a hotel ballroom not a gym - a tiny room with weird acoustics.


| | | |
| --- | --- | --- |
| | Robinson creating for others | |