| | |
| --- | --- |
| Senior Night Showdown! Special Guest Star: Monica Wright | |
Virginia - Friday 2/26 8:30 PM - Cameron Indoor Stadium (FSN)
Last Meeting: 3/6/09 (ACC Quarterfinals) Balanced Devils Pound Cavs, 76-53

Current Records: Duke 23-4, 11-1 ACC (1st)
Virginia 20-7, 8-4 ACC (3rd)





Hugging? Probably Not Friday.
Shine & Scheer Grapple
Jasmine Thomas Guards Monica
Wright in 2009 ACC Quarters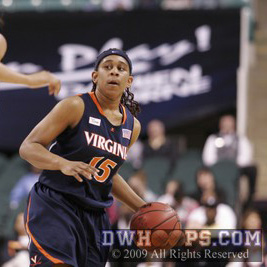 UVa PG Ariana Moorer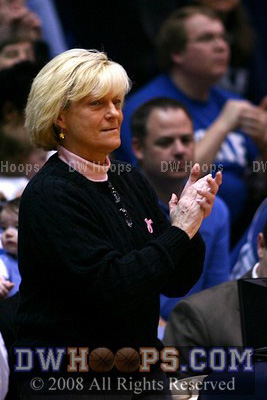 Debbie Ryan's Hoos Gave Duke's
Seniors a Tough Game in 2008
Significant Losses: F Lyndra Littles (20 ppg, 6.4 rpg) was a frustrating, if intermittently brilliant, basketball player. Her ability to score and rebound against anyone was offset by her frequent off-the-court problems and near-total disinterest in playing defense. C Aisha Mohammed (13 ppg, 10 rpg) was a steady low-post presence and dominant rebounder. Her frequent foul trouble put her team in a bind when she was on the bench. F Kelly Hartig (1.4 ppg) started 32 games last season and was badly outmatched against ACC opponents; she has opted to move on after two years in Charlottesville. Kristen London (3 ppg) got hurt and played only 23 games, while wing Enonge Stovall (3 ppg) was booted off the team, depriving the Hoos of their top perimeter defender.


Who's Coming Back: The odds-on favorite for ACC player of the year is senior wing Monica Wright (20.5 ppg, 6 rpg, 3 apg), a multidimensional scorer and rebounder who still needs a more consistent jump shot and a stronger presence on defense. Soph PG Ariana Moorer (7 ppg, 2 apg, 3.5 rpg) is the default choice at point guard. Soph F Chelsea Shine (5.5 ppg, 2.3 rpg) has been a steady if unspectacular presence at power forward. Soph W Whitny Edwards (5 ppg, 2 rpg) has been a regular rotation player, though her twin sister Britny (1 ppg) and junior F Jayna Hartig (1 ppg) are both fringe players. The most significant returning player who wasn't on last year's team is senior guard Paulisha Kellum, who sat out last year with an ACL tear but has had a lot hinging on her performance.
The Skinny: When I asked Debbie Ryan where she would rate Monica Wright in the pantheon of great Virginia players, she unhesitantly replied, "Toward the very top", saying that she's every bit as good as Wendy Palmer, Dawn Staley and the like. Wright has dragged a painfully young UVa team, kicking and screaming to a top-three position in the conference. The Hoos actually had an outside shot at winning the ACC before they lost a heartbreaker to FSU at home Monday. Still, this is amazing for a team that includes three frosh and three sophs in its top-8 rotation.
Wright has flaws. She turns the ball over a lot (four times a game) and is a good, but not deadeye long-range shooter (32%). There are times when she disappears for long stretches in a game. While she has quick hands, she can be beaten one-on-one. These flaws serve to point out what an amazing season she's been having. Opponents are doubling her, pushing her, attacking her dribble and doing everything they can to keep the ball out of her hands. Nothing has worked for long, as Wright is currently leading the ACC with 23 ppg. She also leads the team with 6.4 rpg, 3 apg and 4 spg. Wright is somehow third on the team in blocks. When she gets on a roll, Wright can score from anywhere and in any fashion: drives, stop-and-pops, threes, and at the foul line. She is far from a chucker and actually prefers to set up her teammates whenever possible.
Duke will need to try a variety of tricks on her. They'll start with Keturah Jackson on her in the man-to-man in an effort to wear her down. They'll use Karima Christmas on her in an effort to draw fouls (Wright has fouled out of 3 games this year). Duke may double her at times, but likely not for long. The Devils will encourage her to take contested threes or long-range threes that are out of her comfort zone. I also suspect that Duke will try out variations on its zones to prevent the penetration of Wright and Moorer.
Virginia has significant weaknesses in the post and at point guard. Undersized soph Shine has played well this year, with her baseline jumper and turnaround jumper near the post becoming reliable weapons. She's averaging 8 ppg and 5 rpg and is a player Duke must take seriously. Look for Cheek to start with her but for quick players like Mitchell and Christmas to get a crack as well. Frosh center Simone Egwu has struggled this year, putting up 4.5 ppg and 4.5 rpg (but much less in ACC play), and this is an area that Duke could exploit if they can set up their bigs with good passes. The Devils won't need to worry about shotblocking and so should attack the rim as much as possible.
One reason the team has started to play better is that sophs W.Edwards and Moorer are stepping up as scorers and rebounders. Both are averaging about 7 ppg and 4-5 rpg. Edwards is shooting a decent 31% from three. Senior Kellum has struggled coming off her knee injury, but she's played well of late. That's given the Hoos a big boost off the bench as a scorer and playmaker, as she's averaging 5 pg. Frosh Lexie Gerson is also providing a scoring boost, putting up 6 ppg in league play. Another frosh, Telia McCall, has shown flashes of effectiveness in the post, grabbing 20 rebounds in the huge OT win over UNC.
Duke has dealt with a few lethal scorers this year with mixed results. The Devils locked up Miami's Riquana Williams and UNC's Italee Lucas, but didn't fare quite as well against JMU's Dawn Evans or UConn's Maya Moore. Wright is in the mold of Moore with a less consistent jumper, but is someone they can never leave alone. While she can disappear from games, she often erupts without warning, dropping 10 points in a row in just a minute. FSU chose to triple team her on the last shot of the game, forcing someone else to win or lose the game for Virginia. The Devils have to be vigilant in handling the ball, which has been a season-long concern for the team. Virginia forces 23 turnovers a game and turns those into points. For a team that has trouble generating points otherwise, it's imperative that Duke has to limit their opportunities.
With Duke's advantages in size, depth & experience, throwing the ball away would neutralize those edges. Instead, the Devils have to make things as hard as possible for Wright, force turnovers and take advantage of them. The Hoos have always found a way to keep it close against bigger teams, mostly by going right at opposing posts and getting them in foul trouble. Virginia almost knocked off FSU using this formula, and they will be looking to bounce back and secure the #3 seed by beating Duke. This will be senior day, and as such will be one last chance during the regular season for KJ, B and Joy to make their mark in Cameron Indoor Stadium. Beating Virginia would mean clinching the top seed in the ACC tournament, which would be a fitting reward for this group, who have not finished in first place since their frosh seasons.


| | | |
| --- | --- | --- |
| | Anything easy for Wright. | |


Duke's Class of 2010: Joy Cheek, Bridgette Mitchell, and Keturah Jackson