| | |
| --- | --- |
| #2 Seed Blue Devils Host Bayou Bengals | |
DWHoops Photos by Orin Day
LSU Head Coach Van Chancellor strolls down the sidelines during their first round blowout of Hartford.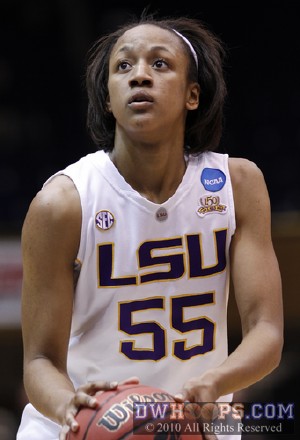 Duke will want to keep LaSondra Barrett off the free throw line.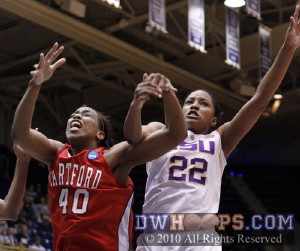 LSU players like Courtney Jones (22) will be ready to mix things up inside.
#7 Louisiana State
Record: 21-9, 9-7 SEC



The Roster: Everything for LSU begins and ends with senior wing Allison Hightower, whom Duke Head Coach Joanne P. McCallie compared to Monica Wright in terms of the way the offense is focused around her. Hightower averages 18.5 ppg and shoots 40% from the three point line. She's balanced out by forward LaSondra Barrett, a 6-2 post who puts up 13 ppg and 7 rpg. She also gets to the line 5 times a game. Katherine Graham is the team's playmaker, but she also puts up 9 ppg to go along with 4 apg and 6 rpg. Forward Courtney Jones comes off the bench to average 6 ppg and 4 rpg, while forward Taylor Turnbow puts up 5.5 ppg and 4.7 rpg. Helping out in the backcourt are guards Adrienne Webb, Latear Eason and Destini Hughes, who all average between 3 and 5 ppg while hitting the occasional three.

The Skinny: The Tigers have essentially gone as far this season as Hightower has taken them. They've pulled off some solid wins against Middle Tennessee State, Tulane, and Louisiana Tech, but their signature win came on the road against Xavier. In the SEC, their only win of note came against Vanderbilt. The Tigers were in a lot of close games and have strong numbers overall, outrebounding opponents by 5, keeping their turnovers low (about 12 a game) and forcing 18 a game from their opponents. LSU gets to the line 20 times a game and converts an impressive 72% when they get there. This is a battle-tested team that doesn't necessarily have a lot of depth or size but that usually finds a way to get the job done.

The Matchup: Watching LSU dominate Hartford, they reminded me a bit of Duke in some ways. They're a long, athletic team that relies on its defense to win. They feature one dominant scorer with a couple of fairly reliable secondary scorers along with several role players filling in. They're not a great shooting team and sometimes had trouble finishing easy shots, but their relentlessness wears down opponents. The main difference is that Duke is bigger than LSU and a bit deeper. They Devils will need to focus on rebounding above all else; the Tigers had an impressive 20 offensive rebounds and had 17 second chance points against Hartford. LSU will try to keep Duke out of the lane and force the Devils to solely become a jump-shooting team. The Tigers will try to make up for their lack of size by doubling on Duke's posts (including Joy Cheek) and hope to turn the ball over or force tough jump shots. For Duke's part, they can't lose Allison Hightower on defense. She barely broke a sweat against Hartford, but I suspect she will hunt her shot early and often against Duke. As long as the Devils control the boards and use their size to force LSU into tough shots, they'll be in good shape. If LSU gets a lot of second shots and the Devils have to take a lot of jumpers, Duke could be in trouble. The last key for Duke will be being physical and which team can most effectively do this. If the Devils can knock LSU out of sync by bodying them up, then the Devils will eventually wear them down.

Tidbits: This will be Duke's first matchup with LSU with former Houston Comets and US National team coach Van Chancellor at the helm...Duke and LSU have tangled a number of times in the postseason this decade. The Tigers eliminated Duke in 2000 (probably my favorite Duke team ever) and 2005. Duke returned the favor by blitzing LSU in the 2006 Final Four.... The two teams have never played in Cameron Indoor Stadium and Chancellor has never coached against Duke. He did coach former Duke standout Mistie Bass in the WNBA before accepting the LSU job in 2007. The Comets folded two seasons after his departure.