| | |
| --- | --- |
| Freshmen and Returning Stars Showcased in Four Quarters | |
DWHoops Photos by Orin Day
Jasmine Thomas drives around Haley Peters.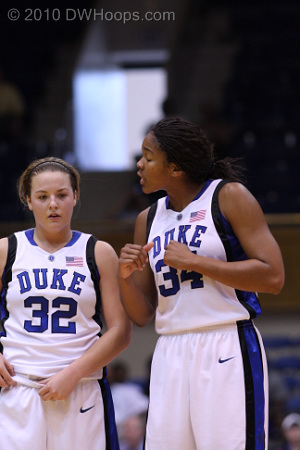 Senior Krystal Thomas has some guidance for Freshman Tricia Liston.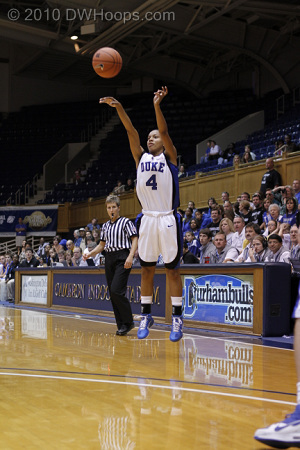 Freshman Chloe Wells launches a shot from behind the arc.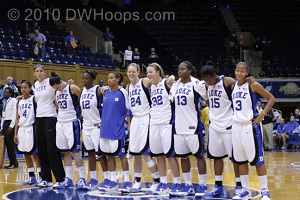 The 2010-11 Team.
For larger photos and other great extras, join DWHoops Gold.

Special Earlybird offer expires on November 1, so don't delay!
Duke kicked off the season with the annual Blue-White Game on Sunday afternoon, featuring four ten-minute quarters. The first three quarters featured the squad split into two teams (with a couple of men's scout team players in at the post), switching teammates after each quarter. In the fourth quarter, the full roster played against a squad of scout players. Before I get to some general notes on game action, a few housekeeping notes. Allison Vernerey and Janee Johnson did not play in this game. Coach McCallie clarified as to their status after the game, noting that Janee is indefinitely suspended. She wants Johnson to concentrate on continuing to fully rehab her knee (she tore her ACL before her freshman year) and concentrate on academics. McCallie said there's no timetable as to her return. With regard to Vernerey, she suffered a concussion in practice a few days ago and McCallie is choosing to be "very protective" of her at this point. I imagine she'll be back sooner rather than later.
The starting lineup for the White team (which McCallie indicated would be the starting lineup today, if the team had to play a real game), was Krystal Thomas, Kathleen Scheer, Richa Jackson, Karima Christmas and Jasmine Thomas. They lined up against a scout player, Tricia Liston, Haley Peters, Shay Selby and Chloe Wells. Chelsea Gray, still nursing a toe injury, came off the bench for Blue. Her minutes seemed a bit more limited as she continues to get into shape. The other bit of business from the presser related to players having their names on the back of their jerseys again, after a two year absence. McCallie was coy as to why, but Christmas was blunt: "It's because of that picture right behind you", indicating the team photo from the 2010 ACC Tournament championship.
The action in the first quarter favored the Blue team, who won 20-17 and were led by Peters with 7 points. Indeed, four of the frosh scored all but 2 of the team's points. The White team only shot 26&, including 0-8 from three. Christmas & Scheer switched to the Blue team for the second quarter as Peters & Wells joined White. Blue won another close quarter 13-11 as Gray iced the quarter with a foul shot. White finally won a quarter (16-15) with the third period as White featured the three seniors, Scheer and Liston. Jackson had 9 points in a losing effort as Gray had several highlight-reel passes. White sealed the win when Jasmine threw an inbounds lob pass to a leaping Karima (flying behind a back pick) for a score. The young Blue team couldn't get a good shot off and managed only a tip-in at the buzzer.
The fourth quarter, when the full team squared off against the scout team, was the most interesting. The scout team had good size, decent quickness and several shooters. They made it tough for Duke to post up or get easy baskets. On the other hand, Duke's quickness forced a number of turnovers, including 4 of the scout team's first 5 possessions. After an early basket in the post (Duke's defensive rotations will need a lot of improvement), Peters hit a baseline jumper off a Wells feed and Wells scored in transition on a great pass from J.Thomas. The scout team tied it up, but Liston splashed in a three on a pitch from J.Thomas.
The scout team scored but Wells found Peters moving well without the ball on an inbounds play. After another scout score, Gray nailed a three on a pass from Selby after missing one on the prior play. The freshmen as a group certainly weren't shy, combining for 69 shots over four quarters. Liston drained a three on a relocation pass from K.Thomas to make it 15-10 with five minutes left in the quarter. Scout hit a stickback, but Gray was fouled attempting a three and sank 2 of the shots. After a scout turnover, Wells hit a three on a Gray pass to push the lead to 20-12. A few moments earlier, Krystal took an uppercut to the jaw and fell down in a heap. She didn't return, and her absence pointed to Duke's fragile post depth. With Gray, Wells, Liston, Peters and Selby as the lineup, they were outscored 15-9.
Wells stopped a 7-0 run with a short jumper, but scout hit a three to make it 22 all. Selby drove and passed to Peters, who calmly hit another baseline jumper to make it 24-22. The scout team got three cracks at the basket and finally hit a three to go up 25-24. Wells drove and found Jackson, who hit a jumper of her own to make it 26-25. It didn't take long for scout to go back on top. Wells pulled up for a three and missed, but Liston got the rebound. However, she turned the ball over. Selby dug out a steal and Duke had a last chance to win. Gray lost control of the ball and scout was able to run out the clock.
The scout team only missed 6 of 18 shots and got 5 offensive rebounds on top of that, so this wasn't exactly a defensive showcase for Duke. On the other hand, Duke shot 59% against the bigger scout team, showing a greater efficiency and flair than they did last year. That was by design, as McCallie is letting the players take advantage of their skills with more of a motion system. K.Thomas is being brought out into the high post to set picks, either facilitating plays directly (like on an attempted give-and-go with Jasmine that she couldn't quite finish) or simply by clearing out the lane and letting the drivers penetrate. Compared to this time last year, Duke is not yet a finished product, with many more rough edges to smooth out. That said, this team has a much higher ceiling than last year's squad, with the Final Four (and beyond) on the table as possibilities.
Player Stats and Commentary plus a full photo gallery will be published later.