| | |
| --- | --- |
| A December Look at Duke's Three Seniors | |
Editor's Note: Devils in Detail is a periodic DWHoops feature that looks closely at Duke's roster. This edition begins with a look at the current seniors, Duke's Class of 2011; an article covering the Juniors and Sophomores will be published next, followed with a third article looking at the Freshmen.
---
Karima Christmas
Key Stats: 10 ppg, 5.5 rpg, 5 FTA per game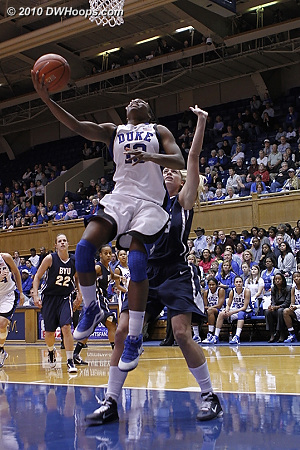 A beautiful reverse layup for Karima Christmas vs. BYU
What She's Done So Far: Throughout her career, Karima has been a dominant player in certain big games, proving to be a brutal matchup for most teams thanks to her unique blend of strength, quickness and springs. The only thing holding her back has been her own focus. Rima would often follow a huge scoring & rebounding game with one where she was almost passive on the floor. It seemed like that pattern might recur this season when she followed a brilliant showing against BYU (20 points, 8 rebounds) with a mediocre game against USC (5 points, 0-2 shooting, 5 rebounds, 3 turnovers). However, Karima turned things around in terms of consistency when Duke started its 4-game road trip. Christmas had 10 points, 4 boards and 4 assists against Pitt and followed that up with 12 points and 11 rebounds in a tighter game against Charlotte. She was similarly solid against JMU and though she didn't get to double figures vs Wisconsin (9 points on 2-9 shooting), she did have 5 steals. She was one of Duke's best players against Texas A&M, finding ways to score from the wing when the Aggies had frustrated Duke up to that point; she eventually wound up with 11 points and 11 rebounds.
What She Still Needs To Do: Karima needs to decide that she's going to be dominant in every single game she plays. That doesn't necessarily mean taking a lot of shots, but it does mean being active on every play, getting rebounds and playing more intense on-ball defense. Christmas is not always a lockdown defender, especially against quick guards. She actually tends to do better guarding big, strong post players by denying them the ball. Karima doesn't seem entirely comfortable shooting the ball at the moment, either from the three point line (25%) or the foul line (70%). Considering that she's leading the team in free throw attempts, this is a huge area for improvement. Duke has a lot of challenging games ahead of them and Karima could set the tone for the rest of the year that she's worthy of being considered as an All-America candidate. This would not only be good for her but also good for the rest of the team.
---
Jasmine Thomas
Key Stats: 14 ppg, 4.5 rpg, 4 apg, 37% 3FG, 2 spg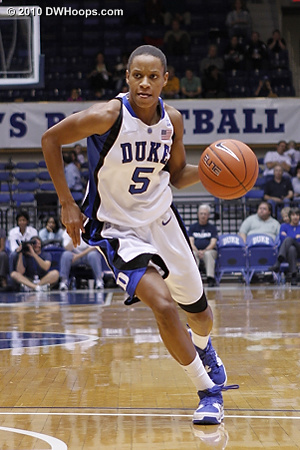 Jasmine Thomas drives towards the paint against USC.
What She's Done So Far: Jasmine has done a tremendous job doing the heavy lifting on a game-to-game basis. She's the team's leading scorer, landing in double digits in every game until Oklahoma State (a rout where she took just 6 shots). She leads the team in scoring, assists and steals. Despite her status as a volume shooter, she's still averaging a solid percentage from long range. She's second in the team in free throw attempts. Even when her shot isn't falling, Jasmine finds other ways to contribute; against Texas A&M, she had 9 rebounds. Playing James Madison, she had 7 assists. She's moving up the career charts in a number of statistical categories and could wind up in the top 5 of many of them. More than just putting up numbers or looking to score, Jasmine is actively trying to integrate the team's younger players into the lineup and give them confidence. She will pass on fast breaks where she has a clear lane to the basket, just to let a teammate score. When things start to get tense and hairy in big games, that's when Jasmine really steps up, hitting big shots and attacking the basket. In short, she's doing exactly what's been asked of her.
What She Still Needs To Do: At this point, the only thing I'd say to Jasmine is "relax". The shots will start to fall a bit more often eventually; in the meantime, pick your spots and continue to encourage your teammates. That's especially true at the foul line, where she's shooting an uncharacteristically low 67%. Jasmine's also turning the ball over nearly 3 times a game and many of them are simply careless plays. While Duke is trying to push tempo whenever possible, Jasmine needs to value the ball in such situations. Jasmine seems to be doing a good job stepping aside in the scoring department for a few minutes in every game while a younger player takes over, and this trend needs to continue if Duke's going to have postseason success. If Jasmine has 2 or 3 players who can really help out with scoring in every game (not necessarily the same 2 or 3 players), she will have enough energy to step up when she needs to.
---
Krystal Thomas
Krystal Thomas makes a nice move in the paint against Wingate.
Key Stats: 8 ppg, 8 rpg, 1.5 bpg
What She's Done So Far: On a team dealing with the graduation of two high-rebounding forwards and an injury to its backup center, Krystal has held the fort in the post. As always, she's an elite defender capable of controlling anyone. She's strong and broad enough that it takes a lot to move her out of the post. Her rebounding and shot-blocking have been consistently excellent; indeed, her rebounding average has risen by almost 2 a game since last season. Her shooting percentages, both from the floor and the foul line, have improved. She's been in double figures 5 times this season after doing so just 18 times in her first 100 games. Her presence helped shut down any semblance of a post game that USC might have possessed. She helped carry the team in a tough game against Charlotte with 10 points, 14 rebounds and 8 blocks. She dominated James Madison to the tune of 14 points and 11 rebounds. She turned it on in the second half against Texas A&M with 8 points and 9 rebounds.
What She Still Needs To Do: I'm still not sure it's appropriate to make Krystal the #1 choice on offense, even if that is the foundation of a McCallie offense. This team does better in read-and-react situations than traditional post sets, and it shows in the way bad passes are forced into the post in an effort to fulfill a dictate from the coaches. That's especially true when opponents go zone; Krystal's hands aren't good enough to catch tough passes that are out of her line of sight. That said, Thomas is frequently passive on offense and doesn't do enough to make herself a viable candidate for the ball at times. She doesn't have the burning desire to score on every play that Vernerey possesses. I'm not sure if it's due to her assorted injuries over the years, but she rarely uses her feet to get great position under the basket, frequently leaving her off-balance. It may be why she misses a number of close-in shots: she relies too much on her arms & length instead of using her feet and hip to put away defenders.
When she does manage to seal her opponent off, she's money inside. The other major area of development for Krystal this year is decision-making. When she has the ball, there shouldn't be a long deliberation. She should either post-up looking to score or get fouled or else pass the ball back out. In the latter situation, she should immediately look to re-post and demand the ball when she gets it in a better spot. Doing so puts more pressure on defenders, whereas dribbling the ball in the post (and bringing it down in general) is an invitation to turning the ball over--which she's doing far too often for a player who isn't a dominant ballhandler. If she can cut down her turnovers to 1 a game and boost her scoring average up to 11 or 12 points a game, then Duke has a real chance at big things this year. It's certainly within Krystal's grasp, because she sometimes tends to play better against more heralded bigs than smaller teams.