| | |
| --- | --- |
| A December Look at Duke's Juniors and Sophomore | |
Editor's Note: Devils in Detail is a periodic DWHoops feature that looks closely at Duke's roster. This edition continues with a look at juniors Kathleen Scheer and Shay Selby, and sophomore Allison Vernerey. We'll cover the freshman class on Tuesday (with a Xavier Preview Monday).
---
Kathleen Scheer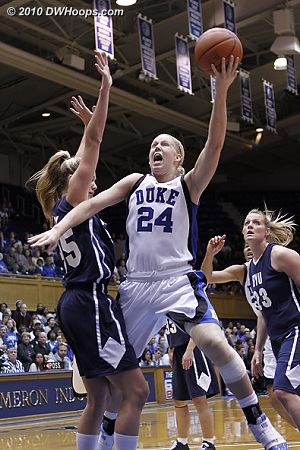 Kathleen Scheer attacks the basket in her new power forward role.
Key Stats: 6 ppg, 4.5 rpg, 1 bpg, 42% 3FG
What She's Done So Far:: "Leener" has completely transformed her game. After two years of being a spot-up shooter, she's moved over to her old high school position of power forward. This was pretty much by necessity, considering that Duke didn't have any other experienced players at the position. In short order, Scheer went from potential placeholder to a viable, productive starter. She had 13 points, 8 rebounds and 2 blocks against a BYU squad that had some size (though not a lot of power). She later had identical 10 points, 6 rebound games against Western Kentucky and Pitt and most recently had a solid showing on the road against Oklahoma State with 7 points and 2 rebounds.
What is most impressive about Scheer is not so much her ability as a post but rather a newfound sense of calm and confidence. Floating around the perimeter and dealing with a serious shoulder injury during her first two seasons did little to boost her self-worth as a player, especially when she shot so poorly from long range (22% from three). A shooting specialist who can't shoot doesn't have much value to a team. This year, her shooting percentage from three has shot up to 42%. There are a few reasons why. First, there's that new confidence I spoke of. Second, her teammates are connecting to her with passes, and Scheer has looked much better shooting off the pass than off the dribble. Third, Scheer has gone out of her way to find other ways to score: mid-range jumper, short turn-around jumper, left handed-leaner, etc. That's helped set up her signature knuckleball of a shot attempt.
What She Still Needs To Do: Even though Scheer hustled like crazy to play defense against Texas A&M, the fact remains that she was blanked in terms of getting rebounds and was just 1-5 from the field. She did a decent job on defense, closing to double-team Danielle Adams whenever possible, but she was still outmatched by bigger, stronger opponents. I fear this may be the case in future matchups against the ACC's and the country's top frontcourts as well. It would be helpful if Scheer could find a way to get to the foul line more often; she's averaging about an attempt a game. Considering that nearly half of her rebounds are offensive boards, one would think that she would get fouled more often going back up with the ball. This may be why she's shooting just 13-38 from two--she's going back up and neither converting nor drawing fouls. Adding a simple pump fake or two might help in this regard. Finally, her 57% shooting from the foul line is not what one would expect from a good shooter, but the sample size is small enough that this could be an outlier. There's no question that Scheer has filled a major need for this year's team, and it will be interesting to see if she can continue to expand on her role after proving that she's a worthy starter.


---
Shay Selby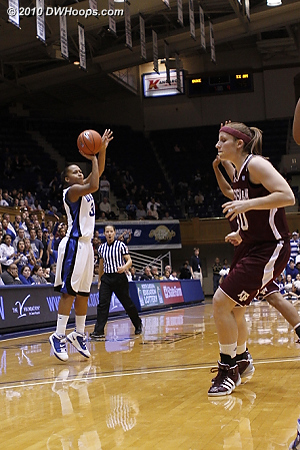 Shay Selby hits a clutch three against Texas A&M, cutting a four point deficit to one.
Key Stats: 4 ppg, 2 rpg, 42% 3FG
What She's Done So Far: Shay's battled back from an injury that kept her out of Duke's first two games and held the starting job for three games. Shay has usually managed to do at least one thing to spark her team in any given game. She helped push the ball against Charlotte and Western Kentucky. She came up with a couple of timely steals and hit a crucial shot late in the game against Texas A&M. She's taken charges on 3 occasions this year. The only game where she put everything together was at Pitt, where she scored 15 points and had 2 assists and 4 steals. Selby is shooting an impressive 42% from three, making the most of her scoring opportunities. She's an extremely opportunistic off-ball defender, as her charges and steals (usually from the weak side) will attest. Shay has also toned down some of the flashiness in her game that frequently led to turnovers last season; her assist/turnover ratio this season is almost 2:1.
What She Still Needs To Do: Shay's biggest weakness is on-ball defense. Simply put, she's a bit too slight to prevent opponents of reasonably equal quickness from turning the corner on her with a shoulder nudge. Shay also has a gambler's mentality, when simply staying at home on an opponent might work as well as lunging for a steal. Of late, Shay is playing off the ball as much as she is running the point, which has paid dividends (like against A&M) but has also resulted in 0 assists in the past 4 games. That's reduced her to being a spot-up shooter, which still makes her an asset but not one that needs 20+ minutes a game. With Chelsea Gray gaining a firm grip over the starting point guard job, Shay needs to concentrate on injecting energy into the game. That means continuing to take charges, going after weakside steals and shooting when open. She simply needs to be patient and mature enough to wait for her opportunity and stay positive during games when she's sitting on the bench because other players are firing on all cylinders. This is the year where Shay needs to develop her leadership ability, because this will be needed from her next season when she's one of just two seniors. The one other thing I'd like to see from Shay is more of an attack mentality when she has the ball by trying to go to the basket. She's only gone to the line 5 times in 135 minutes, which is pretty slight for a player with her quickness. As long as she stays upbeat and prepared, she could have a few more breakout games for the Devils.


---
Allison Vernerey
Key Stats: 5 ppg, 3 rpg
Allison Vernerey battles with Texas A&M's Kelsey Assarian.
What She's Done So Far: From the very beginning, Allison has been pret a jouer--ready to play. That's why it's so unfortunate that she had an offseason injury that prevented her from both gaining more experience and working on her weaknesses. In the preseason, she suffered a head injury that held her back even further. As a result, her minutes and production have been limited. She ddid have 9 points and 9 rebounds against USC and scored 9 vs Pitt, but she also had an 0-4 shooting performance vs Charlotte and went 4 games collecting a total of 4 rebounds. The good news is that the gifted post scorer seems to have found her groove again recently, scoring 8 points vs Albany and breaking into double digits against Oklahoma State with 12 (and 6 rebounds, 2 assists and 2 steals to go with it). Extra practice along with a little time to rest will be important in really getting her up to speed.
What She Still Needs To Do: Allison is pretty much the same player now as she was at the end of last season, for good and ill. This means that she still struggles finishing with her right hand. Her free throw shooting is erratic at best (40%). She still needs to get much stronger. Despite all that, Allison is a fighter who backs down to no opponent (as her tremendous defense on Texas A&M widebody Danielle Adams will attest). Alli is being well used at the back of Duke's zone, thanks to her closing speed. She needs to use that speed more often, and in order to do that she has to continue to work on her ball-handling. Her dribble is sometimes slow and overly telegraphed, which makes it easy for opponents to adjust when she goes from right-to-left across the lane. Vernerey's passing could be a strength, and she seems to be cutting down on her turnovers while generating looks for others. However, she needs to be able to do this against equally tall, strong foes. Having her come off the bench is a tremendous luxury for Duke, as she'd be a starter on half of the ACC's teams right now.