| | |
| --- | --- |
| A December Look at Duke's Freshmen | |
Editor's Note: Devils in Detail is a periodic DWHoops feature that looks closely at Duke's roster. This edition concludes with a look at the five Blue Devil freshmen.

[This article has been updated to include two previously missing paragraphs.]
---
Chelsea Gray
Key Stats: 9 ppg, 4 rpg, 2.5 apg, 2 spg, 52% 3FG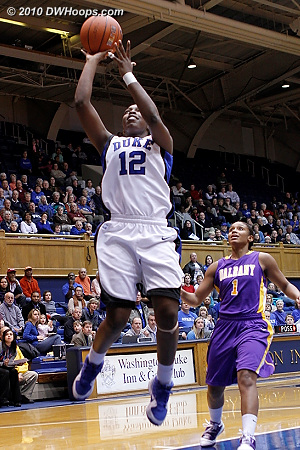 Chelsea Gray scores a fast break basket against Albany.
What She's Done So Far: The Closer" is building up steam since she closed out the Charlotte game on the road. AFter starting the season with a stress reaction in her foot that the staff very carefully monitored, limiting her practice and playing time, Chelsea took a while to really get into the flow of things. Of course, that's didnt' stop her from scoring 15 points and grabbing 3 steals at Auburn. Chelsea has the most advanced and intuitive understanding of the game I've ever seen from a young player, reading situations with remarkable quickness in order to determine just what's needed from her. She's the rare player who's confident enough in herself that she doesn't need to score points to validate herself. At the same time, she possesses no false modesty and will take over games when she deems the time is right.
Chelsea possesses no particular physical attributes that give her a specific advantage over opponents, save perhaps her size. At 5-11, she's a difficult matchup for many point guards (and off guards, for that matter). She doesn't have Monique Currie's musculature, Alana Beard's long arms, Jasmine Thomas' first step or Lindsey Harding's leaping ability. Her skills are more subtle and all the more confounding for that reason. Gray has excellent hand quickness, which allows her to generate steals even when she barely seems to be near the ball. Her court vision at both ends is remarkable. Her crossover and head fakes are baffling. The form on her jump shot is excellent (she's shooting over 50% from long range) and she's an 80% foul shooter. She's even better than that in the last two minutes of games. She has a signature teardrop runner that's unguardable. The offense flows better when she's in the game. She's a strong rebounder from the guard position, which must especially delight coach McCallie. She's already taken 5 charges, breaking up several potential scoring plays. Most of all, she's "The Closer". When the game is on the line and plays need to be made, she does it. Her shooting and foul shooting helped salt away the Charlote and Wisconsin games. She had 4 key points at the end of the Texas A&M game as well as a heads-up pass to Shay Selby for a three. If she stays focused, the sky's the limit.
What She Still Needs To Do: Chelsea has two main concerns: stay healthy and make better decisions with the ball. She has 26 assists this year but 27 turnovers. Some of those are the fault of teammates who couldn't quite catch a clever but unexpected pass. Many of them are her moving a little too fast or gambling that a teammate will be in the right place at the right time. While it's important for her to challenge her teammates to step up to her level, she has to meet them halfway at times. A few daring turnovers a game is acceptable so long as Chelsea is connecting her teammates with her passes. She had 7 assists against Oklahoma State and that number should be her goal for each game, while limiting herself to three turnovers. Using a traditional mid-range jumper would also help her game a bit; she sometimes gets herself caught after she's shaken an opponent trying to drive to the basket shooting at an awkward angle, which is why she's only shooting 40% from two.
---
Richa Jackson
Key Stats: 2 ppg, 2 rpg
Richa Jackson drives past USC's Christina Marinacci.
What She's Done So Far: Richa is an example of a player with tremendous quickness and scoring ability who struggles to make the transition to the next level against opponents with similar levels of quickness. Jackson has also had to deal with some nagging injuries, like a hand injury and a recent shoulder injury that kept her out of her homecoming game with Oklahoma State. Richa has a tremendous first step, a decent jump shot and a nose for the basket. She had 7 points and 7 rebounds against Western Kentucky and 3 points & 7 boards vs Pitt. Her best game was against USC, where she scored 7 points, grabbed 3 offensive rebounds, dished 2 assists and blocked 2 shots.
What She Still Needs To Do: Jackson's had trouble finishing shots and playing against opponents with disciplined defenses. She looked overwhelmed against Texas A&M and lost trying to negotiate Albany's zone in the first half. The long road trip Duke took may also have taken a toll. The key for her is moving with a purpose. Even if she doesn't quite know what she's doing, simply staying in motion, making the defense move and being prepared to receive the ball is better than simply lingering at the top of the key. What will get her more minutes is her ability to rebound, especially on the offensive end. 12 of her 23 rebounds came at the offensive end, giving Duke another potential tenacious wing who can get second and third opportunities. With Bridgette Mitchell (another athletic wing who took a bit of time to learn all the plays) gone, there's definitely a void on the floor waiting to be filled. Of all Duke's players, I think Jackson will benefit most from the upcoming semester break and subsequent heavy period of practice. I think she can contribute more significantly this season, but it will require a combination of focusing in on the job at hand without sacrificing her aggressiveness.
Update:: Richa did not dress for the Xavier game due to the shoulder injury mentioned above.
---
Tricia Liston
Key Stats: 5 ppg, 2 rpg, 54% 3FG
Tricia Liston at the stripe on a career high 15 point night vs. Albany.
What She's Done So Far: Of all Duke's players, Tricia Liston has had the steepest learning curve. At 6-1, she was used to bullying smaller forwards on drives and using that to set up her remarkably pure jump shot. The reality is that she's neither strong nor quick enough to do that at this level against the caliber of athletes featured on elite teams. As a result, she was a DNP-CD against three opponents and got single-digit minutes against five other opponents. What Liston did right through this stretch was keep up her enthusiasm as a teammate, work hard in practice and wait for an opportunity to prove herself. That opportunity came against Albany. It was good that she sank 3 of 4 from three (a career high, and as many points as she had scored all season). It was better that she also scored on a post-up and scoop shot. It was best that she grabbed 4 rebounds, dished out 2 assists and came up with 2 steals. For a young player in particular, confidence is a huge part of success, and that game was certainly a shot in the arm for Liston. Granted, it came against a low-major team, but simply finding success was incredibly important for her. She followed that up with 18 strong minutes vs a much stronger Oklahoma State squad, notching 11 points on 4 shots and 4 rebounds. After starting the season shooting a combined 4-9 from the floor, she's now hit 9 of 18.
What She Still Needs To Do: Tricia has a lot of work to do to be potential starting material. She needs to get stronger, leaner and faster. That kind of improvement won't likely occur until the off-season, however. What's within her reach now is the understanding that she doesn't have to shoot the ball to make an impact. Getting rebounds, generating hustle stats and (most of all) staying in constant motion are the keys to her receiving playing time. What Liston can't do is simply linger on the perimeter, waiting for someone to pass her the ball. At the same time, she has to understand her limitations and realize that she can't bull her way to the basket against quicker and stronger players (that way lies offensive fouls). Staying in motion and making strong decisions with the ball (either shooting, driving or passing) are ways that she can compensate for her physical deficiencies at this level, and those lessons will stay with her as she becomes older and stronger. She has the potential to be a major weapon for Duke as a zone destroyer, but has much to prove before she can claim that role against real teams in tight game situations. The good news is that it's clear that she has the right attitude and the right work ethic.
---
Haley Peters
Key Stats: 7 ppg, 4.5 rpg, 1 apg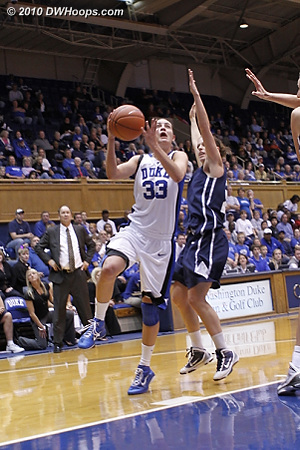 Against BYU Haley Peters calmly took the ball coast-to-coast to score, just before the first half clock expired.
What She's Done So Far: Haley is a plugger who is in constant motion. She doesn't have any skills that jump out at you, but rather does everything well: pass, shoot, screen, rebound, defend, etc. As the first forward off the bench, she's been expected to mostly play power forward but has also seen a few minutes at the three as well. Peters tends to adapt to whatever the team needs in a particular game. Against USC, she had 13 rebounds. She was a double-figure scorer against Auburn, Western Kentucky and Pitt. She was a playmaker vs JMU with 4 assists. The Oklahoma State game saw her grab 6 offensive rebounds. Haley plays with a certain relentlessness. She doesn't mind contact and mixing it up inside, but she's also a skilled shooter. The amount of energy she plays with off the bench has to be a shock to the system for opponents.
What She Still Needs To Do: The Texas A&M game showed that Haley still needs to get stronger and has to adjust to playing against elite athletes. She also is playing the game a bit too fast at times, which is a byproduct of her intensity. That's led to her committing 2 turnovers a game, which is too many for a player who's not a primary ballhandler. It would be nice to see her post up more often; at 6-3, she should be getting more than just face-up attempts. That would help her get to the line and beef up her 6 attempts on the season. Overall, she's contributing nicely and has been a steady force from the beginning. She's efficient on offense (shooting over 50%) has an intuitive understanding of the defense and a desire to execute it. What she needs to work on the most right now is timing. She needs to be just a step quicker in anticipation to get certain rebounds and needs to beat her opponent to the spot more in order to get good defensive position without fouling. I expect her to be a steady presence this year.
---
Chloe Wells
Key Stats: 4 ppg, 2 apg
Chloe Wells directs the Duke offense against USC.
What She's Done So Far: Chloe was thrown into the deep end of the pool early on and told to swim, as she had to start at point guard for the first five games of the year when other players were injured. For the most part, she's acquitted herself quite well, though she has suffered from the usual frosh ups-and-downs and battles with confidence. She had 9 points and 3 steals in her debut against BYU and followed that up with steady 5-6 point and 2-3 assist showings against USC, Auburn and Western Kentucky. Wells gave the team a lift at Wisconsin with 6 points and 4 rebounds and had a career-high 9 points and 7 assists vs Albany. Her niche as a player thus far has been defensive pest. She's averaging an impressive 2 steals per game so far. Offensively, she's displayed a great deal of quickness off the dribble and a knack for getting to the foul line.
Wells was battling the likes of veteran Ashley Corral to begin her career at Duke and didn't have the luxury of playing low major schools. As a result, she's had some confidence problems ever since she was supplanted in the starting lineup. Chloe is still dealing with the fact that she was never able to play her senior year of high school and is still struggling to figure out what works and what doesn't at this level. For example, she learned in the Texas A&M game that pure speed and quickness alone won't cut it against elite opponents. She's also discovered that it's not easy to get her shot off against taller opponents (she's just 3-19 from three). Also, it's clear that she's more accurate in a catch-and-shoot situation rather than creating her own shot. Chloe is learning that a press can be difficult to deal with at this level, as her 5 turnovers against Oklahoma State will attest.
What She Still Needs To Do: Simply put, Chloe has to realize that the weight of the world is not on her shoulders. She doesn't have to worry about taking all the big shots anymore, and she should instead let her teammates help her more. The biggest key to her improvement right now will be communication. She needs to talk more on the floor instead of getting on an island. That goes for both ends of the floor, as she's frequently been beaten off the dribble one-on-one. Off the ball, she's a great defender already, displaying a nose for the ball. Chloe simply needs to be comfortable and confident in doing the things she does well (ball pressure, penetration, off-ball defense) and let the other things come to her with time.
---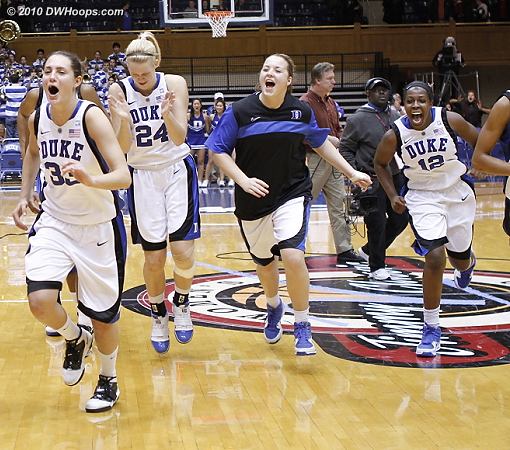 Devils in Detail will return during ACC conference play.