| | |
| --- | --- |
| Seniors Can Claim ACC Title With Win | |
DWHoops Photos by Orin Day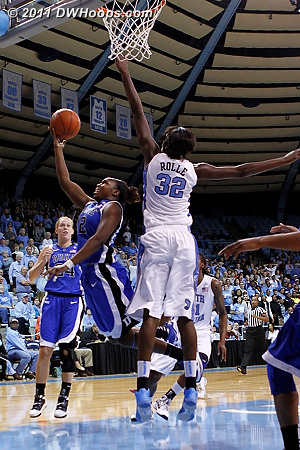 After driving the length of the court, Chelsea Gray puts up a potentially game tying layup as Waltiea Rolle patiently waits for the shot block opportunity.
---
Using her right hand to shield the ball from shot blocker Waltiea Rolle, Allison Vernerey starts a left handed layup.
---
UNC -- Sunday, February 27th, 5:00 PM, Cameron Indoor Stadium, FSN
For information regarding UNC's players, please see the previous UNC preview.
Last Meeting: 2/7/11: Tar Heels Hold Off Duke, 62-60
Current Records: Duke 24-3 (11-2 ACC), UNC 22-6 (8-5 ACC)
Current Rankings: Duke #9, UNC #13
Since They Played Duke: : The Heels' victory over Duke came right after they defeated FSU, pulling within a game of the Blue Devils and possessing the tiebreaker. They then beat a weak Clemson team in an uninspiring effort for their 5th straight win. Miami came to town and ran them off their floor. The Heels came back from a big deficit but ultimately faded down the stretch. The NC State Wolfpack really did run them out of Reynolds as the same scenario played out: huge run by an opponent, then a UNC comeback, then a UNC flameout as they ran out of energy. Worst of all, the Heels got swept by Georgia Tech in Chapel Hill--on Senior Day, no less. Tech slowed the game down and made things the kind of ugly they prefer.
The Stakes:: The stakes couldn't be higher for Duke. They were embarrassed in Chapel Hill by their poor play; if the Heels had been able to hit any free throws, they would have won with ease. The Devils are undefeated in Cameron and have won their last two against the Heels at home. A win by Duke would secure a second consecutive ACC regular season title and the top seed in the ACC tournament. It would also send off the senior class of Jasmine Thomas, Krystal Thomas and Karima Christmas in style. For the Heels, they've been eliminated from getting a first-round bye in the ACC tournament, but another loss would drop them into 6th place. Even if they win and Maryland wins, they would be stuck in 6th.
UNC beat Duke the first time for two reasons: Duke wouldn't stop pressing, which led to some easy UNC baskets; and Duke wouldn't come out of their soft zone, which allowed UNC to exploit it in the middle for some easy shots and passes. Duke simply needs to be patient in this game, stay aggressive on the boards and mix defenses more often. UNC will always double-team Krystal Thomas when she has the ball, so Allison Vernerey must be ready to attack the basket. Duke's frosh (save Chelsea Gray) were no-shows in the first game, so one hopes that they'll be a bit more prepared for this go-round. Duke hopes to have Chelsea back for this game, but there are no guarantees. If she can't go, Jasmine Thomas will shoulder the point guard role once again (assisted off the bench by the Shay Selby-Chloe Wells duo) and Tricia Liston will likely step in again at off guard. If she can hit the open shots that UNC will no doubt allow her to have, Duke's offense will be in good shape. The Devils also hope to get significant contributions on Senior Day by Karima Christmas and Krystal Thomas, two players who haven't always had much of an impact on offense this year. If Krystal can uncork another double-digit rebound game while scoring 8-10 points, Duke will have a great chance to win. They have to be careful dealing with UNC center Waltiea Rolle, who has hurt Duke with her shot-blocking.
There will be a lot of pressure in this game because so much is on the line. The Devils don't want to leave their ACC title hopes in the hands of Miami; they want an outright title. This is a game that's about both pride in playing one's rival and having one of the significant goals of the season available to you with just one win. We'll see if the team is mentally prepared to seize this moment.
| | | |
| --- | --- | --- |
| | | |