Rob Clough's countdown of the top 10 players in Duke Women's Basketball history peaks with his selection for #1, Alana Beard. Her #20 was the first women's jersey number to be hoisted in Cameron, and deservedly so.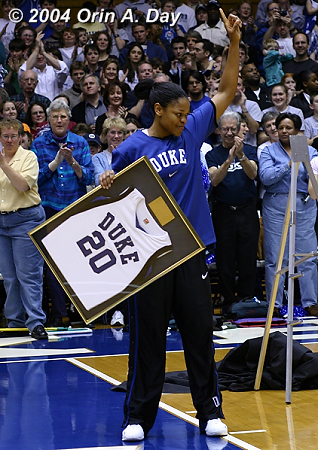 Alana Beard jersey retirement (above) and behind the back pass (below).
Alana was overlooked by some recruiting services, but not by Gail Goestenkors, who noted that Beard was "the best player I have ever seen" during one high school evaluation. It was pretty plain to me that she was destined for greatness after I saw her play in the WBCA All-America game. She simply dominated the competition, matched only by Diana Taurasi. Beyond the intensity, the work ethic, and the skills, Alana possessed a stunning kind of charisma. People wanted to watch her. Little children flocked to her. Young players were inspired by her. Mo Currie came to Duke because she wanted to play with her. She created droves of new fans of the women's game. More than one current Duke player and recruit has cited Beard as a reason why they started rooting for the Blue Devils. Even with that inner glow, she had a certain humility and even a sweet shyness, which made her all the more powerful a force as a player.

Alana currently holds 24 different Duke records, including career scoring and steals. She's Duke's most decorated player: Wade Trophy, Wooden Award, USBWA POY, three-time Kodak All-America, three-time ACC POY, ACC Rookie of the Year... you get the idea. More importantly, it was her greatness that shattered the glass ceiling that had kept a female basketball player from having her jersey retired. She elevated Duke as a program from good to great, putting them in the conversation with powers like UConn and Tennessee. She took particular pleasure in beating UNC, with her team going 11-0 in her four seasons. That included defeating the Heels three times for the ACC tournament championship.

Beyond the numbers, beyond the two Final Fours, beyond leading a team with only 8 players to one of those Final Fours, there was always the sense that something exciting was about to happen when Beard was on the floor. Certain special players have what I refer to as a "savant talent", meaning that on top of their basketball skills, they have a particular physical attribute that gives them an extra advantage. For Beard, it was her long arms that gave her an edge. She was certainly quick, agile and extremely clever with her decision-making, but her arms allowed her to reach around players and poke the ball away for a steal & layup (her signature play), to play exceptional post defense, and to post up on the left block for a money turnaround jumper.

Apart from her personal greatness, Alana always took particular delight in her teammates. I still vividly remember during Beard's freshman year when Alana set screens for Sheana Mosch to hit some huge threes against UNC and Beard's ecstatic reaction when she hit them. I remember her jumping on Iciss Tillis after she completed a key three point play in transition. I remember her holding her hand up high before games, waiting for Vicki Krapohl to jump up and slap it.

Great players have since come and gone for Duke and will come again, but there will never be another Alana Beard.

---
Our Top Ten countdown has finished, but our look back in time is not done yet! Check back soon for our "More Duke Greats" series, which will focus on players outside the DWHoops Top Ten who were nonetheless outstanding in a particular way. The first installment will outline Rob's choices for the best low post scorer, the most clutch player, and the finest single season by a Blue Devil.