| | |
| --- | --- |
| Duke Travels to Bowling Green to Face Hilltoppers | |
Western Kentucky -- Sunday, November 20th, 3:00 PM, E. A. Diddle Arena, Bowling Green, KY
2011 WKU Snapshot: 15-17, 9-7 Sun Belt Conference, No Postseason Play
Last Meeting: Blue Devils Topple Hilltoppers, 82-55, on November 21, 2010, Cameron Indoor Stadium.
Current Records: Duke 2-0, WKU 0-2
Current Rankings: Duke #8, WKU is unranked.
Significant Losses: The Lady Hilltoppers lost their two best players in forward Arnika Brown (12 ppg, 9 rpg), point guard Amy McNear (10.5 ppg, 4 rpg, 6 apg). Also gone is bomber Hope Brown (5 ppg, 30% 3FG), one of the few three point threats on the team.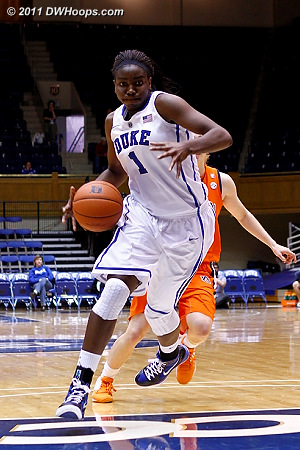 Elizabeth Williams looks to continue her successful freshman campaign Sunday at Western Kentucky
Returning Players: WKU mostly returns reserves and bit players. The three exceptions are forward LaTeira Owens (10 ppg, 7 rpg), wing Teranie Thomas (4.5 ppg, 4.5 rpg) and wing Vanessa Obafemi (6 ppg, 2.5 rpg). Also returning are forward Keisha Mosley (5.5 ppg, 4 rpg)center Jasmine Johnson (2 ppg, 3 rpg) and guard Chaney Means (1 ppg, 1 rpg).
The Skinny: : The Lady Toppers lost their first five games of last season against a pretty tough schedule, then proceeded to struggle a bit in the Sun Belt. Despite all that, they were just a game away from thee NCAA tournament, losing in the Sun Belt tournament final to Arkansas-Little Rock; it was WKU's fourth game in four days, and a last gasp for its two star seniors. This is a rebuilding season for the Lady Toppers, as they're trying to bring along a seven-woman freshman class while relying on five seniors for much of the heavy lifting. The problem is that the current seniors didn't do much to help the team win, so it's a year where everyone is trying to fit into new roles.
WKU's single biggest problem in 2011 was defense. They gave up 64 ppg and let opponents shoot 42% from the floor. Duke whipped them last year when their zone flustered WKU, leading to many fast break opportunities in a blowout win. The Lady Toppers were a fine rebounding club last year (+6 per game), but without A.Brown, there's concern about how they'll adjust this season. There's not much skilled size on this club, with Johnson and Mosley pretty much the sum of their post game. Mosley is averaging 10 ppg and 7.5 rpg through two games while Johnson is putting up 2 ppg and 2 rpg. Owens has been solid up front with 10 ppg and 10 rpg through two contests. The Lady Toppers lost a close game to Towson and were blown out by Northwestern. They dominated the boards against the former opponent but not against Northwestern, which doesn't bode well for them vs Duke. Another ill augur for WKU is that they're averaging 21 turnovers a game; Duke forced 33 turnovers in their game last year and wil look to exceed that total here. WKU will try to force Duke into taking contested, one-on-one jump shots and hope to hang on the boards. They have been getting help from three frosh: guard Alexis Govan is starting and averaging 9 ppg; guard Danay Fothergill is putting up 7.5 ppg and shooting over 40% from three, and forward Chasity Gooch had 11 rebounds against Northwestern.
I expect Duke to go for an early knockout punch using its press, but they most be cautious not to give up the sort of open shots that were available to BYU when they broke through Duke's pressure. I imagine that WKU will double-team Elizabeth Williams when she has the ball in an effort to force her to make a good pass, so Duke must do a good job getting her the ball in scoring position and she must be decisive with the ball. Otherwise, I expect WKU to lean on a zone and mix in some ball pressure in an effort to fluster Duke's offense. I also expect the Lady Toppers will try to draw some fouls and challenge Duke's posts, given their foul trouble against a smallish BYU team. If Duke keeps their turnovers and fouls relatively low, this game will be a blowout ten minutes into the game. The longer Duke lets WKU hang around at home, the uglier the final result will be, so there must be crispness and focus at both ends from the start.
| | | |
| --- | --- | --- |
| | | |