| | |
| --- | --- |
| Devils vs. Wolfpack Features $3 Admission for Locals | |
NC State -- Sunday, January 8th 2012 @ 2:00pm (Cameron Indoor Stadium.)
2011 NC State Snapshot: 14-17, 4-10 ACC, No Postseason Play
Last Meeting: Duke Escapes NC State, 65-64.
Current Records: Duke 11-2, NC State 10-5
Current Rankings: Duke #8/#7 (AP/USA Today), NC State is unranked.
Significant Losses: The Pack lost two significant scorers: guard Amber White (14 ppg, 4 rpg, 4 apg) and forward Brittany Strachan (8 ppg, 5 rpg, 35% 3FG). White was known for taking and making clutch shots. Little-used soph Keslie Literas (1 ppg) and frosh Devin Griffin (2 ppg, 4 rpg) transferred. Griffin actually started 13 games but never quite produced on a consistent level.
Returning Players: NC State will be led once again by senior forward Bonae Holston (16 ppg, 8 rpg), an undersized warrior. The other big gun will be junior guard Marissa Kastanek (14 ppg, 3.5 rpg, 35% 3FG), a tough shot-maker. Soph forward Kody Burke continues State's trend of using undersized but springy posts; she averaged 9.5 ppg, 6 rpg and 2 bpg last year. My Goodwin-Coleman will likely step into White's role at point guard; she put up 5 ppg, 3 rpg, 4 apg and 31% from three last season. Soph Lakeesa Daniel (5 ppg, 4 rpg) spent time in the post before being declared academically ineligible, while soph Breezy Williams played at both forward slots as she put up 5 ppg and 3 rpg. Rounding out the team are Emili Tasler and Kim Durham, both of whom averaged about 2 ppg in limited minutes. Forward Tia Bell will also return after missing all but one game last season.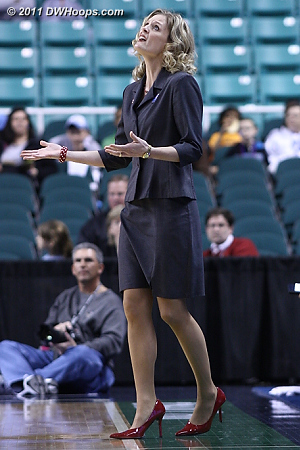 NC State coach Kellie Harper looks to the heavens after a call in the 2011 ACC Tournament.
The Skinny: This is a solid, scrappy Pack team that mixes youth, experience and talent. The Wolfpack have scored a few big wins this year, beating Vanderbilt at home and Florida Gulf Coast on a neutral court. Right now, they're a frustrating 0-2 in the ACC after having been blown out at home by Georgia Tech and losing to Miami on the road after a fierce comeback attempt was blunted. Those are two NCAA tournament teams, and things don't get easier for the Pack by going to play Duke. Hopefully, the team remembers how more-or-less the same NC State club was whipping them in Raleigh last year before a big Duke comeback, because the Pack will come out breathing fire in an effort to prevent themselves from falling too far behind in the ACC race. It's likely that the Pack fans will show up in numbers in Cameron as Duke's $3 ticket promotion (with local driver's license) has been well promoted to the NC State faithful.
Kastanek (13 ppg, 36% 3FG) and Holston (12 ppg, 8 rpg) are both underachieving relative to last year's production. Holston has been up and down all year after suffering an early concussion, and it's clear that she's not at the height of her powers. Kastanek is a plugger whom other teams are keying in on a bit more. The key to State's success or lack of same has been Burke. Currently averaging 11 ppg and 5 rpg, there's a sense that she could be doing much more, but her lack of consistency is holding her back. The best news for the Pack is that frosh Krystal Barrett (8 ppg) and Erica Donovan (7 ppg) have been solid contributors from day one; it was Barrett who led the Pack comeback against Miami.
The Pack are the same team in some respects as last year, only with fewer injuries to date. They don't have much in the way of skilled size, with Daniel getting some minutes but having trouble staying out of foul trouble. The Pack can put points on the board (71 ppg) but are a poor defensive club. They force turnovers but are sloppy with the ball. They hustle to get rebounds but struggle against bigger teams. NC State is stocked with players who shoot, but not many are shooting a great percentage from three (Donovan is shooting over 40% with a limited number of shots). Duke can't afford to let them get started; indeed, this is a game where stifling and physical defensive play will be especially needed. The Devils need to take care of the boards first and then everything else will follow.
| | | |
| --- | --- | --- |
| | | |
Editor's Note - to read more about NC State and the other ACC teams, please check out our 2012 ACC Preview at Amazon.com.