| | |
| --- | --- |
| Contest from Gwinnett Arena Streaming on ESPN3 | |
Georgia Tech -- Wednesday, January 18th 2012 @ 7:00pm (Arena At Gwinnett) -- streamed live on ESPN3
2011 Georgia Tech Snapshot: 24-11, 9-5 ACC, NCAA Second Round
Last Meeting: Devils Rebuff Georgia Tech, 74-68.
Current Records: Duke 14-2, 5-0 ACC. Georgia Tech 13-5, 3-2 ACC
Current Rankings: Duke #7/#6 (AP/USA Today), Georgia Tech is unranked.
Significant Losses: GT lost two crucial backcourt players. Alex Montgomery was the team's leading scorer and do-it-all player, as she averaged 14 ppg, 9 rpg, 2 apg and 2 spg. Deja Foster was a crucial glue player, averaging 5 ppg, 6 rpg and 2 apg. Montgomery never quite lived up to her potential as a game-changing player (especially as a scorer), but she had a fine career at Georgia Tech.
Returning Players: The key returnee is soph wunderkind Tyaunna Marshall, a wing leading the Jackets this season with 16.2 ppg. In 2011 she was deadly off the dribble and attacking the basket and proved to be a consistent scorer. Also returning is senior post Sasha Goodlett, averaging 15 ppg and leading the team with 7.3 boards. These numbers are nice increases from her previous seasons - she averaged roughly 10 ppg and 6 rpg the past two seasons. Senior Metra Walthour settled into the starting point guard slot last season, averaging 9 ppg, 2 rpg, 4 apg and 36% from three, and has matched those numbers in 2012. Senior posts Chelsea Regins and Laquananisha Adams have shared time in the middle, getting lots of run as coach MaChelle Joseph likes to pound opponents inside. Senior wing Mo Bennett hasn't cracked the starting lineup yet, averaging 3.1 ppg and 3.8 rpg. Soph guard Dawnn Maye (2 ppg, 2 apg in 2011) has moved into the starting lineup while Frida Fogdemark (2 ppg) provides a scoring threat off the bench. Soph forward Dani Hamilton-Carter, a player with great promise, has cracked the rotation. Rounding out the roster are juniors Sharena Taylor and Jasmine Blain.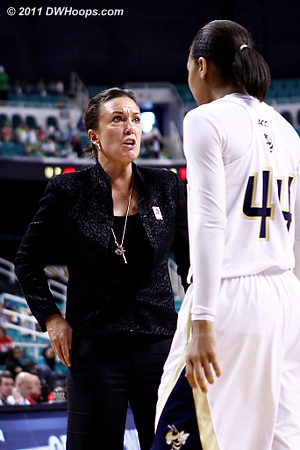 Georgia Tech coach MaChelle Joseph has an earful for Jasmine Blain during the 2011 ACC Tournament.
The Skinny: This game is extremely simple to break down: if Duke keeps their turnovers down, they should win with relative ease. If this game is decided in the half court, Duke simply has more scoring weapons, has more size, better shooting and superior rebounding. If Duke commits 25+ turnovers and the Jackets convert them into easy points, then this will be a dangerous road stop for the Blue Devils. Duke likes to pressure the ball and makes use of zones themselves, but this is not a game to go all-out with pressure defense (especially without Chloe Wells). Tech only shoots 29% from three as only Walthour (at 36%) has proven herself to be a legitimate and consistent threat from long range. Marshall is averaging 16 ppg and gets to the foul line four times a game; Duke needs to make her take jump shots. Walthour, Montgomery and Maye (6 ppg) are all able to penetrate and get to the line. If Duke doesn't want to go to a matchup zone for fear of affecting rebounding, a sagging man-to-man where Duke dares GT to shoot from 15-19 feet while surrounding the basket might be one option. Another option would be going zone but going to its big lineup of Peters, Vernerey and Williams, with Vernerey at the top of the zone and Williams at the bottom.
Goodlett has been a surprisingly consistent force as a senior, putting up 15 ppg, 7 rpb and 1.5 bpg. Adams and Regins chip in with the expected 4 ppg and 4 rpg, but mostly serve to act as enforcers inside and pound away at opposing posts. That allows Goodlett to be a scorer and get to the foul line, where she converts at a 70% rate. She and Williams will likely cancel each other out, though if either gets in foul trouble then the other team will have an obvious advantage. Bennett, Hamilton-Carter and frosh Sydney Wallace will round out Tech's rotation against Duke, though coach MaChelle Joseph isn't afraid to reach even deeper for a minute or two, as the situation dictates. Ultimately, it's going to take good decisions by players who aren't primary ballhandlers (like Peters, Liston, Williams, etc) to help keep turnovers low. Some turnovers will be more acceptable than others; for example, a long pass out of bounds going for a transition basket is fine. A backcourt turnover must be avoided at all costs. Tech will play a lot of zone, which means that Liston, Gray and Jackson must be ready to shoot all kinds of jumpers. Peters will no doubt have holes in the zone to seek out, and she's received a lot of practice from Duke's early opponents. Georgia Tech is seeking a big win to hang their hat on after some close losses, and getting one against the two-time league champion would certainly be that kind of game. I'd look for Duke to try to hammer GT on the offensive boards and hit some jump shots in order to offset the points GT will score on Duke turnovers. It will likely be a Duke rotation playing stepping up to score some points, like Jackson or Vernerey, that will wind up making the difference for Duke.
| | | |
| --- | --- | --- |
| | | |
Editor's Note - to read more about Georgia Tech and the other ACC teams, please check out our 2012 ACC Preview at Amazon.com.