| | |
| --- | --- |
| Devils Face Tigers in Friday TV Nightcap | |
Clemson -- Friday, January 27th 2012 @ 8:30pm (Littlejohn Coliseum ) -- RSN TV and ESPN3
2011 Clemson Snapshot: 10-20, 3-11 ACC, No Postseason Play
Last Meeting: Duke Crushes Clemson, 92-37.
Current Records: Duke 16-2, 7-0 ACC. Clemson 5-12, 1-5 ACC
Current Rankings: Duke #5, Clemson is unranked.
Significant Losses: There was quite a bit of turnover on the Tigers this season as more than half their roster from last year is gone. That includes leading scorer Kirstyn Wright, who averaged 12 ppg, 4.5 rpg, 3 apg and 39% from three, as well as guard Sthefany Thomas, who contributed 12 ppg, 3 rpg and 2 apg. Another key player was forward Jasmine Tate, who chipped in with 7 ppg and a team-leading 7 rpg. Point guard Bryelle Smith averaged 4 ppg and 3 apg. Morgan McMinn and Lindsay Welker only played a few scant minutes, as did frosh Serena Clark, who chose to transfer after one season.
Returning Players: The Tigers only have nine scholarship players and seven of them are frosh or sophs. Senior center Shaniqua Pauldo struggled to adjust at times last year, as her scoring average dropped from 11 ppg to 9 ppg. She also averaged just 4 rpg. This year, she's putting up 9 ppg and 5 rpg. Springy forward Lindsey Mason has had her moments as she averages 6 ppg, 5 rpg and 2 bpg. The revelation for this team has been the play of unheralded frosh wing Nikki Dixon, who leads the team with 12 ppg. She also averages 4 rpg, 2 apg, and 2 spg. Soph forward Quinyotta Pettaway has developed into a fine rebounder, averaging 9 ppg and 7 rpg at the PF slot. Frosh guard Kelly Gramlich wasn't on anyone's top 100 or even top 200 list of incoming frosh, but she's contributing 9 ppg, 3 rpg and 34% from long range. Soph Chancie Dunn and frosh Chelsea Lindsay share point guard duties as Dunn averages 5 ppg, 4 rpg and 3 apg while Lindsay puts up 5 ppg, 4 rpg and 4 apg. Frosh post Natiece Ford averages 3 ppg and 4 rpg.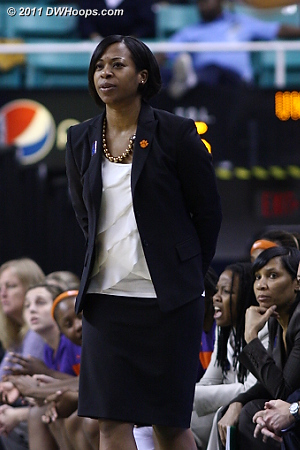 Clemson coach Itoro Coleman is working to rebuild the Tigers program after a long series of down years.

The Skinny: Clemson is not unlike Duke in that they have a painfully young team dominated mostly by frosh and sophs with a couple of veterans. They are very much unlike Duke in that their young players are less talented and have never experienced being in a winning situation at this level. That said, this team plays hard and plays together. They upset UNC in Chapel Hill thanks to making some timely shots and dominating the boards. They have size with Mason & Pauldo (though the latter player is soft and would prefer shooting jumpers to banging inside), but it's Pettaway who has a real nose for rebounds thanks to quickness and desire. It is unlikely that the Tigers will crack the ten win mark this season, but coach Itoro Coleman is patiently awaiting the reinforcements coming in next year's recruiting class. In the meantime, she's found a gem in shooter Gramlich and wing Dixon, and a solid point guard in Lindsay. Given additional talent and time to coalesce, these players could make the Tigers very good in a couple of years.

This particular game could be rough sledding for the Tigers, as Duke will look to press and trap the young team into mistakes. Given that the Tigers average 21 turnovers a game, this is a sound game plan for Duke. Clemson will likely pack the lane with a zone and dare Duke to take jump shots; this is how they beat UNC. Duke can't be satisfied by jacking up threes; instead, they have to move that zone with ball movement and find holes for open shots. Going to a big lineup with Williams, Vernerey and Peters might also do the trick as the Tigers will be forced to leave one of those players open. Duke needs to come out focused like they did against Virginia Tech: by keeping their opponent off balance and building an early lead. The young Tigers aren't built to be a comeback team, but conversely Duke must be careful if they let Clemson hang around too long. UNC thought they could win that game by sheer talent alone, but the longer they trailed, the more confident Clemson became, until it was too late for them to truly come back. As long as Duke takes care of business on the boards, they will be able to build up and build on a lead.




| | | |
| --- | --- | --- |
| | | |
Editor's Note - to read more about Clemson and the other ACC teams, please check out our 2012 ACC Preview at Amazon.com.