| | |
| --- | --- |
| Will New Faces Bring Different Results? | |
UConn -- Monday, January 30th 2012 @ 7:00pm (Cameron Indoor Stadium) TV: ESPN2
2011 UConn Snapshot: 36-2, 16-0 Big East, NCAA Final Four
Last Meetings:
Current Records: Duke 17-2, 8-0 ACC. UConn 19-2, 8-1 Big East
Current Rankings: Duke #5, UConn #3
UConn starters including Maya Moore celebrate in Cameron in 2010

Significant Losses: The Huskies lost one of the greatest players in the history of women's basketball in Maya Moore. While she was denied a third straight championship, she did lead her team to another Final Four. She averaged 23 ppg, 8 rpg, 4 apg, 1 bpg, 2 spg, and 38% from three. Speedy backup point guard Lorin Dixon averaged 3 ppg, 3 rpg and 3 apg; her quickness hurt Duke quite a bit in their previous meetings.

Returning & New Players: The talent UConn has returning is still quite formidable, as it's racking up an impressive 82 ppg. Rather than the Maya-centric offense of last season, the Huskies are relying on balance and spacing for their attack, with an emphasis on perimeter play. The team is led by senior wing Tiffany Hayes, who averages 16 ppg, 6 rpg, 3 apg, 2 spg and 42% from three. A career-long complementary player, Hayes has stepped up her game and has made the most of the extra shots she's received. Her last two games have been 30+ point outbursts even as two of her other teammates were named to the midseason Wooden Award watch list. Right behind her (and currently playing power forward) is superfrosh Kaleena Mosqueda-Lewis. KML and Elizabeth Williams were 1-2 on virtually every recruiting list, though Williams outperformed her in the postseason all-star games and in USA Basketball play. That said, KML burst on to the scene with a lot of confidence and skill and is averaging 15 ppg, 5 rpg, 2 apg and 38% from three. She averages almost 7 three point attempts per game in just 28 minutes of play. The other stalwart for the team is point guard Bria Hartley, who averages 15 ppg, 4 rpg, 4 apg, 2 spg and 40% from three. She was a fairly fully-formed player from the very beginning as a frosh last year and has become even tougher this season. (KML and Hartley were both midseason Wooden 20 honorees.) Hartley has shared point guard duties with Caroline Doty (6.5 ppg, 2 rpg, 4.5 apg), who missed a couple of games due to injury before returing to shoot 1-8 in 26 minutes vs. South Florida Saturday. At center is soph Stefanie Dolson, a big player with soft hands who averages 9.5 ppg and 6 rpg. She's not the greatest defender or athlete, but she is highly skilled and smart. The other regular starter is Kelly Faris, a utility wing who puts up 7 ppg, 5 rpg, 2 apg and 33% from long range. Assuming that Doty starts, then KML comes off the bench and Hayes moves to the 4 and Faris to the three. If Doty's out, then KML will be at the four and everyone else will shift down. It doesn't matter all that much in UConn's system, where everyone is expected to pass and handle at times. UConn's bench is not especially deep; post Kiah Stokes (5 ppg, 4 rpg) has been getting more minutes off the bench lately than Heather Buck (3 ppg, 4 rpg). Guard Brianna Banks (4 ppg) might get some run if Doty can't go and coach Geno Auriemma needs another body, though Banks only saw two minutes of action against the Bulls.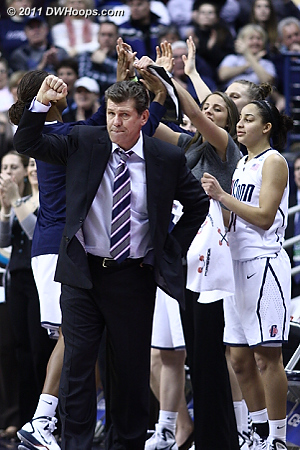 Connecticut coach Geno Auriemma on the sidelines during the 36 point Husky rout of Duke in Storrs last January.
The Skinny: Anyone who watched the Duke-UConn games from last year saw the obvious: Duke tried to rely on sheer athleticism and strength to hammer away at UConn, and thus failed miserably. UConn patiently waited for Duke to jack up a bad shot against their sagging defense and then ran the ball down Duke's throat. That's when Duke wasn't anxiously turning the ball over in an attempt to make something happen, which also led to easy UConn points. Throw in UConn raining down threes in the halfcourt, and Duke simply had no idea what to do. The utter predictability of Duke's offense made it easy for Geno to draw up a plan to stop it. Once UConn made a big run, the deflated Duke players just went through the motions. This year's UConn squad doesn't have Maya Moore, but they've played as well as anyone in the country not named Baylor. They've knocked off Stanford, Texas A&M, DePaul and we all saw what they did to UNC. KML is a lethal offensive player and fantastic shooter, and their devotion to team above all else makes them a truly formidable foe even when they don't have one of the greatest players in the world on their roster.
That said, this team has lost twice, including once to Notre Dame, a team that Duke came so very close to defeating on a neutral court earlier in the year. Let's take a look at what happened in that game, one that Notre Dame won in overtime at home. First and foremost, the Irish scored 74 points. This year's Duke team is by far the best offensive unit of the McCallie era, thanks in part to the creativity of Chelsea Gray and the relentless post scoring of Liz Williams. Duke has to get production from those two along with something near double-digit scoring from at least three other players (Peters, Jackson, Liston, Vernerey, and/or Selby) if they're to have any chance to win. Duke has been closing out opponents recently by hitting jump shots that were pressure-valve shots: wide-open looks where the player got a pass and stepped into the shot, not jacked-up shots taken off the dribble. This kind of shot will likely be available to Duke for much of the game, and they have to take advantage of these attempts. UConn shot just 41% against Notre Dame's defense as Hayes had just 10 points on 2-7 shooting and KML had 7 points on 2-7 shooting. Faris, Doty and Dolson were right on average, and Hartley carried the team with 25 points. However, the Huskies turned the ball over 27 times against Notre Dame's withering pressure (the same press that caused Duke to fold in the second half of their loss to the Irish) and they were even on the boards with the Irish. Uncharacteristically, UConn shot just 60% from the foul line (12-20). Notre Dame did not shoot well (36%) and turned the ball over 20 times, but they made their free throws (23-29) and scored 29 points off of UConn's turnovers. They also had strong inside-outside balance, as Kayla McBride, Skylar Diggins and Natalie Novosel all had big games.
Stefanie Dolson rejects Chelsea Gray.

One can see a blueprint for Duke here. The Devils need to pressure the ball in their own way, perhaps using that zone press that's caused opponents so much trouble this year. The press must be used judiciously, because the Huskies can break a press like nobody's business. In the halfcourt, the big lineup of Williams, Vernerey and Peters could be effective to prevent players from getting the ball inside and getting easy shots. Duke will need to be creative in getting the ball to Williams, because I have a feeling Geno will either front her or double-team her as soon as Liz demonstrates that she can score against her opponent one-on-one. This means that Peters, Jackson and Liston could all be key. Geno would likely be content to let that trio beat him as opposed to Gray and Williams. Jackson has to be smart about penetration, knowing when to pull up to take a jumper and when to go all the way to the rim. Peters has to match her intensity with efficiency and not try to do too much with the ball; UConn will undoubtedly try to make her put it on the deck and then go after the dribble. Liston has to vary her offense and attack the basket if possible.

Beyond that, Duke has to limit unforced turnovers (as they did against Maryland) and force UConn to work for every score. If the Huskies get a lot of fast break baskets (more than say, 12), Duke will likely lose. If the Huskies win the battle of second-chance points, Duke will likely lose. Beyond the numbers, Duke's players have to believe that they can beat UConn and force the Huskies to take them seriously; the longer the game is close, the more this favors Duke. This is a supreme test for the Devils and an excellent barometer on just where they stand nationally at the halfway mark of the ACC regular season.




| | | |
| --- | --- | --- |
| | | |
DWHoops will provide full coverage of this game including a deluxe photo gallery.