| | |
| --- | --- |
| Devils Seek to Sweep Seminoles | |
Florida State -- Sunday, February 12th, 2012, 1:00pm (Donald Tucker Center) - RSN TV
Please see the preview for Duke's first game against Florida State for specific team details.
Last Meeting: 1/6/2012 - Devils Take Down FSU, 73-66.
Current Records: Duke 20-3, 11-0 ACC. Florida State 13-12, 5-6 ACC
Current Rankings: Duke #5, Florida State is not ranked.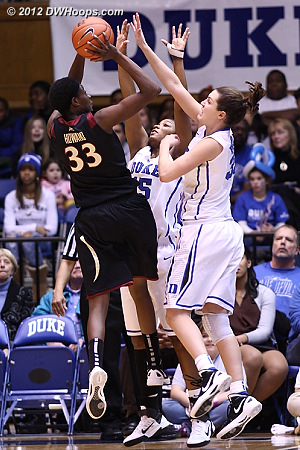 Florida State's Natasha Howard was a top performer in Duke's 73-66 victory over the Seminoles in Durham on January 13th.

What's Changed And What's At Stake: FSU is 3-4 since they played Duke, but it seems clear that the team is starting to wear down a bit. After the close loss at Duke, they gave Miami a huge fight before falling by just 3 points. After that, FSU has pretty much beaten the teams they're supposed to beat but haven't done as well with the 50-50 games. Their best win during this stretch was a buzzer-beating win against NC State on the road, and their worst loss was getting handled by a deeper Wake Forest squad Thursday night.

The big change for FSU is that Auburn transfer Morgan Toles was granted the right to play right away on February 9th. She joined the team in January after leaving Auburn late in the 2011 season. Why is she eligible now? Near as I can tell, the Auburn doctors told her that she needed to quit playing basketball because of her repeated concussions. There are apparently varying opinions as to exactly what was said regarding her playing for the Tigers; suffice it to say that the Auburn staff didn't want her to play. Thus, she received special dispensation on the transfer rule once she joined the Seminoles and was cleared by the medical staff. As anyone who's watched the Seminoles can tell you, they've been dearly missing a true point guard, and Toles (who was leading the SEC in assists before she left the team) certainly fits that bill. Toles had 12 points and 5 assists against Duke in their matchup from November of 2010, so that familiarity can only help. She did play in FSU's loss to Wake Forest, going scoreless but handing out 3 assists and grabbing 4 boards.

At this point, FSU is fighting for their WNIT lives, given the tough schedule they still have ahead of them. Every win is key for them, and I get the sense that they overlooked Wake Forest while thinking about their rematch with Duke. Toles will be a perfect bench complement for this team, looking to get the ball to one of FSU's four scorers in Bravard, Howard, Clayton and Deluzio. The Devils forced Deluzio into a poor performance in their first meeting, but the presence of Toles might mean that she's freed up to hunt her shot a bit more. Of course, Duke needs to stay out of foul trouble against FSU's big, aggressive front line and press their own advantages in the post as much as possible. The Devils could also use a boost from its bench, which was mostly AWOL against Boston College. Despite FSU's record, this game is far from a gimme for Duke, who must win to stay ahead of Miami. I expect FSU's best effort and a larger-than-normal home crowd (this is a Play4Kay game) to boost them. The biggest thing for Duke is that they need to refocus their defensive effort. It was mediocre against UNC in the second half of that game and terrible for much of the BC game. Considering that FSU gave Duke all they could handle in their first meeting, one would hope that the Seminoles have the Blue Devils' complete attention.




| | | |
| --- | --- | --- |
| | | |