| | |
| --- | --- |
| Top Ten Matchup Holds Many Implications | |
Maryland -- Sunday, February 19th, 2012, 3:00pm (Comcast Center). TV: ESPN2
Current Records: Duke 22-3, 13-0 ACC. Maryland 22-4, 9-4 ACC
Current Rankings: Duke #5, Maryland #8/#7 (AP/ESPN).
Last Meeting:1/22/2012: Devils Knock Off Terps, 80-72..
Please see the preview for Duke's first game against Maryland for specific team details.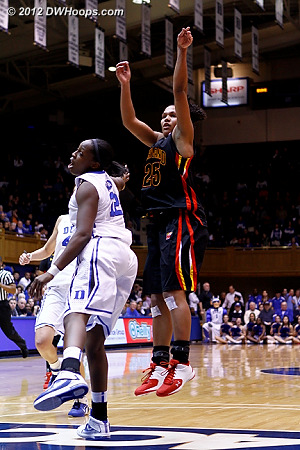 Alyssa Thomas will create matchup problems for the Richa Jackson-less Blue Devils.

What's Changed And What's At Stake: The biggest and most obvious change is that Duke will not have Richa Jackson available after her season-ending ACL injury. She had 11 points in Duke's first meeting with Maryland and has provided season-long scoring balance on the wing. Her ability to create her own shot and attack opponents off the dribble, combined with her size and agility, made her a tough matchup for many opponents. Without her on the floor, Duke truly has no one to match up against Alyssa Thomas one-on-one, which will necessitate more zone and more rapid defensive switches. Duke forced Thomas out to the perimeter in their first meeting, but she burned them from long range anyway. Without Jackson in the lineup, Duke will need high-quality production from Tricia Liston, both inside and out. They will also need scoring and smart decision-making from Shay Selby, as well as some offense from Allison Vernerey. While Selby has been playing pretty well of late, Liston's been up and down: brilliant in one game, low-impact the next. Vernerey's offense has gone AWOL recently, which is a huge concern given Maryland's depth up front. She had a huge game against the Terps earlier this season, uncorking a jump-hook that I hadn't seen before and haven't seen since.

As for Maryland, they are mathematically eliminated from the top two spots in the ACC, but they still have work to if they're going to assure themselves of a first round bye. Beating Duke would just about clinch it for them, given that they own a tiebreaker against Georgia Tech, but they still have to also face UNC. As for Duke, they'd like to keep their undefeated conference record going, of course, as well as earn their first win of the year on the road against a ranked opponent. That would certainly help their NCAA resume as they look to lock down a berth in the Raleigh regional. Of course, Duke is looking to stay ahead of Miami in the standings, but the only game that really matters in that regard is Duke's game against Miami on Friday. Duke will have to figure out how to run their sets at both ends without Jackson, and that could take time. I'd say that Maryland holds the upper hand in this game, and it will take an inspired defensive performance for Duke to win. Chelsea Gray and Elizabeth Williams will both need to be superstars in this game, and Haley Peters must look to be aggressive when she's open, just as she was in the first game.

As always, rebounding will be key. Virginia Tech stayed close to Duke in the most recent game because they were able to punish Duke on the offensive boards. Giving Maryland those kinds of opportunities is a recipe for a double-digit loss, because Tianna Hawkins has been killing teams inside and Lynetta Kizer continues to be a matchup problem for everyone. If Duke can force Maryland into a lot of turnovers and stay even on the boards, then they'll have a great chance to win.




| | | |
| --- | --- | --- |
| | | |