| | |
| --- | --- |
| Duke vs. Albany, Mississippi State vs. Tulane | |
2015 NCAA Tournament First Round Preview - Durham, NC
#4 Duke (21-10, 11-5 ACC, Final RPI Rating #15) vs #13 Albany (24-8, 14-2 America East, Final RPI Rating #77)
Albany coach Katie Abrahamson-Henderson was a McCallie assistant at Maine and Michigan State. She was also an assistant at Iowa State when Brenda Frese was in that same role.
DWHoops Photo by Orin Day
---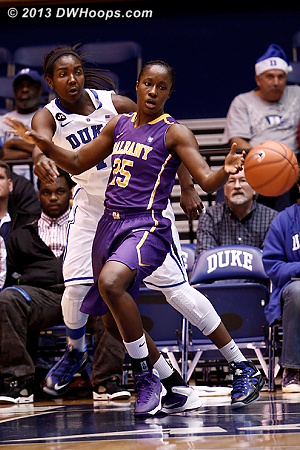 Albany's Shereesha Richards battles with Elizabeth Williams in Duke's 80-51 win over Albany on December 19, 2013.
DWHoops Photo by Orin Day


When: Friday, March 19th, 12 PM
Where: Cameron Indoor Stadium, Durham, NC


Last Meeting: 12/19/13: Duke Muzzles Albany, 80-51


Key Players: 6-1 post Shereesha Richards (21 ppg, 9 rpg, 2 spg), penetrating guard Imani Tate (14 ppg, 6 rpg, 2 apg), lead guard Sarah Royals (9 ppg, 3 rpg, 5 apg), secondary ballhandler Zakiya Saunders (8 ppg, 3 rpg, 4 apg), shotblocking post Tiana-Jo Carter (7 ppg, 6 rpg, 1 bpg), shooter Margarita Rosario (4 ppg, 2 rpg, 2 apg, 36% 3FG), shooter Erin Coughlin (3 ppg), wing Cassandra Edwards (2 ppg, 2 rpg).

The Skinny: This is a team that's faced a number of NCAA and WNIT teams, including UNC, Quinnipiac, Marist, and Western Kentucky. In each of these games, leading scorer Richards has been a dominant presence, including dropping 34 points on a UNC team that still had Xylina McDaniel. Richards is an ultra-quick post who can slide between gaps and out-jump other players to grab lobs for lay-ins. She gets to the line seven times a game. Tate is the team's secondary scorer who gets most of her points in the paint and at the foul line. Royals will take threes but isn't a great shooter; she also gets most of her points at the foul line. Rosario and Coughlin can hit threes but aren't especially efficient. Carter is an athletic shotblocker who's managed to foul out of ten games this year..

The Matchup: Duke is all too familiar with Richards, who dropped 24 points on Duke last season, 20 of them in the first half. Indeed, the Great Danes even held a 20-13 lead early in the game before Duke finally found a lineup that worked and they pulled away in the second half. However, the addition of Azura' Stevens to Duke gives the Devils an ultra-mobile big who can shadow Richardson and initiate double-teams. Double-teaming her will be crucial, as the Great Danes are not a great shooting team. They will be looking to attack the basket, post up and get to the foul line. Duke's zone and huge front line will force their guards to hit shots, and it will be up to the bigs to outwork Albany on the boards. As long as Duke wins the rebounding battle, they should be able to win this game comfortably. Albany will use a zone to force Duke to shoot, so it will be up to the guards to find ways to make that zone move and collapse so as to get the ball inside for easy shots.








---
Game Two: #5 Mississippi State vs #12 Tulane
When: Friday, March 19th, 2:30 PM
Where: Cameron Indoor Stadium, Durham, NC



#5 Mississippi State

Record: 26-6, 11-5 SEC, Final RPI Rating: #31

Key Players: Wing Victoria Vivians (15 ppg, 5 rpg, 34% 3FG), post Martha Alwal (10 ppg, 7 rpg, 2 bpg), playmaker Morgan William (9 ppg, 4 apg, 32% 3FG), forward Breanna Richardson (8 ppg, 6 rpg), guard Kendra Grant (6 ppg, 41% 3FG), guard Dominique Dillingham (6 ppg, 5 rpg, 2 apg, 2 spg, 35% 3FG), senior lead guard Jerica James (5 ppg, 2 rpg, 3 apg, 34% 3FG)

The Skinny: This is a perimeter-oriented team that plays tremendous pressure defense. They've had to deal with injury problems all year but are relatively healthy now. Alwal missed six games and that was crucial, because she's the only post threat on the team and the only player who can really protect the rim. James and William are a formidable point guard combo and of course Vivians can take over games by herself. This is a classic penetrate-and-pitch that clears out the lane so that drivers and cutters can get to the hoop and either attack the rim or dish out to one of their many shooters. Eight of their players have hit at least ten treys this season, and three of them have hit over twenty. This team is also virtually foul-proof, because they can trot out up to seven players who have appeared in at least 21 games and averaged at least six minutes per game. The Bulldogs love to play up-tempo and force 22 steals a game. When they are forced to slow down, they rely heavily on their perimeter attack, as they don't have much in terms of skilled size.

The Matchup: Mississippi State is essentially going to be playing a smaller version of itself. Indeed, both of their leading scorers are guards who are frosh. Both teams are deep and will essentially bomb away at first opportunity. What will make the difference is Alwal, who will give MSU the rebounding edge they need, all other things being equal.

#12 Tulane

Record: 22-10, 11-7 AAC, Final RPI Rating #53

Key Players: Guard Kolby Morgan (12 ppg, 4.5 rpg, 29% 3FG), wing Danielle Blagg (9 ppg, 3 rpg, 35% 3FG), guard Leslie Vorpahl (7.5 ppg, 2 rpg, 2 apg), lead guard Jamie Kaplan (7 ppg, 3 rpg, 5 apg), post Chinwe Duru (7 ppg, 4 rpg), post Tiffany Dale (7 ppg, 6 rpg), wing Courtnie Latham (6 ppg, 2 rpg, 33% 3FG), wing Adesu Ebomwonyi (5 ppg, 4 rpg).

The Skinny: Tulane has played a brutal schedule, beating LSU, Miami and NC State and losing to Western Kentucky, Florida State. They also have three losses to South Florida and two losses to UConn. This is a small team that is heavily dependent on three point shooting, as their top four scorers have all chucked up at least sixty treys this season. They're not a great rebounding team but they play solid defense and force 19 turnovers a game.

The Matchup: As noted above, Tulane is a team that's played a tough schedule and isn't exactly afraid of any opponent. They were one of the last four teams in the tournament, because while they had some solid wins, they didn't prove that they could beat an elite team. It is possible that Tulane's shooters could get hot and outchuck MSU's shooters, but other things being equal, I see their lack of size as hurting them down the stretch.