| | |
| --- | --- |
| Quality Mid-Major Opponent for Devils | |
Please Support our Sponsor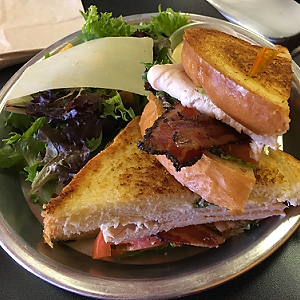 At NOSH or Piper's in the Park, you won't go wrong with the Turkey BLT and side salad. Orin ate this delicious example!
---
Join DWHoops for 2016 for exclusive analysis and photos!
Learn More about DWHoops
Our 2015-16 home game previews are presented by NOSH. For great food, visit their main location at 2812 Erwin Road in Durham (Erwin Terrace), or their Jo Rae Cafe location in the Trent Semans Center for Health Education in the Duke Hospital complex.
Liberty -- Thursday, December 17th, 2015
7:00 PM EST
2015 Liberty Snapshot: 26-7, 15-1 Big South, Big South Champions NCAA Tournament First Round
Last Meeting: 12/12/2004: Duke 83, Liberty 48
Current Records: Duke 8-2, 0-0 ACC; Liberty 3-6, 0-0 Big South
Current Rankings: Duke #13/#11 (AP/USA Today), Liberty is unranked
Significant Losses: The Flames lost guard Karly Buer (12 ppg, 36% 3FG), forward Simone Brown (8 ppg, 5 rpg, 38% 3FG), lead guard Emily Frazier (5 ppg, 4 apg), and post Jasmine Gardner (4 ppg, 6 rpg).
Returning & New Players: On a deep lineup, the leading scorers are 6-4 post Ashley Rininger (14 pg, 8 rpg) and point guard Sadalia Ellis (12 ppg, 3 rpg, 4 apg, 3 spg). Wing Mickayla Sanders (12 ppg) just returned to action after missing Liberty's first eight games, and she was a big boost in their loss to Seton Hall. The team's most effective bomber is Jaymee Fisher-Davis (8 ppg, 2 rpg, 2 apg, 32% 3FG), though reserve Candice Leatherwood (5 ppg) is shooting 50% on limited attempts. 6-5 Katelyn Adams is a solid backup post, averaging 7 ppg and 9 rpg, while 6-6 Catherine Kearney adds even more size while putting up 4 ppg and 5 rpg. Guards Mikal Johnson (4 ppg, 3 rpg) and Audrey Rettstat (4 ppg) round out the lineup.
The Skinny: Liberty is a program with a history of dominating the Big South and making NCAA appearances. As a 13 seed a year ago, they gave UNC all they could handle and then some, as Rininger had 19 points and 13 rebounds. This is a team with a lot of size that prefers a fairly slow pace, relying on its bigs to get extra possessions. At the moment, they are struggling with regard to their record, but certainly not their effort. They came close to beating ranked Ohio State and Cal clubs and gave NC State a tough battle.
Liberty struggles against teams that can spread the floor and move the ball from side to side, drawing defenders away and leaving open shooters. They're especially susceptible to this via dribble penetration, and it doesn't help that their bigs aren't especially adept as shot blockers. Liberty turns the ball over a lot, and this is something Duke will need to exploit so as to avoid a halfcourt slog. This is a game where Angela Salvadores will get another crack at going up against big players, and we'll see if she can beat them to the right spots on the floor and make good decisions with the ball.
Obviously, Duke will try to use its bigs to match up against Liberty's, so don't be surprised to see the Devils come out in man-to-man in order to see how well the posts defend against players of a similar size. Rininger is someone who could easily play in the ACC and will give Duke just as many problems as players from bigger schools. That said, how competitive the game will be will depend on LIberty's ability to hit the three. If they can't, Duke will zone them to death and then pick them apart with a press.
That said, this is a game where Duke's bench has to be prepared to play well. Liberty won't be afraid to use fresh players (and big ones at that) to attack Duke, so Duke will need to prove that their bench can and will be more productive. If Duke struggles when key players are on the bench, then this will be an uncomfortably close game that could go down to the wire. If the bench plays up to its potential, then this is a 20-point blowout in the making, provided that Duke's defense continues their stingy ways. The other variable will be Liberty's shooters, because if they can't connect, then I imagine Duke will switch to a zone and stay in it, cutting the posts off from the guards. If Liberty hits some threes, then they will definitely be able to stay in it for quite a long time. That's especially true if their own defensive efforts hamper Duke, forcing the Devils into taking bad shots. Otherwise, Liberty's usual advantage in size will be neutralized against a big Duke team and the Devils will win comfortably.
| | | |
| --- | --- | --- |
| | | |