| | |
| --- | --- |
| Marquee Matchup on SEC Network Leads Duke into Christmas Break | |
Please Support our Sponsor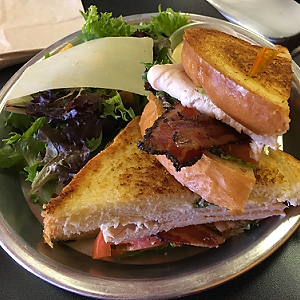 At NOSH or Piper's in the Park, you won't go wrong with the Turkey BLT and side salad. Orin ate this delicious example!
---
Join DWHoops for 2016 for exclusive analysis and photos!
Learn More about DWHoops
Our 2015-16 home game previews are presented by NOSH. For great food, visit their main location at 2812 Erwin Road in Durham (Erwin Terrace), or their Jo Rae Cafe location in the Trent Semans Center for Health Education in the Duke Hospital complex.
Kentucky -- Sunday, December 20th, 2015
7:00 PM EST (Rupp Arena)
2015 Kentucky Snapshot: 24-10, 10-6 SEC, NCAA Second Round
Last Meeting: 12/21/2014: Duke Rolls Over Kentucky, 89-68
Current Records: Duke 9-2, 0-0 ACC; Kentucky 9-0, 0-0 SEC
Current Rankings: Duke #13/#11 (AP/USA Today), Kentucky #8/#8
Significant Losses: The Wildcats lost shooter Jennifer O'Neill (14 ppg, 2 apg, 32% 3FG), forward Linnae Harper (11 ppg, 7 rpg), defensive specialist Bria Goss (9 ppg, 4 rpg), and post Azia Bishop (6 ppg, 5 rpg).
Returning & New Players: Kentucky's biggest star is Makayla Epps, who averages 17 ppg, 5 rpg and 6 apg. Fellow lead guard Janae Thompson is putting up 14 ppg, 3 rpg, and 6 apg; she's nailing 45% of her threes. Post Alexis Jennings is averaging 11 ppg and 7 rpg, while JuCo post Evelyn Akhator contributes 11 ppg and 11 rpg. Wing Maci Morris is averaging 10 ppg and shooting 45% from three. Off the bench, guard Taylor Murray puts up 10 ppg, 4 rpg and 3 apg. Posts Ivana Jakubcova (3 ppg, 2 rpg) and Batouly Camara (6 ppg, 4 rpg) offer more support.
The Skinny: The Wildcats are still a team that loves to run, press and cause havoc at both ends. They're just trying to accomplish this with fewer players at their disposal. That said, UK has personnel better suited to beat Duke now than a year ago. In last season's game, Kentucky turned Duke over 24 times, pounded Duke inside and got plenty of looks at the foul line. What they didn't do was shoot the ball very well, and the Devils let them chuck away, content that they could control the game's pace.
Of course, this is a different Duke team as well. There's a lot more depth and much more offensive versatility. The Devils have a significant advantage in the post, especially if they opt to start in their jumbo lineup with Lynee' Belton, Azura' Stevens and Oderah Chidom. Akhator is 6-3 and Jennings 6-2, and while the latter played well last year against Duke, the Devils with Belton present an entirely different kind of challenge -- though the loss of a resurgent Kendall Cooper for the rest of the 2015-16 season due to undisclosed reasons reduces Duke's depth.
This is a game where Kyra Lambert is going to have to have an impact in order for Duke to win, because the Cats will isolate her and dare her to shoot while blanketing Rebecca Greenwell. That's one reason why Greenwell's showing against Liberty was so encouraging, because while she was getting shots, she impacted the game just as much with her rebounding and defense. All that said, it's going to take a good showing from Angela Salvadores to beat Kentucky.
Indeed, the fast-paced tempo of this game is exactly her style. She'll need to quickly discern whether she should shoot or pass, because UK won't give her much time to act. Epps is an extremely tough matchup as a quick, creative player who has greatly improved her shooting. Thompson is every bit as versatile, though Greenwell's size will help to neutralize her. What I'm really worried about is Duke leaving Morris alone while trying to deal with the other guards, and she could easily burn them from deep.
Duke can reach into its bench and get players to soak up minutes, but they will need at least three bench players to have impact games. That includes Salvadores and two other players -- be it Crystal Primm, Haley Gorecki or someone else. Duke's depth needs to be a big advantage over a short-handed Kentucky squad, and if they don't produce, Duke will be in trouble. Losing Cooper hurts severely in this area, and with very little time to adjust to it.
Kentucky won't be nearly as physical as Texas A&M or South Carolina, but they are far more formidable on the offensive end than either of those teams. If Duke can get past the initial pressure of the Kentucky defense and break the press in an attempt to score, then they'll have a great chance to get a lot of points. If the game becomes a halfcourt slog or foul-fest, that certainly favors Duke because of its greater size and depth. On the other hand, if the Devils are careless with the ball or fall in love with jump shots, then Kentucky could go up big.
Most of the usual concepts apply in this game for Duke: control the boards, limit turnovers, use its length on defense to disrupt passing lanes, etc. That said, this is a game where Azura' Stevens has the potential to ultimately dictate its outcome. Can she come up big in the fourth quarter on the road, or will Kentucky find a way to neutralize her? She's been doing a lot of work on the perimeter of late, and that's by design in order to make her harder to guard. She doesn't want to make jumpers her bread-and-butter; instead, it needs to be just another tool in her arsenal, one of many that can disrupt opponents. Duke won't win unless she has a big game.
Azura Stevens will need a big game against Matthew Mitchell's Kentucky Wildcats for Duke to head into Christmas break happy.
DWHoops file photos by Orin Day
| | | |
| --- | --- | --- |
| | | |