| | |
| --- | --- |
| Stevens Status a Game Day Decision vs. Canes | |
Please Support our Sponsor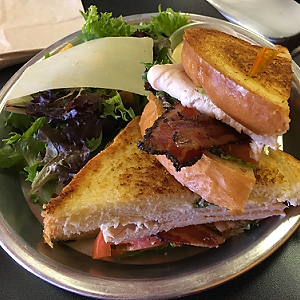 At NOSH or Piper's in the Park, you won't go wrong with the Turkey BLT and side salad. Orin ate this delicious example!
---
Join DWHoops now to receive Rob Clough's exclusive ACC Women's Basketball Preview!
Learn More about DWHoops
Miami -- Sunday, February 7th, 2016 @ 1PM EST, BankUnited Center. TV: RSN)
2015 Miami Snapshot: 20-13, 8-8 ACC, NCAA Tournament Second Round
Last Meeting: 1/18/2015: Duke Turns Back Miami, 68-53
Current Records: Duke 17-7, 6-4 ACC; Miami 19-4, 7-3 ACC
Current Rankings: Duke is unranked but receiving votes, Miami is #16/#20 AP/USA Today
Significant Losses: The Canes lost two members of their deep guard corps: bomber Necole Sterling (7 ppg, 3 rpg, 36% 3FG) and penetrator Suriya McGuire (7 ppg, 4 rpg). They also lost undersized post stalwart Jassany Williams (6 ppg, 6 rpg, 2 bpg).
Returning & New Players: The Canes returned their top three scorers, have gotten more production from holdover, returned one player from injury and are using two Dutch frosh in key roles. The team's star remains Adrienne Motley, a versatile guard who can score, rebound, shoot and pass. She averages 16 ppg, 4 rpg, 3 apg and shoots 37% from three. Joining her in the backcourt are bomber Jessica Thomas (12 ppg, 4 rpg, 4 apg, 32% 3FG) and versatile Michelle Woods (7 ppg, 4 rpg, 3 apg, 27% 3FG), creating a potent perimeter attack.
Up front, Dutch center Emese Hof (8 ppg, 6 rpg) has emerged as a dependable rebounder and low post scorer who can also score in a pick-and-pop situation. Versatile forward Keyona Hayes returned from last year's injury redshirt to average 9 ppg and 6 rpg. Erykah Davenport (6 ppg, 5 rpg) is the primary backup post, while Dutch guard Laura Cornelius (6 ppg, 2 rpg, 44% 3FG) is the top perimeter sub, especially as a point guard. Wing Keyanna Harris (3 ppg, 2 rpg) and forward Khalia Prather (2 ppg, 3 rpg) are the deep reserves who might see a couple of minutes against Duke.
The Skinny: Miami is an interesting squad that essentially has beaten every team that it was supposed to beat and has no truly bad losses, but it hasn't beaten any great teams, either. NC State is their best win, and they've suffered home losses to FSU and Syracuse. This is a team that likes to run, shoot threes and attack the basket. They generate a lot of turnovers and create offense that way. Despite a lack of size, they're an excellent rebounding team, especially on the offensive boards.
They have a dominant scorer in Motley, a player who can generate offense on her own at any time, but they are also a unit that's greater than the sum of their individual parts. The versatility of the backcourt (all three starting guards have at least sixty assists after 23 games) makes slowing down Miami's attack difficult. Their shooters are streaky, however, and one is better off playing them for the shot than the drive.
The team's backbone is Hayes, a tough player who plays bigger than her size but can still pass and shoot the ball. Hof is slender but can bang in addition to possessing nice skills. The top seven in their rotation can all play and make real contributions, giving the Canes true, quality depth for the first time in a while. The Canes have proven that while they prefer a looser, fast-paced style of play, then can win in slogs against teams like Virginia Tech and Boston College.
Much will depend on the availability of Azura' Stevens in this game. If she plays and is mobile, she'll draw Hayes as her primary defender, meaning Oderah Chidom or Amber Henson will have cracks at the basket against smaller opponents. If Stevens is out, Duke should not be stubborn and try to replicate that jumbo lineup with Erin Mathias; that proved to be disastrous against Virginia in the early going. Instead, they should start Angela Salvadores to help match up against Miami's guards. If Duke gives up a lot of threes, they won't be able to keep up.
Duke will of course try to go inside-out, as per usual. Oderah Chidom really needs to be on, because she'll get a lot of cracks at the basket in this game. Amber Henson will need to continue her recent run of excellent rim protection and rebounding but will also need to put herself into position to score. Miami has a tiny backcourt and Duke will need to take advantage of this, bodying them up to go to the basket. Miami will likely try pressing in order to generate turnovers, and Duke needs to continue to put Amber Henson in the middle of the floor as a press breaker.
In order to make up for the turnovers that are almost certainly like to push past twenty, the Devils need to absolutely own the boards and prevent second-chance opportunities. They have to get physical with Miami, in part because outside of Motley and Woods, they don't have great foul shooters. If Duke communicates well and effectively switches up defenses, they have a chance to pull off the upset. If they have more than 25 turnovers, there will be no way they can beat a team with Miami's talent unless the Canes have 25 turnovers as well. This is an opportunity for Duke to finally get a decent win in terms of their RPI, but it will take greater overall focus than they showed against Virginia.


| | | |
| --- | --- | --- |
| | | |