| | |
| --- | --- |
| Last Regular Season Chance for Devils to Earn Win vs. Top 25 Foe | |
Please Support our Sponsor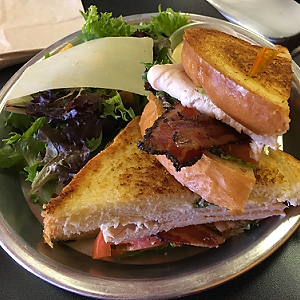 At NOSH or Piper's in the Park, you won't go wrong with the Turkey BLT and side salad. Orin ate this delicious example!
---
Join DWHoops now to receive Rob Clough's exclusive ACC Women's Basketball Preview!
Learn More about DWHoops
Our 2015-16 home game previews are presented by NOSH. For great food, visit their main location at 2812 Erwin Road in Durham, or their Jo Rae Cafe location in the Trent Semans Center for Health Education in the Duke Hospital complex. Go eat there and tell them DWHoops sent you!
Florida State -- Thursday, February 11th, 2016 @ 7PM EST, Cameron Indoor Stadium TV: ESPN3)
2015 FSU Snapshot:
32-5, 14-2 ACC, NCAA Elite Eight
Last Meeting: 1/11/2015: FSU Second Half Dooms Duke, 74-58
Current Records: Duke 17-8, 6-5 ACC; FSU 19-4, 9-1 ACC
Current Rankings: Duke is unranked, FSU is #10/#10 AP/USA Today
Significant Losses: The Noles lost a few key players, starting with point guard Maegan Conwright (12 ppg, 3 apg, 36% 3FG). She gave the position stability and provided steady shooting. Also gone is shooter Morgan Jones (7 ppg, 4 rpg, 35% 3FG). Deep reserve Lauren Coleman (2 ppg, 2 rpg) graduated, while reserve point guard Shakena Richardson (3 ppg, 3 apg) left after one year in the program.
Returning & New Players: FSU's breakout star is wing Shakayla Thomas (18 ppg, 6 rpg), who usually comes off the bench. The team's rock is big, smooth center Adut Bulgak (13 ppg, 8 rpg, 1 bpg, 44% 3FG), a versatile inside-outside player. The team's heart and soul are juniors Brittany Brown (10 ppg, 5 rpg, 5 apg) and Ivey Slaughter (8 ppg, 7 rpg); they've been major players since they first got in the program. Letitica Romero (11 ppg, 4 rpg, 4 apg, 41% 3FG) is a smooth and versatile guard who can play either perimeter slot. Off the bench, Emiah Bingley (6 ppg, 3 rpg, 36% 3FG) is a shooting specialist, while Kai James (6 ppg, 4 rpg) is a big body. Maria Conde (4 ppg, 2 rpg) soaks up more wing minutes.
Longtime Florida State coach Sue Semrau has a great rapport with the Seminole students and fans, pictured here with the FSU band and cheerleaders before a 2013 ACC Tournament game.
DWHoops file photo by Orin Day
The Skinny: I'll go on the record now: if Azura' Stevens is unavailable against FSU, the Devils have no chance of winning. That's because FSU's style of play, size and depth would be way too much for Duke. Start with Bulgak, who can go inside and out. If she's out on the wing, Duke has to respect her range. If a big comes out to guard her, then a player like Shakayla Thomas has a chance to attack the basket. FSU likes an uptempo style of play and they can pressure the ball, forcing 20 turnovers a game. Brown in particular is lethal in this area, averaging nearly 4 steals per game. If Duke turns the ball over early and often, they will be through.
That's because FSU is an outstanding rebounding club, with a +14 rebounding margin per game this year. Even FSU's guards rebound well, especially in tracking down their own misses. FSU prefers to attack the basket or post up, but they've proven that they can hit open threes given the opportunity. Without Stevens at the top of a 3-2 zone, Duke would be hard-pressed to match up with FSU. That would leave Duke in the standard 2-3 zone, leaving them vulnerable whenever Bulgak pops out.
FSU would prefer to attack the basket or post up, so this is what Duke will need to prevent. Packing the post will be crucial, which means Duke will have to cede at least some outside shots. If Duke can cover Bulgak and Romero and take their chances with everyone else, then they have a chance to survive FSU's offensive onslaught. FSU also gets to the line 18 times again (converting at a solid 70% as a team), and so packing the lane could help stop that aspect of their offense. In this game, as in the Miami game, I'm less worried about Duke's defense than its offense. The Devils are ripe for another 20+ turnover game against a team that likes to play aggressively, and live ball turnovers would give FSU the cushion to hold Duke at arm's length the whole game. However, if Duke can get by FSU's perimeter defenders, the Noles are actually a poor shot-blocking team. This is a game where Angela Salvadores absolutely must score 15 or more points for Duke to have a chance. Rebecca Greenwell similarly needs a productive outing for the Devils, because she'll get shots.
Florida State is a team that's greater than the sum of its parts, relying on experience, toughness and hustle. That said, they're not quite as good as they were last year. Their only signature win thus far is against Miami, although they've dominated the lower-level competition. It should be noted that all of their losses are on the road, giving Duke at least a shot. One other thing to watch: FSU buries their opponents in the first quarter, usually going up by 8-10 points. If Duke can hang tough early on, then they might be able to stay close the rest of the way. There's no question, however, that FSU is going to make Duke take plenty of jump shots and dare them to make them. It's up to the Devils to find a good rhythm and stay in it, calmly taking shots on-balance instead of hurrying. Even if Duke suffers an early deficit, they can come back if they control the boards and take good shots. However, if Duke loses the battle of the boards, they will have no chance to win.


| | | |
| --- | --- | --- |
| | | |