| | |
| --- | --- |
| Devils Down Another Player Heading to Blacksburg | |
Please Support our Sponsor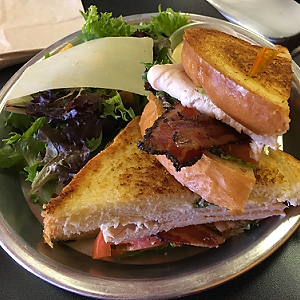 At NOSH or Piper's in the Park, you won't go wrong with the Turkey BLT and side salad. Orin ate this delicious example!
---
Join DWHoops now for quality independent analysis of Duke Women's Basketball
Learn More about DWHoops
Virginia Tech -- Thursday, February 18th, 2016 @ 7PM EST (Cassell Coliseum, ESPN3)
2015 Virginia Tech Snapshot:12-20, 1-15 ACC, No Postseason Play
Last Meeting: 1/15/2015: Duke Handles The Hokies, 65-40
Current Records: Duke 17-10, 6-7 ACC; Virginia Tech 15-10, 3-9 ACC
Current Rankings: Duke is not ranked, Virginia Tech is not ranked
Significant Losses: The only loss for the Hokies was role player Kelsey Conyers, who averaged 4 ppg and 2 rpg.
Returning & New Players: The Hokies returned everyone else and added some pieces this season. Wing Hannah Young (10 ppg, 5 rpg, 41% 3FG) is the only player averaging in double figures, but there are others near that mark. Chief among them is the team's engine, guard Vanessa Panousis (9 ppg, 2 rpg, 2 apg, 33% 3FG). She's playing more at off guard this season, as frosh find Chanette Hicks (8 ppg, 4 rpg, 4 apg, 3 spg) has taken over at lead guard. Versatile forward Sidney Cook (9.6 ppg, 5 rpg) is one of the other big threats. In the post, Regan Magarity has had an OK bounce-back year after getting hurt last season, averaging 8 ppg and 6 rpg. Posts Taijah Campbell (5 ppg, 5 rpg, but has struggled with injuries) and Dominique Powell (5 ppg, 4 rpg) add depth, size and experience. Guards Rachel Camp (4 ppg, 3 rpg) and Samantha Hill (3 ppg, 2 rpg) round out the lineup.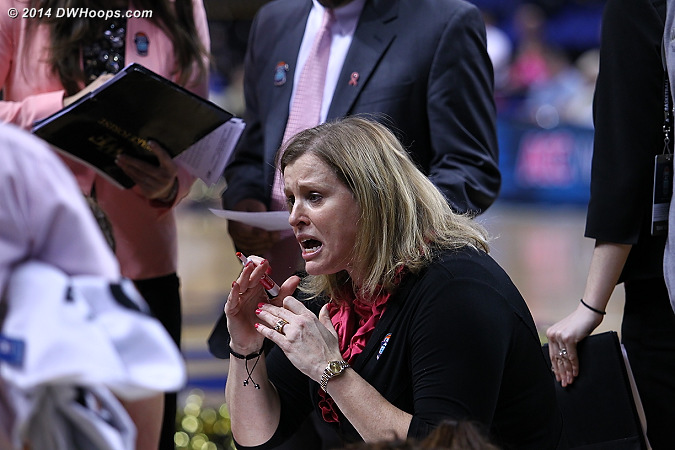 The Skinny: The Hokies are yet another ACC foe that Duke has dominated for years who are ready for some payback. Duke will certainly be without Lynee' Belton for the rest of the season with a torn meniscus, wiping out Duke's post depth. What the Hokies don't have is a great offense, as they don't even crack 60 points per game. I'm not exactly sure why this is, given their experience. Part of it is simply not having many playmakers on their roster, players who can get their own shot whenever they want. Hicks could be that kind of player at some point, but she's a spotty shooter at best lately and is most adept at getting to the foul line (where she averages an unfortunate 49%).
For all their size, the Hokies aren't a great rebounding team, either. What they do best is control tempo. They hold opponents to just 52 ppg with a disciplined, physical and intense group effort. They are especially good at extending their defense out to the three point line, where opponents shoot just 25%. Campbell and Powell are good rim protectors, which they will need in order to combat Duke's penetration and post play.
The winner of the game will be the one that gets to set tempo. Duke will want to run as much as possible, and VT turns the ball over quite a bit, so this could happen. The Devils absolutely need to limit live ball turnovers that give the offensively-challenged Hokies easy points. They'll need to watch out for Hicks in this regard, who's the team's ballhawk and will likely draw Angela Salvadores (who may or may not be limited by ongoing ankle issues).
If Duke can limit those turnovers and generate 8-10 fast break points, they will likely win. VT fouls a lot, which could help neutralize their depth superiority. In a slower-paced game, the winner would be the team that hits more threes. Young, Cook and Panousis are streaky but can fill it up on occasion; if any of them have the sort of night Amber Campbell had against Duke on Sunday, then the Devils are in trouble.
Duke needs to start thinking of every game down the stretch as a potential elimination game. A loss to the Hokies could cripple what's left of Duke's confidence, especially with potentially dangerous UNC and Georgia Tech squads remaining on the schedule. This would be a great time for a Kyra Lambert or Faith Suggs to step up and have a big game. Even with its weakened roster, VT doesn't match up all that well with Duke, and the Devils need to exploit their superior skilled size, speed and transition play. If they go through significant scoring droughts, the Hokies will grow increasingly confident and could easily pull the upset.


| | | |
| --- | --- | --- |
| | | |