| | |
| --- | --- |
| Senior Day in Cameron For Mercedes Riggs | |
Please Support our Sponsor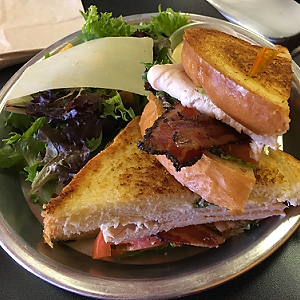 At NOSH or Piper's in the Park, you won't go wrong with the Turkey BLT and side salad. Orin ate this delicious example!
---
Join DWHoops now for quality independent analysis of Duke Women's Basketball
Learn More about DWHoops
Georgia Tech -- Sunday, February 21st, 2016 @ 2PM EST (Cameron Indoor Stadium, ESPN3)
2015 Georgia Tech Snapshot:19-15, 7-9 ACC, WNIT Second Round
Last Meeting: 2/26/2015: Georgia Tech Extends Duke Woes, 71-62
Current Records: Duke 18-10, 7-7 ACC; Georgia Tech 15-11, 5-8 ACC
Current Rankings: Duke is not ranked, Georgia Tech is not ranked
Significant Losses: The biggest loss was leading scorer Kaela Davis (19 ppg, 5 rpg) transferring to South Carolina in the offseason. Sydney Wallace (13 ppg, 3 rpg) was already done for the year. Post Nariah Taylor (3 ppg, 2 rpg) also left early.
Returning & New Players: The team's big gun (and one of the ACC's leading scorers) is Aaliyah Whiteside, and she's averaging 20 ppg, 7 rpg, 3 apg and 2 spg. She shoots just 26% from the foul line, but gets to the line eight times a game and converts at an 85% clip. Undersized post stalwart Roddreka Rogers (11 ppg, 7 rpg, 56% FG) is the team's heart and soul and often defends much bigger players. Stretch four Katarina Vuckovic (8 ppg, 5 rpg, 28% 3FG) isn't having a great shooting year, but she's finding other ways to score. Antonia Peresson (7 ppg, 38% 3FG) comes off the bench as a shooter, while 5-5 Ciani Cryor (7 ppg, 2 rpg, 2 apg) splits point guard duties with Imani Tilford (4 ppg, 2 rpg, 2 apg). Wing Irene Gari (7 ppg, 3 rpg) and powerful forward Zaire O'Neil (6 ppg, 3 rpg) give the Jackets some toughness, while 6-3 reserve Chelsea Guimaraes (3 ppg, 3 rpg) gives the Jackets some much-needed size.
The intensity of Georgia Tech head coach MaChelle Joseph during the 2015 ACC Tournament, where the Jackets were uncharacteristically seeded eleventh.
The Skinny: Duke's regular-season home finale features an opponent that Duke had had total mastery of until last season. This has been a weird edition of the Jackets, as they have had to find ways to compensate for the loss of Kaela Davis. The good thing about Davis is that she was a high-volume if inefficient shooter who could get her own shot at any time and usually did so, which was also the bad thing about her. You can't easily replace that kind of scoring weapon, but the fact that she did little else other than score meant that the Jackets had a chance to be more of a hustling, physical club.
It's also helped that Whiteside has embraced being the team's big gun. She's diversified as a player, becoming a better playmaker while attacking the basket more. She attacks the basket much more than Davis ever did. Whiteside will be a deserving first-team All-ACC player. Rogers is the role player's role player, doing all of the dirty work at both ends of the floor. Tech coach MaChelle Joseph knows that she can count on those two, night after night.
It's the rest of the team that's a bit more erratic. On any given night, any one of them can have a big game. It's just that they can also go cold on any given night. Thus, Georgia Tech will look to play the style that brought them success prior to Davis: a physical, grueling style of play predicated on full court ball pressure, zone defense and rebounding. Given that Duke is getting thinner and thinner inside, Tech has a real chance to compete with Duke's post-oriented game.
Tech's primary goal will be in attacking the dribble of Angela Salvadores and especially Rebecca Greenwell. If that guard duo turns the ball over ten times or more, Duke will be cooked because the Jackets will turn those into easy points. Considering that Tech sometimes struggles to score in the half court against bigger teams, giving away any easy points has to be avoided at all costs.
Duke's approach on offense should be to emphasize speed and spacing. Moving Amber Henson to the perimeter in order to create some space underneath could be enormously effective, especially if Tech plays zone and allows Henson some open looks. If Amber can hit shots like she did against Virginia Tech, then Duke's offense will be in great shape. Opening up that space will also allow Salvadores and Greenwell more room to attack the basket or penetrate-and-pitch out to open shooters. This is a game where Faith Suggs needs to get some real run, because she could help break up that zone. If Duke can force Tech to adjust defense, that will benefit a big wing like Greenwell.
Tech is a good rebounding team at +6, but not at the level they've been at in years past. They are missing a legit post bruiser like Sasha Goodlett and aren't capable of getting easy one-on-one scores. Instead, everything is off the dribble. They shoot threes mainly to set up drives, which will be hard for Duke to stop in the man-to-man. (Crior in particular is super quick.) Duke has to play a sticky zone and essentially wall off the paint, making Tech shoot contested jumpers. If Whiteside is getting layups or getting fouled, then Duke is in trouble.
Duke needs to embrace being a three-point shooting team at this point, using that shooting to open up the post instead of the opposite. That's why getting Suggs in is so important. Considering that Tech prefers to play zone, getting those shooters going is even more important. Another big factor will be offensive rebounding. With both teams playing zone, both teams will be vulnerable to offensive rebounds by their opponent. Duke's guards will need to be aware of and track down errant shots and not put the onus on the posts. The winner of the game will be the team that executes things it doesn't do well: in Duke's case, handling the ball; and in Tech's case, shooting the ball.


| | | |
| --- | --- | --- |
| | | |
Don't forget to visit NOSH for brunch before heading to Cameron!