| | |
| --- | --- |
| Heels and Devils Close Season in Unfamiliar Situations | |
Please Support our Sponsor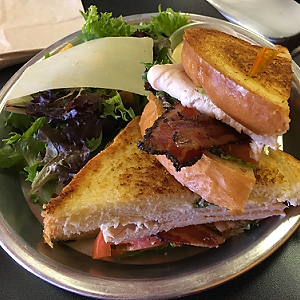 At NOSH or Piper's in the Park, you won't go wrong with the Turkey BLT and side salad. Orin ate this delicious example!
---
Join DWHoops now to receive exclusive analyis and photos!
Learn More about DWHoops
UNC -- Sunday, February 28th, 2016 @ 3PM EST (Carmichael Arena, TV: ESPN3)
2015 UNC Snapshot:
26-9, 10-6 ACC, NCAA Sweet Sixteen
Last Meeting: 1/24/2016: Duke Dismisses North Carolina, 71-55
Current Records: Duke 18-11, 7-8 ACC; UNC 14-16, 4-11 ACC
Current Rankings: Duke is unranked, UNC is not ranked
Significant Losses: The Heels have been hammered harder by transfer, injury and graduation than any other team in the ACC. Guards Latifah Coleman (7 ppg, 3 apg) and Brittany Rountree (8 ppg, 2 apg, 37% 3FG) both ran out of eligibility as seniors, as did wing Danielle Butts (5 ppg, 4 rpg). Ahead of potential NCAA sanctions, guard Allisha Gray (16 ppg, 8 rpg, 2 apg), point Jessica Washington (7 ppg, 36% 3FG) and post Stephanie Mavunga (14 ppg, 10 rpg, 2.5 bpg) all transferred. Xylina McDaniel averaged 11 ppg and 7 rpg last season before getting hurt, but another injury this season has ended her career. Finally, little-used post Hillary Fuller got hurt before the season and is redshirting. To add insult to injury, recruit Eternati Willock did not qualify for UNC.
Returning & New Players: If all a basketball team needed was a starting five, the Heels would actually be in decent shape. Lead guard Jamie Cherry has stepped up as a soph, averaging 15 ppg, 3 rpg and 4 apg. Frosh guards Destinee Walker (14 ppg, 4 rpg, 3 apg) and Stephanie Watts (14 ppg, 7 rpg, 3 apg) have been among the most productive young players in the ACC. Former deep reserve Hillary Summers (10 ppg, 8 rpg, 2 bpg) is clearly one of the most improved players in the conference. Wing N'Dea Bryant (8 ppg, 6 rpg) has had her moments, while wing Erika Johnson (2 ppg, 4 rpg) has proven to be limited.
Jamie Cherry (left) made this shot to propel UNC into the 2015 NCAA Tournament Sweet Sixteen but the 2015-16 season has been a much bigger challenge for Sylvia Hatchell's Tar Heels.
DWHoops file photo by Orin Day
What's Changed and What's At Stake: When they played earlier in the year, Duke still had Azura' Stevens and seemed a shoo-in for an NCAA tournament appearance. UNC was desperately trying to win enough games to stay over .500 and get a postseason bid. Both teams now find themselves in a tenuous position. Duke's NCAA hopes have all but completely dimmed, though they must beat UNC to keep them alive before moving on to the ACC tournament. The Heels have to win this game and then win at least two games in the ACC tournament to have any kind of postseason.
The Devils need to beat UNC and hope that Wake Forest beats Georgia Tech in their finale. If that happens, then Duke would be the #7 seed and avoid possibly seeing #1 seed Notre Dame in the second round. A Duke loss or GT win would slot Duke into the 8/9 game.
As a team, the Heels continue to play hard but not necessarily smart every night. They had their chances to beat Virginia but broke down in the final couple of minutes--not unlike what Duke has done several times this season. When the Heels get into foul trouble or get tired, then they get in big trouble. For Duke, their entire postseason essentially rests on whether Azura' Stevens can return. Sunday will mark about a month after she incurred an injury that generally takes four to six weeks to heal. If she can return either here or in the ACC tournament and if Duke can win a couple of games, then the Devils will just barely get into the NCAA's. (The injury situation would suggest that a WNIT bid would be declined.)
That's a lot of ifs. Either Duke or UNC could suddenly catch fire and win the ACC tournament, but that seems extremely unlikely. The urgency of games hasn't had much of an impact on either team's season; Duke knew that they really needed to beat Georgia Tech at home and couldn't get that done. Both Duke and UNC are talented (there are multiple high school All-Americans on both teams), but both teams lack depth, cohesion, experience and crunch-time decision-making. Both programs, under their current coaches, have always been known to emphasize talent, athleticism and power over tactics and strategy, and this approach has hurt both teams as the season has progressed.
With Stevens unlikely to play and Lynee' Belton out for the rest of the year, Duke's huge post advantage will be negated against the Heels this time around. Like the Heels, Duke is now really a perimeter team surrounding one true post (Oderah Chidom for Duke, Hillary Summers for UNC). The winner of this game will be the team that turns the ball over the least and gets the best looks for their shooters. Offensive rebounds will also be a key, especially since both teams will likely play a great deal of zone. It may well come down to foul trouble. A closely-called game favors Duke, while a more freely-played game favors the Heels. All other things being equal, this game will be about shot-making, first and foremost. The Heels will own a Senior Day edge and the knowledge that this might be their last truly meaningful game of the year, but we'll see how that translates. Duke just wants to stop the bleeding at this point, and we'll see if that kind of desperation can be translated into a performance on the floor.


| | | |
| --- | --- | --- |
| | | |