| | |
| --- | --- |
| Duke Opens 2016 ACC Tournament vs. Cavaliers | |
Please Support our Sponsor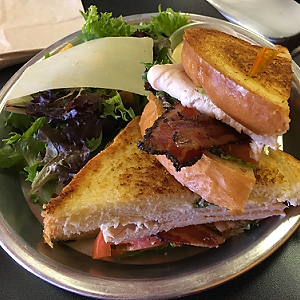 At NOSH or Piper's in the Park, you won't go wrong with the Turkey BLT and side salad. Orin ate this delicious example!
---
We thank Wendy, Piper and the whole NOSH crew for their generous support of DWHoops this season!!!
Learn More about DWHoops
#9 Virginia -- Thursday, March 3, 2016 @ 2 PM EST -- ACC Tournament Second Ground, Greensboro Coliseum (FSN Live in ACC Area, ESPN3 out of area or streaming delayed)
Last Meeting: 2/12/2015: Devils Outplay Virginia, 67-52
Current Records: Duke 19-11, 8-8 ACC (T7); Virginia 16-14, 6-10 ACC (T9)
Current Rankings: Neither team is ranked
Significant Losses: Apart from some role players, the only real loss was post Sarah Imovbioh, who used her graduate school year of eligibility to go to South Carolina. She averaged 13 ppg and 11 rpg.
Returning & New Players: Virginia got star guard Faith Randolph (13 ppg, 5 rpg, 3 apg, 30% 3FG) back after missing a huge chunk of the season. This will make everyone else better. Lauren Moses does the heavy work in the paint, averaging 10 ppg and 7 rpg. She's a blue-collar type who isn't especially efficient on offense and who has proven to be foul-prone, fouling out four times this year. Next to her is defensive specialist Sydney Umeri, averaging 3 ppg and 4 rpg.
In the backcourt is Mikayla Venson, the team's leading scorer and most prolific three point shooter. She's putting up 15 ppg, 2 rpg, 3 apg and 38% from three. Breyana Mason is the lead guard, averaging 10 ppg, 4 rpg and 3 apg, while notching 36% from three. Aliyah Huland El moved into the starting lineup in Randolph's absence and has been solid with 9.5 ppg, 3 rpg and 31% from three. Off the bench, J'Kyra Brown at guard (5 ppg, 3 rpg, 31% 3FG) and Durham native Mone Jones at post (4 ppg, 3 rpg) are all that the Hoos have to offer in terms of real minutes.
What's Changed and What's At Stake: When Duke played Virginia in Cameron, the hoos were minus senior captain Faith Randolph and the Devils were missing leading scorer Azura' Stevens. Randolph has been back for a while now for Virginia and Stevens is hoping to play against Virginia. Indeed, if she is able to play, she most certainly will, because her demonstrable health could help sway the NCAA tournament committee with regard to getting a bid. If she plays, plays well, and Duke wins, that just might be enough to squeak in, other things being equal.
Virginia is a perimeter-oriented team that now has another consistent long-range shooting component in Randolph. Coach Joanne Boyle also received a vote of confidence from the UVa administration, with two years remaining on her contract but no NCAA berths in the past six years. However, Virginia doesn't have much size, and Duke's interior defense utterly shut them down earlier in the year, allowing Duke to extend their zone out and matchup. That only happened when Duke went away from their jumbo line-up and instead matched up with three guards. This time around, Duke will be using a more conventional line-up, with Primm starting at three. That should help prevent Virginia from getting off to a quick start with some early, open shots. The question for Duke will be whether the improved offensive attack they showed against UNC is more than just the Heels playing historically bad defense.
Certainly, the fact that Duke turned the ball over just 12 times, shot so well and passed so crisply was encouraging, because Duke has played much worse against poorer teams this season. Duke doesn't struggle with turnovers simply because other teams press for forty minutes; indeed, many of their turnovers were entirely unforced: travels, charges, passes thrown out of bounds, passes thrown at feet instead of hands, etc. If Duke can cut down on such errors against the Hoos and once again win the battle of the boards, the Devils will be in good shape. That will force Virginia to win solely via shot-making, and that is certainly not their forte.
Duke expected Virginia to drive instead of shoot last time, and the Hoos responded by firing away. Depending on how Duke presents its defense this time around, and with Randolph around to act as a pressure valve, don't be surprised to see the Hoos to try to drive and draw fouls. Amber Henson and Oderah Chidom have been doing a great job of protecting the rim, and Virginia has to find a way to crack that or else be reduced to chucking. Virginia will counter with a zone, and Duke needs to maintain the kind of ball movement, posting and re-posting, and quick redirectional passes from post to perimeter that tore UNC to shreds. They have the size to throw the ball over the zone from time to time and certainly should clean up on the offensive boards. The Devils must be careful not to let their zone hurt them on the defensive boards and allow a lot of Hoo second chance opportunities, especially since most of them will be long, weird rebounds after threes. They also have to be wary about the corner three, which has been their bane for years. Chidom did a much better job of running to disrupt those shots against UNC than she did against Georgia Tech, and that needs to continue to improve.
Virginia's only chance at an NCAA tournament bid is if they win the whole tourney, which is extremely unlikely. Duke must win at least one game and then show out against Notre Dame, while praying that the wrong teams in other leagues don't lose certain games. It's unclear if Duke would actually accept a WNIT bid if offered one, so this could be it for the Devils' season if they falter. If their many losses have been a collection of lessons, then it's time to continue to see what precisely the team and the coaches have learned and how they've put it into action.
| | | |
| --- | --- | --- |
| | | |