| | |
| --- | --- |
| Mo Joins Chris Moreland and Georgia Schweitzer in DWHoops.com Rafters | |
DWHoops Photos by Orin Day
Monique Currie
---
Monique Currie fiercely attacks the basket in a 2005 exhibition vs. Lander College
---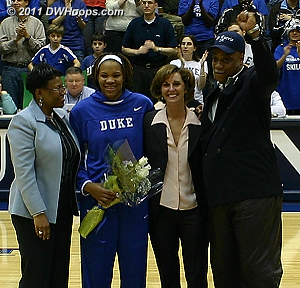 Monique on Senior Night 2006 with her mother, Duke coach Gail Goestenkors, and father.
---
Monique in action on Senior Night vs. Virginia Tech
---
Monique hits a jumper during the 2006 NCAA run
---
Cutting down the nets in Bridgeport after an overtime win over UConn sent Duke to the 2006 Final Four
---
We at DWHoops.com believe that Monique Currie's number should have been retired when her amazing career ended after the 2006 season. It's been five years since she graduated with her second degree from Duke (a Masters in Liberal Arts), and frankly we think it's absurd that she has not been so honored. Once again, the strange idea that a player must win a national player of the year award places this highest honor in the hands of outsiders and random chance. Mo had the misfortune of playing at the same time that Seimone Augustus of LSU was winning her national player of the year honors, but that should have no bearing on the value of what she accomplished while at Duke. Indeed, when one considers her many league and national honors, her career statistics and the way her teams won, it seems obvious that her number should be hanging in the rafters of Cameron. Today, on her birthday, we at DWHoops.com will honor her remarkable career by "retiring" her number and enshrining her permanently on this website.
Let's take a look at her career numbers. She is one of just three Duke players to score over 2000 points, going for 2122. She averaged 15.2 ppg for her career, good for fifth, and she did it while playing with all-time leading scorer Alana Beard for two years. Currie is third in free throws made, third in field goals made and second in field goals attempted. She is also 7th in free throw percentage at 78%--but was closer to 90% in crunch time. Mo is is a top-5 rebounder, grabbing a remarkable 874 for her career. She is the only guard in the top 5. Monique is in the top 10 in assists, breaking off 413 dimes in her career. Note that in terms of rebounds and assists, she was only recently surpassed, as Chante Black bumped her to 5th place while Lindsey Harding, Wanisha Smith and Abby Waner bumped her from 5th place to 8th place. Mo is currently #8 all-time in steals after finishing #4 when she graduated. Currie finished second only to Alana Beard with 118 double-figure scoring games and won 123 games & 55 ACC games--both top-five finishes. Currie holds the single-game scoring record with 43 points against Miami. She also holds a share of the single-game assist (12) and free throw (15) marks. Mo is one of just three Duke players to record a triple double. Her career numbers reflect a dominant scorer who also unselfishly found her teammates while doing the dirty work on the boards.
Consider her career honors. She was a two-time finalist for the Wade Trophy, the Naismith Award, and the Wooden Award. She was also a nominee for the Honda Award. Mo was a two-time Kodak All-America (the sport's oldest and most prestigious All-America team), a two-time AP All-America (once on the first team, once on the second team), a two-time Wooden All-America, a two-time first team USBWA All-America, and a freshman All-America. She was on the All-Final Four team in 2006 and an All-Regional team member three times. She was ACC player of the year in 2005 and a four-time member of the All-ACC squad (twice first team, twice second team). She naturally was a member of the all-freshman squad. She was the MVP of the 2002 ACC Tournament and made the All-Tournament team three times (once on the first team, twice on the second team). For her career, only Alana Beard was more highly decorated. Lindsey Harding won a lot of awards as a senior but had been more of a role player prior to that. Currie was a star from day one, even playing with Beard.
Let's look at the performance of her teams. Her first squad was the beloved 2002 "Eight Is Enough" team, the 2002 club that made it to the Final Four with only 8 players. From the very beginning, it was obvious that Monique came to Duke fully formed in terms of her body and toughness. I don't know that there was ever a stronger player at Duke. As a frosh, she still had incredibly springy legs as well, which enabled her to practically levitate at times. Mo came off the bench to help dominate #7 Texas Tech (with 17 points and 10 boards) as well as getting 19 points to beat #5 Louisiana Tech. That Duke team suffered two midseason transfers that reduced its roster to 8, but they responded by running the table in the ACC: 19-0, with 3 wins over UNC. The Devils went all the way to a date with Oklahoma in the Final Four, along the way getting revenge on a South Carolina team that had beaten them in Cameron. Currie averaged 14 ppg, 6 rpg and 3 apg for this historic team.
The next season, Monique tore her ACL on the first play of the first game of the season. Duke was still excellent (35-2, Final Four), but they fell just short of beating UConn in the regular season and lost a rematch to Tenneszee in the Final Four. Monique's toughness was missed in that game as only Alana Beard was able to do much of anything against the Lady Vols. Monique returned to the 2004 club that won yet another ACC title (going 15-1 and then winning the ACC tourney), averaging 13 ppg and 6 rpg. It took her a long time to recover from her knee injury, and it slowed her down to the point where she deferred too often to Beard at times.
In 2005, Mo led a team that lost Beard, Iciss Tillis, Vicki Krapohl, Lindsey Harding and Brittany Hunter to 31 wins, a first place tie in the ACC and the Elite Eight. As the only dependable returning scorer, Monique carried the team by scoring 17.5 ppg, improving her three point shooting to 32% and averaging 7 rpg. She was forced to play a lot of point guard and responded by dishing out 123 assists. Mo hit the game-winning shots against Tennessee, Maryland and NC State. She hurt her foot midway through the ACC season -- while this injury didn't stop her from scoring in double figures, it did hurt her shooting. She carried Duke through wins against BC and Georgia in the NCAA tourney, netting a double-double in the latter. She played poorly in the season-ending loss to LSU but opted to return for one more go-round. That 2006 team didn't win the ACC regular season or tournament title, but it did march all the way to the national title game. That included beating UConn in Bridgeport as Mo had 14 points and 9 rebounds. Mo shot 42% from three that season, and I remain convinced that Duke would have defeated Maryland if Currie had had the ball in her hands more often in the overtime session.
In terms of intangibles, Mo Currie was the most rugged player who ever laced 'em up for the Blue Devils. She was a tough, physical player who never backed down from a challenge. Indeed, the biggest mistake an opponent could make was to try to intimidate her by hitting her. Nikki Teasley of UNC tried that when Mo was a frosh -- Teasley tried to elbow Mo out of a stack; all she got for her trouble was an offensive foul as Currie happily absorbed the contact. Monique would later go on to drop 30 on the Heels in the ACC title game (played in those days on a Monday night). While there were times when Mo would drift in certain games, content to pass the ball and let others shoot, when the game got close she'd be Crunch-Time Currie. She lived for those moments: taking big shots, pulling down huge rebounds, absorbing contact and getting to the foul line in critical situations. Currie became a leader in 2005, inspiring her younger teammates by letting them know that no one was going to intimidate them. Her run of game-clinching shots that season was simply remarkable.
The way she continued to carry the program when Beard & company left, the way she carried her team the year that Lindsey Harding sat out, the way that duo led Duke almost all the way to a title were all marks of a special talent. Like Duke's other greats, Monique Currie's best attribute was that she was a great teammate. While she sometimes inspired equal portions of fear and awe in both practice and games, her intimidation factor spurred her teammates to greatness. They all knew that Monique would get them the ball if they worked hard to get open. They knew they could count on Monique when the game got rough.
In short, it's time for Duke's original bad-ass to receive her proper due, and that's just what we're doing here at DWHoops today.