| | |
| --- | --- |
| Durham Second Round Pits Two Ranked Teams | |
#2 Seed Duke vs #10 Seed Marist
Monday, March 21st, 7PM, Cameron Indoor Stadium. TV: ESPN2 Regional, check local listings
Last Meeting: November 17, 2006: Duke 71, Marist 50.
Current Records: Duke 30-3 (12-2 ACC); Marist 31-2 (18-0 MAAC)
Current Rankings: Duke #6 AP / #6 ESPN; Marist #19 AP / #17 ESPN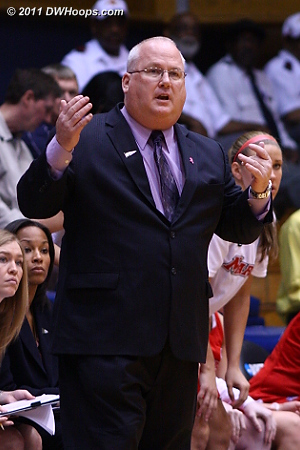 Marist Head Coach Brian Giorgis once again has one of the best coached teams in the nation.

The Roster: Erica Allenspach is the current star of this mid-major power. She averages 14 ppg, 5 rpg, 3 apg, 2 spg and 43% from three. Guard Corielle Yarde puts up 11 ppg and 5 rpg while forward Brandy Gang is good for 8 ppg, 5 rpg and 36% from three). 6-4 Aussie Kate Oliver is in the pivot and averages 8 ppg, 4 rpg and 1.5 bpg. Guard Elise Caron rounds out the starting five, putting up 6 ppg, 4 rpg and 3 apg. All five starters can hit the three, and there are four players off the bench who have hit at least 10 threes on the season. Against Iowa State all five starters scored in double figures; their combined 64 points matched the Cyclones total.

The Skinny: Marist is one of the best-coached teams in the country. They play a deliberate style built on cutting and passing, with very little wasted dribbling. They take scrupulous care of the ball as they only average 11 turnovers a game. By valuing the ball and slowing down tempo, Marist is efficient on offense and doesn't have to gamble on the offensive boards to get extra possessions. This also allows them to get out quickly in transition and stop fast breaks. Their zone is shifting, sticky and annoying, as coach Brian Giorgis employs matchup principles to stop penetration while luring offenses into taking risky passes that get picked off. Getting the ball inside is very difficult, but they are susceptible to teams that can get to the offensive boards. Iowa State was able to make a comeback because of the way they hit the boards and got to the foul line, something I'm sure that Duke noted.

The Matchup:: Marist is a much better version of the UTM team that Duke just defeated. Marist runs five-out motion so as to get lots of great looks. They constantly caught Iowa State out of position in their win and freed up their shooters. The result was 8-17 shooting from long range in the first half, though that number dwindled as ISU's depth started to take a toll. Indeed, four of Marist's starters played 30+ minutes. They did get 10 points from their bench (including a couple of big threes), but it was obvious that the Red Foxes were starting to short-arm their shots down the stretch.
Marist's Erica Allenspach drives during the Lady Red Foxes' first round win over Iowa State.

Given that Duke was frequently caught napping on their defensive rotations against UTM, they will have to be extra careful in defending Marist. Duke is quicker and bigger at every position along with being much deeper. That said, Duke can't simply rely on its quickness and assume that will be enough. Defensively, Marist is a tough team to crack. They will play a shifting series of zones in an effort to neutralize Duke's penetration. That will be their biggest key, because they don't have anyone quick enough to deal with Jasmine Thomas or strong enough to stop Karima Christmas off the dribble. They will encourage off-balance shots, contested jumpers and awkward threes taken deep into the shot clock.

Star Erica Allenspach will take on Jasmine Thomas (and vice-versa); Duke has to stop her playmaking as well as her shot-making. The Devils will need to jam Marist's many shooters while keeping someone at home to block shots. Beating a read-and-react offensive scheme will require Duke to make equally quick & smart decisions on defense, concentrate on one-on-one stops and then flex their expected dominance on the boards. Duke can't expect a lot of points off turnovers, simply because Marist is so careful with the ball. Instead, Duke has to show that it can play a grinding style as well as Marist and go possession by possession in an effort to gain a lead and slowly build on it. This will be a very challenging game for Duke because Marist is such a well-coached team, filled with players who understand their roles.

Allenspach at today's press conference:
"We are running into a team that is obviously better than us you know one through five, but that doesn't mean that we can't outsmart them and play our own game. Coach said you know if we lose we are going to lose as a team, we are going to lose because we beat ourselves. So we just have to hope that we knock down shots and can stop what they [Duke] like to do. We're obviously not going to stop their All-America guard [Jasmine Thomas] and everything she does but we can try and limit what she does. It's not going to be easy but we are just going to have fun now."
Gang at today's press conference:
"Well we know they are going to be strong and they're going to offensive rebound. So we just have to box out, and defensively we are going to have to keep them off the post so they don't get easy shots inside because they are probably going to overpower me."
And finally coach Giorgis:
Our big key is really-and it's a type of match-up that we like, it's the challenge that I like myself-in that we're number one in the country in fewest turnovers. And Duke's best offense is their defense. They like to turn you over. So are we going to be good enough to be able to handle their pressure and get open looks? Actually I think we can get our best looks at threes if we can break the pressure and take threes. Well some people say limit their number of possessions. In 30 seconds we're just going to try and take the best shot available, and if it's in the first five seconds we're going to try and take it. But that's really going to be the key, can we handle their pressure? Because like I said, we haven't faced a team as talented as they are. We've played some good teams, but nothing as good as what they are; nothing as deep as they are. So we're going to have to play the perfect game. And we know that, and that's what actually makes it kind of fun.
| | | |
| --- | --- | --- |
| | | |
DWHoops will provide full coverage of this game including photos and post-game video interviews.