| | |
| --- | --- |
| Duke Joins 3 Big East Squads at Temple | |
#2 Seed Duke vs. #3 Seed DePaul
Sunday, March 27th, 2:30 PM, Liacouras Center (Televised on ESPN2)

Last Meeting: March 14, 1997: Duke 70, DePaul 56 (NCAA Tournament)

Current Records: Duke 31-3 (12-2 ACC), DePaul 29-6 (13-3 Big East)

Current Rankings: Duke #6, DePaul #10

The Roster: The team's leading scorer is wing Keisha Hampton, a prolific shooter & slasher who averages 16 pg, 5 rpg, 2.5 apg, 36% from three and 5 FTA per game. Felicia Chester is a post who can step outside, putting up 11 ppg, 6.5 rpg and 40% from three on 19 shots. Katherine Harry is in the middle, averaging 7 ppg, 6 rpg and 2 bpg. Anna Martin is a guard who averages 11 ppg, 2 rpg, 2 apg and 33% from three. The team's heart and soul is point guard Sam Quigley, who contributes 10 ppg, 2 rpg, and 4 apg. 6-2 wing Taylor Pikes comes off the bench to average 7 ppg, 6 rpg and 32% from three. Former Wake Forest player Deirdre Naughton comes off the bench at wing to score 6 ppg, but she's really come on of late as a torn ACL has come back to full health. Finally, guard China Threatt is the backup at point guard, scoring 3 ppg and dishing 2 apg.

The Skinny: This is a veteran squad, with many of the seniors recruited by Sam Williams when she was an assistant with the Blue Demons. Coach Doug Bruno loves to run the ball up and down the floor, averaging 74 ppg. His team forces 19 turnovers a game but only commits 15; it's very much controlled chaos. The Blue Demons don't play smallball, with their starting frontline going 6-3, 6-3 and 6-2. Their rotation is a tight eight women, with Pikes and Harry roughly splitting time and Nauhgton filling in at the three. Threatt will only come in to give Quigley a little break; I expect Quigley to play at least 35 minutes against Duke.

Simply put, DePaul is a superb offensive team, capable of dropping 80 or 90 points on good teams like Georgetown and Stanford. The Demons whipped Stanford by 20 points thanks to shooting 60% from the field and 50% from three. On the other hand, they got whipped on the road by a mediocre Arizona State squad when they got pounded on the boards. It's not simplifying things much to say that rebounding is the key to the game. In the games that DePaul lost, they came up short in the rebounding department. Getting more rebounds got the team more possessions, a simple concept that becomes all the more clear for DePaul because their offense is so efficient.

The Matchup: DePaul is bigger than Marist, but I think Duke actually matches up with them a bit better. They're a little smaller than Duke and have three players who really shoot threes. They're athletic, but no moreso than Duke. They know that they can't post up on Duke, so they will look to take them outside the way they did Stanford. That's why Quigley is their key. She will try to penetrate and pitch in an effort to chase off Duke's bigs the way that Marist did. The Devils have to do a better job of cutting off penetration and rotating over to the open shooter, or else DePaul will get the kind of shots that Marist did. Duke needs to wear Quigley down, force her to make bad decisions and cut her off from the rest of the team. Jasmine Thomas and Chelsea Gray will have their work cut out for them in doing so.

On offense, Duke will have an inside advantage, though Harry can block shots if the Devils put up lazy shots. Hampton is extremely foul-prone, so Duke (and Karima Christmas in particular) need to take the ball right at her. If she's out of the game, Duke will have a real chance to swing momentum and build a working margin. This isn't a game where Duke will want to press that much; instead, they need to slow tempo and pound the boards. Christmas and Haley Peters could be significant x-factors here if they can grab offensive boards.

The bottom line is that DePaul is a great offensive team that can easily whip good opponents if allowed to run unchecked. They are not a great defensive team and opponents can get extra possessions by hitting the boards. If Duke tries to play DePaul's game, they will lose. If Duke can get DePaul to play their tempo, pound them on the boards and take away a couple of their offensive options, then they will win. Duke will need to get the kind of balanced scoring they've received in many of their recent wins; more good performances by Peters and Gray would be hard for DePaul to handle. UConn may lurk at the top of the bracket, but Duke has a lot of work to do before they can even think about climbing that mountain.


| | | |
| --- | --- | --- |
| | | |
Duke-DePaul Tidbits by Orin Day:


DePaul Logo of Yore


Beyond Samantha Williams' ties and the occasional confusion between Blue Devils and Demons, there are more interesting Duke-DePaul-Chicago connections or stories worth mentioning. Joanne P. McCallie played her college ball at DePaul's crosstown rival Northwestern, though in her distinguished career the two teams only met in the 1983-84 season. At the time Doug Bruno, a former DePaul letterwinner under Ray Meyer, was across town as men's assistant at Loyola of Chicago; he returned to the Blue Demons women's job in 1988 and has been there ever since. Returned? Bruno coached the 1977-78 DePaul women's squad before leaving for the head coach / GM job with the Women's Basketball League Chicago Hustle. The Hustle was very popular in Chicagoland during that time, but both their team and the NBA Chicago Bulls were dwarfed Meyer's powerhouse Blue Demon squads. Growing up in Chicago those Blue Demon teams sparked my own interest in college basketball - in fact, I had never heard of Wake Forest until they defeated his final team in the 1984 NCAA Tournament. One interesting subplot to follow is that Tricia Liston was heavily recruited by her hometown Blue Demons, there was great disappointment at losing her out of state.


---
And in the other half of the Philadelphia bracket...
#1 UConn
Record: 34-1 (16-0 Big East)
DWHoops File Photo by Orin Day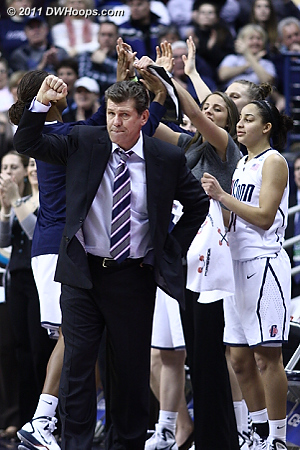 Geno Auriemma pumps his fist after back to back assisted UConn treys against Duke on January 31, 2011.

The Roster: UConn's down to an iron six lineup. At forward, of course, is the fabulous Maya Moore, one of the ten best college players of all time. She's averaging 22 ppg, 8 rpg, 4 apg, 2 spg, 1 bpg and 39% from three. At the other forward is sidekick Tiffany Hayes, who's putting up14 ppg, 5 rpg, 4 apg and 44% from three. In the post is frosh Stefanie Dolson, who's come a long way from her first game. She contributes 10 ppg, 6 rpg, 1 bpg and 63% shooting from the floor. In the backcourt is frosh ace point guard Bria Hartley, who puts up 12 ppg, 4 rpg and 3 apg. She leads the team in threes made at 64 and hits 39.5% of her shots. The other starting guard is utility player Kelly Faris, who averages 8 ppg, 7 rpg, 4 apg and 2 spg, with 31% shooting from three. Off the bench is speedy point guard Lorin Dixon, who averages 3 ppg and 3 apg.

The Skinny: Since Duke last saw UConn, they've continued to mow down every opponent in sight. The only teams to give them a challenge were West Virginia and Georgetown, interestingly enough. What they have in common is that they play unusually sticky defense and managed to keep the game in the 50s. That occurred in part because UConn didn't shoot well in either game. UConn seemed to peak in late February, as they've not quite been the same juggernaut since that time. That's no surprise, given their abbreviated roster that lost another player in post Heather Buck. She didn't get huge minutes but did help reduce wear and tear during blowouts. The manic intensity that Duke saw isn't quite there in the same abundance, which is not to say that UConn still isn't the prohibitive favorite to three-peat. They'll simply have to work a little harder, and Georgetown will be a real test. The Huskies turned the ball over a lot against the Hoyas and didn't dominate on the boards. If they can stop Georgetown from getting easy scores, then their own formidable defense should help them grind out a win. They must beware Georgetown's very tricky press, however. It just seems highly unlikely that Maya Moore will have her career ended in the Sweet Sixteen.
#5 Georgetown
Record: 24-10 (9-7 Big East)
DWHoops File Photo by Orin Day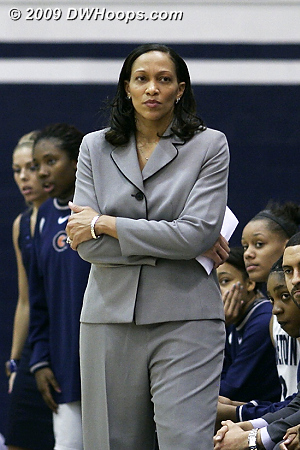 Georgetown Head Coach Terri Williams-Flournoy on the sidelines of McDonough Arena during the 2009 season.

The Roster: Georgetown also uses a pretty tight roster, going with a seven-woman rotation in real games. The team's biggest threat is guard Sugar Rodgers, a whirlwind of a player who takes 8 threes a game. She averages 19 ppg, 5 rpg, 2.5 apg, 3 spg and and 35% from three. At wing, Monica McNutt puts up 10 ppg and 4 rpg. Point guard Rubylee Wright contributes 8 ppg, 3 rpg and 5 apg. Georgetown's posts are undersized (6-2 and 6-1) but they can run. Tia Magee averages 8 ppg and 5 rpg while Adria Crawford offers 7 ppg and 5 rpg. Off the bench, Tommacina McBride averages 5 ppg and 2.5 rpg while guard Alexa Roche puts up 4 ppg and 3 rpg. Everyone but Crawford and McBride shoots threes.

The Skinny: It's perhaps stating the obvious that Georgetown is peaking at the right time and got a good geographic draw despite being just a five seed. Yes, they did have to face Maryland on its home floor, but they had beaten the Terps once before and this was essentially a backyard brawl. Now they're just a train ride away in Philly, leaving them in a nice comfort zone. The Hoyas were absolutely on fire against Maryland's zone, rebounded well and essentially ran the Terps right out of their own gym. Against a Maryland team that had shown steady improvement all year, it was an incredibly impressive win. That said, the Hoyas are the very model of a streaky team. When they're hitting threes, they can beat anyone. When they're not hitting shots, they are vulnerable. Their defensive pressure, under impressive young coach Terri Williams-Flournoy, is unrelenting and fits its personnel quite snugly. This group loves to run, loves to get after opponents and loves to play sticky defense. Unlike many teams, they have no fear whatsoever of UConn and are happy to go toe-to-toe with them. It's clear that their style bothers and annoys the Huskies, especially since Georgetown is always able to stay within shouting distance on the boards. That said, I just don't see a repeat of Georgetown's shooting performance against Maryland. If you can't put up some points against the Huskies, you may as well go home. I expect Maya Moore to have a huge game, breaking open an otherwise close struggle.

---
DWHoops File Photos by Orin Day
Mascot Fun: Dogs in the first game, then blue fiends in the nightcap!