| | |
| --- | --- |
| Defending Champ Huskies Face Blue Devils in Philadelphia Regional Final | |
#2 Seed Duke vs #1 Seed UConn
Tuesday, March 29th, 7 PM, Liacouras Center (Televised on ESPN).
Current Records: Duke 32-3 (12-2 ACC) UConn 35-1 (16-0 Big East).
Last Meeting: 1/31/11: UConn Crushes Duke, 87-51.
Current Rankings: Duke #6, UConn #1
DWHoops File Photo by Orin Day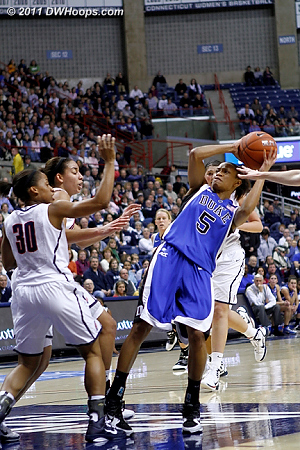 Jasmine Thomas takes an off-balance shot in Duke's 87-51 loss at UConn.

The Roster: UConn's down to an iron six lineup. At forward, of course, is the fabulous Maya Moore, one of the ten best college players of all time. She's averaging 22 ppg, 8 rpg, 4 apg, 2 spg, 1 bpg and 39% from three. At the other forward is sidekick Tiffany Hayes, who's putting up 14 ppg, 5 rpg, 4 apg and 44% from three. In the post is frosh Stefanie Dolson, who's come a long way from her first game. She contributes 10 ppg, 6 rpg, 1 bpg and 63% shooting from the floor. In the backcourt is frosh ace point guard Bria Hartley, who puts up 12 ppg, 4 rpg and 3 apg. She leads the team in threes made at 64 and hits 39.5% of her shots. The other starting guard is utility player Kelly Faris, who averages 8 ppg, 7 rpg, 4 apg and 2 spg, with 31% shooting from three. Off the bench is speedy point guard Lorin Dixon, who averages 3 ppg and 3 apg.

The Skinny: Since Duke last saw UConn, they've continued to mow down every opponent in sight. The only teams to give them a challenge were West Virginia and Georgetown. UConn seemed to peak in late February, as they've not quite been the same juggernaut since that time. That's no surprise, given their abbreviated roster that lost another player in post Heather Buck. She didn't get huge minutes but did help reduce wear and tear during blowouts. The manic intensity that Duke saw isn't quite there in the same abundance, which is not to say that UConn still isn't the prohibitive favorite to three-peat. They'll simply have to work a little harder and exploit matchups that are in their favor. The Huskies were pushed to the limit by Georgetown in the Sweet Sixteen. The Hoyas went right at Dolson and forced her to move her feet, which allowed Georgetown to get to the basket and then either score or set up a shooter. On defense, Georgetown's sticky press slowed the game down and clogged up UConn's transition game. They forced UConn to execute and get stops, one at a time. Eventually, that's just what happened, as the threes that were falling for Georgetown early in the game stopped dropping. Given an opportunity, Moore and Hartley seized it, hitting big shots and then sinking free throws to win the game.

DWHoops File Photo by Orin Day
Stefanie Dolson blocks a Chelsea Gray jumper.

The Match-Up: My earlier preview of UConn covered their players and the match-ups pretty succinctly. The potential advantages Duke possesses-- depth, size, rebounding -- were all neutralized by UConn in that game with enormous ease. UConn sagged off Duke and dared them to shoot jump shots, which they did reluctantly. When Duke started missing those jacked-up threes, UConn ran their break to perfection and blew out to an early lead. UConn was very careful to limit Duke to one shot while running them out of the building. The keys to this game are obvious. Duke has to win the rebounding battle. They not only have to limit UConn to one shot, they have to get multiple cracks at the basket, because they simply don't shoot the ball as well as the Huskies. Second, Duke has to control the tempo. It's not just that UConn's running game is incredibly precise with great spacing, it's that they gain energy while they do it. Conversely, when a team forces UConn to execute in the halfcourt the way that Georgetown did, the thin Husky roster starts to show signs of fatigue. Third, and most obviously: Duke has to make open shots. They need to take good shots and hit those jumpers, but they cannot afford to miss any open layups, especially in transition. If Duke does all three things, then they have a chance of getting to the line. If they get to the line, it means that UConn's in foul trouble. Don't hold your breath on that possibility, because the Huskies are quite disciplined and rarely get in serious foul trouble. This should be Duke's ultimate goal.

UConn will likely try to use Dolson as a real weapon, given the sluggish play of Duke's posts of late. If K.Thomas and Vernerey are passive, UConn will win going away. Those two need to at least hit the boards hard and defend. Getting some offense and working the ball inside-out would be ideal, much like they did in the ACC tournament. Christmas needs to stay out of foul trouble and play with the same level of aggressiveness that she displayed against DePaul. Outside of Moore, UConn doesn't have anyone who can check her in man-to-man defense. How Duke reacts to UConn's sagging zone will ultimately determine their fate. If Duke can rebound against it to get extra shots, then they'll force the Huskies out of it. If UConn gets those boards, they will stay in it indefinitely. One last thing: UConn will go for the quick knockout once again. Given their thin roster that's looked more and more tired as the postseason has dragged on, Duke should expect a huge early burst. If they can survive that early run and stay within single figures at half and get to within about 5 points in the last five minutes, Duke can win. Those are big ifs, but we'll see how a team that's thrived on pressure all season long reacts when faced with the ultimate pressure situation.




| | | |
| --- | --- | --- |
| | | |